Meghan McCain Snaps at Whoopi Goldberg on 'The View': 'Why Are You Laughing at Me?'
Meghan McCain is a polarizing figure on The View and has created viral moments online after heated debates. The conservative pundit is passionate about what she believes in and has come head-to-head with the show's moderator, Whoopi Goldberg. On Tuesday's episode, McCain snapped at the EGOT legend for laughing at her.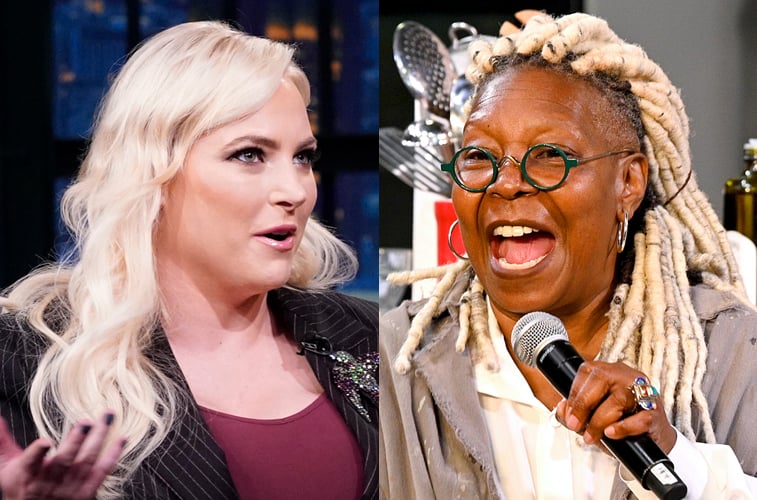 During a discussion about the Democratic candidates vying for the nomination of the party, the ladies were talking about the progressives versus the moderates. McCain brought up Pete Buttigieg and asked for him to return to the talk show as she has "some serious questions about the policies he's put out."
"When he first came on the show, I loved him, and now I'm kind of done with the far left… whatever," McCain said.
As the Republican supporter was talking about Buttigieg she noticed Goldberg was laughing and took away her inspiration.
"Why are you laughing at me?" McCain asked Goldberg.
The "Sister Act" star is seen laughing and says, "I'm laughing because for me it's like…"
"It's not like it's just my opinion," McCain interrupts.
"For me, it's like a marriage," Goldberg adds easing off the tension on the table.
McCain then smiles and agrees, "it is like a marriage. I'm done!"
The moment turns light-hearted as all the co-hosts laugh and they move on swiftly to continue the debate.
You can see the exchange starting at the 3:10 minute mark.
Whoopi Goldberg shuts Meghan McCain down
Although the previous incident didn't turn into something worse, last week Goldberg and McCain did get fired up. When "Hot Topics" turned to discuss Donald Trump's decision of pulling troops out of Syria, the tension was palpable.
Sunny Hostin chimed in and pivoted to talk about a new Fox News poll that found 51% of people support Trump's impeachment.
"I cannot talk about impeachment," McCain interrupted.
Joy Behar then tried to get a word in about the subject but the political pundit wanted another opportunity to add another fact.
"Just let me say one thing. Just one fact," McCain said as chaos erupted at the table.
"Wait! Let Joy finish please," Goldberg raised her voice.
"But it will help Joy's conversation," McCain pushed back.
"I understand that. Let Joy say what she needs to say," Goldberg added.
McCain didn't have a choice but to wait her turn after Behar finished talking.
It was at the end of September when Goldberg and McCain sparred on live television. When Goldberg was giving George W. Bush credit for his stance on immigration, McCain pointed out how she wasn't always a supporter. Right before Goldberg sent to commercials she asked McCain not to be "so dismissive" of other people's views.
Meghan McCain fears being fired
Talking politics on The View can become a battlefield of words. Due to the unscripted nature of the show, anything can be said that could land anyone in trouble. This is is what McCain fears the most and why she says she goes into the show thinking she's getting fired.
"I go in assuming I'm going to be fired every day," McCain said during her appearance on Watch What Happens Live. "Every single day. Yes, every day."
When host Andy Cohen pressed her asking if she has ever been closed to getting the boot, she denied it.
"It's more the tone we are [at] culturally, people get canceled so easily," she explained. "And by the way, Joy has this same thing, because we are the most honest and raw. And we're always going to say something that is going to be too far one way. So I say it sort of jokingly, but sort of not."
The View also got new mugs this season and it has all of the co-hosts faces. McCain has a theory that every time they put faces on a mug, the co-host gets fired.