'The View': Meghan McCain Finally Realized Why Whoopi Goldberg Is the Moderator and Fans Clap Back
Meghan McCain returned to The View on Monday after taking days off from the show to attend an event. The Republican pundit did not take long to create controversy with her opinions. She had tough things to say about presidential democratic candidate Pete Buttigieg and how he's handled the African American community. McCain also made a bold claim about Donald Trump using the West as a "slush fund" for Vladimir Putin.
Another moment on the talk show that received a lot of social media comments was when McCain finally came to the realization as to why Whoopi Goldberg is the moderator.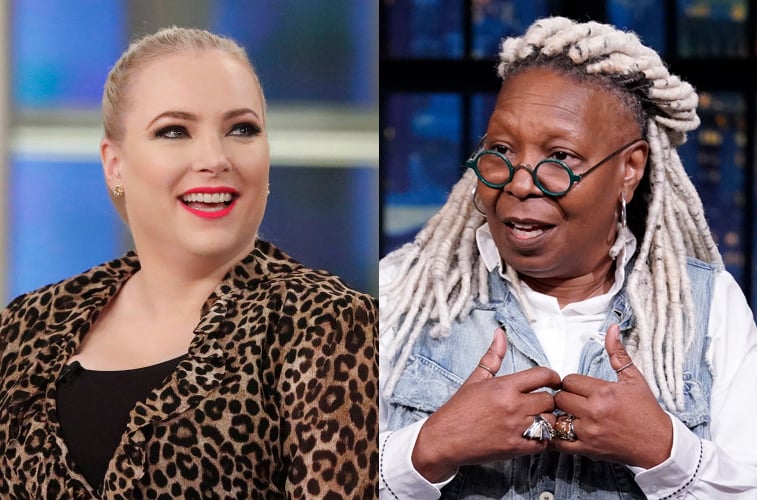 At times it has seemed McCain forgets that it's Goldberg's job to introduce the "Hot Topics." McCain can be overly opinionated, that she even calls out audience members that allegedly heckle her.
The conservative co-host often interrupts Goldberg when she tries to move things along or when she needs to send to a commercial break. It's obvious McCain doesn't respect the structure of the show, which is astonishing as she's not a newbie anymore.
Upon McCain's return to ABC daytime, she was given time to talk about the event she attended during her break. Goldberg was about to introduce the moment and give her the spotlight when McCain interrupted her.
"Can we do this in the next segment because we have no time?" McCain asked looking over to the producer.
"No, no, we made the time for you," Goldberg added.
"Oh ok, alright… it says 'we'll be right back on the prompter," McCain said confused to which Goldberg replied, "I know, but they're lying."
It was at this moment when McCain acknowledged she was "bad with time" and that is why Goldberg is the moderator on the panel.
"Ok, I'm sorry. I'm totally bad with time. That's why I'm not the moderator Whoopi," she said.
Fans clap back at Meghan McCain
McCain went on to talk about the award event she attended in London. Fans were quick to note how McCain still has work to do in how television timing works. Viewers also made sure to tell her why she was not the moderator.
"Meghan doesn't know how TV works," a fan wrote. "Stop reading the teleprompter if you're not the moderator. Why hasn't The View helped her get to learn television? I mean, it's not like this is her first day. Can we go to commercial now?"
"Note to Meghan McCain: you are not the moderator because you're not qualified," another viewer tweeted. "She must think her Arts History degree does," a fan quipped with the reply.
"Meghan, I'm sure the fact that you're 'bad with time' is not why you're not the moderator," a Twitter user added.
"Meghan never lets anything go," another social media user commented. "She's still harping about Whoopi being the moderator and cutting her off. Wasn't that three weeks ago?"
The View airs weekdays at 11 a.m. ET and 10 a.m. PT/CT.