'The View': Whoopi Goldberg Shuts down Meghan Mccain to Let Joy Behar Talk
Whoopi Goldberg threw down the gauntlet on The View during a heated debate. It was Meghan McCain that received the short end of the stick when the ladies were discussing Donald Trump's decision in removing troops from Syria.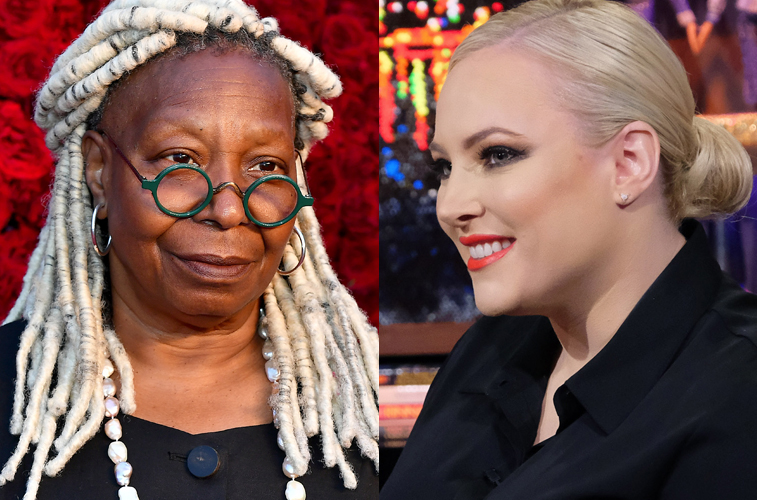 McCain expressed her anger with American troops being pulled out of Syria leaving the Kurds allies to fend for themselves. She said that the repercussions of this decision are devastating.
Sunny Hostin chimed in and pivoted to talk about a new Fox News poll that found 51% of people support Trump's impeachment.
"I cannot talk about impeachment," McCain said. When she tried to explain Hostin's poll numbers, Goldberg intervened as Joy Behar tried to get a word in.
"Just let me say one thing. Just one fact," McCain said as chaos erupted at the table.
"Wait! Let Joy finish please," Goldberg raised her voice.
"But it will help Joy's conversation," McCain pushed back.
"I understand that. Let Joy say what she needs to say," Goldberg added.
As Goldberg and McCain sparred, Behar is seen laughing nervously. After losing out to Goldberg, McCain is seen raising her hands up and rolling her eyes.
"I'll let you talk after I finish. Because I have one point to make," Behar said to ease off the tension.
'The View' fans react to heated moment
The View invites engagement on social media and fans were quick to react and share their feelings on the latest argument.
"Damn, Whoopi had to yell at Meghan like three times to get her to give Joy a chance to speak," a fan tweeted. "Arizona princess needs to go to obedience school."
"Y'all must not talk to [McCain] about interrupting other hosts on the show," a viewer tweeted ABC Networks. "When Whoopi tells her to let Joy Behar finish her comment, this rude Meghan just keeps right on talking as if [Goldberg] is not there."
"Every time Whoopi shits Meghan McCain down, an angel gets its wings," another fan wrote.
"Whoopi shutting Meghan down is always funny, but she needs to do it more often," another viewer quipped.
Meghan McCain fears being fired
It might be incidents like this the reason why McCain constantly fears being fired from The View. When she conservative was a guest on Watch What Happens Live with Andy Cohen, she confessed about the terror that lives in her mind.
"I go in assuming I'm going to be fired every day," McCain said. "Every single day. Yes, every day."
Cohen then pressed on the issue asking her if she was ever close about getting the boot from the show.
"It's more the tone we are [at] culturally, people get canceled so easily," she explained. "And by the way, Joy has this same thing, because we are the most honest and raw. And we're always going to say something that is going to be too far one way. So I say it sort of jokingly, but sort of not."
McCain recently echoed her fear of getting fired when the show introduced their new mugs. The cups now have the faces of all the ladies from The View which the Republican pundit has a theory on.
"I am very superstitious about these mugs as I told you Brian [the producer]," McCain said. "Every time you put people's faces on a mug somebody gets fired."
The incident McCain was most likely referring to was back in 2017 when the show returned from hiatus for season 21. New mugs were introduced at the time and weeks later, co-host Jedediah Bila announced she was leaving the ABC talk show. It was after Bila's exit that McCain joined the panel as the resident conservative voice.
The View airs weekdays at 11 a.m. ET and 10 a.m. PT/CT on ABC.