'The View:' Why Joy Behar and Barbara Walters Had A Rocky Relationship The First Year
ABC's The View premiered in August 1997 with hosts Meredith Vieira, Star Jones, Debbie Matenopoulos, Joy Behar, and show creator Barbara Walters. Despite a brief hiatus in Seasons 17 and 18,  Behar has been a mainstay on the daytime talk show.
Hired to cover for Walters on her days off, Behar started as a part-timer on the program. The two former colleagues are now good friends, yet their relationship got off to a bumpy start.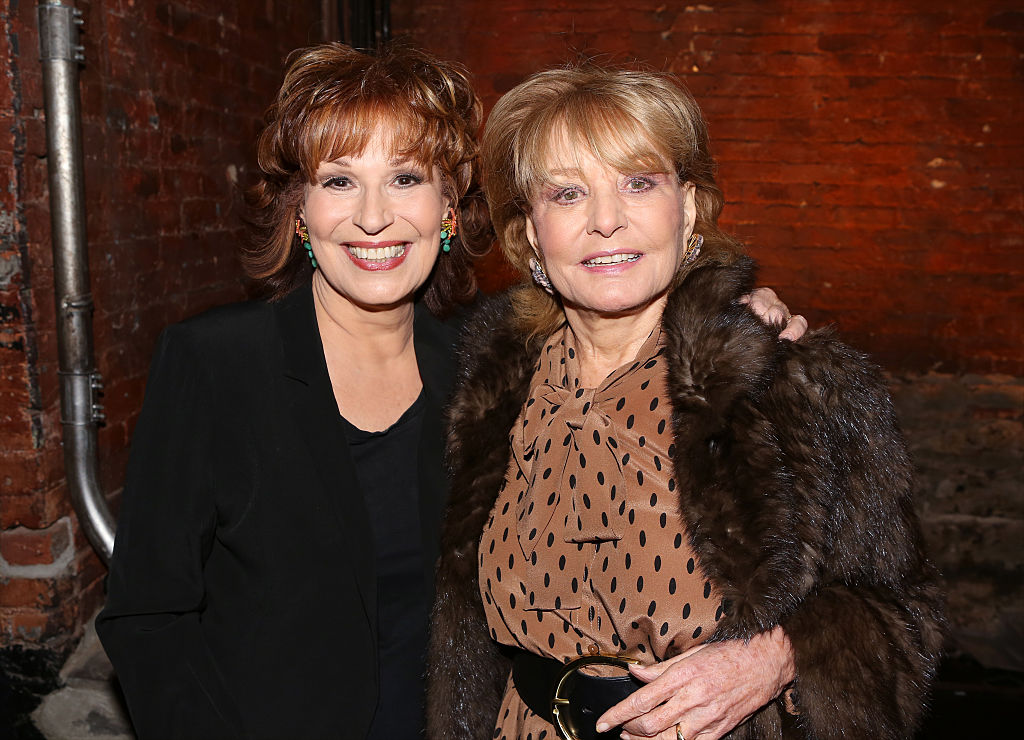 Recruiting for 'The View'
According to Time, Walters began the search for her new daytime talk show hosts in the spring of 1997. Wanting a diverse panel, Walters considered women of all ages, races, and backgrounds to help launch the program.
The legendary news woman knew she would serve on the panel herself, and soon selected Vieira, Jones, and Matenopoulos to join her at the table. She decided to give Vieira the role of maintaining continuity during discussions. "I did not make myself the moderator, which I regret," Barbara said. "Yes, it's much more fun being the moderator."
Walters knew that due to her other responsibilities as a journalist, she could not appear on the show Monday through Friday and would need a fill-in for her days off. That's where Behar came in.
Finding Joy
Time reports that Walters happened to attend a charity event for Milton Berle where she saw Behar perform her stand-up routine. Behar reminded Walters of Carol Burnett with her quick wit and killer timing. "I did a joke about men who marry, how easy it is for them to get a young woman," Behar recalled.
While the crowd roared with laughter at Behar's routine about feminism and the sex life of author Salman Rushdie, Behar's boyfriend (now husband) Steve noticed that Walters remained stoic. The comedian didn't take it personally. "So what?" Behar told him at the time. "I'm not going to work for her." Little did she know that just a few short months later, ABC would call her to audition for The View.
Behar brings ratings
Walters brought Behar on the team to cover for her own days off and to bring her wry humor to the daily panel discussions.  "She's funny, intelligent and well-informed," Walters said at the time, according to People. "I chose Joy because we wanted the show to be entertaining." 
Behar welcomed the part-time schedule and the short commute. "It was nice to have a couple days off," she said. "My agent at the time told me not to do it. The money wasn't enough. But I wanted to do it because it was in New York and right near my house."
Behar was a hit. Ratings went up during her days on the show and critics applauded her bawdy one-liners. USA Today wrote that she "generally steals the show… They should acknowledge her as the resident Erma Bombeck and make her a daily presence."
A hit to the ego for Walters
ABC first tested a pilot of the show with Walters, and one with Behar filling in for Walters. Behar scored higher. "The show with Joy tested better than the one with Barbara," Patricia Fili-Krushel, ABC President at the time, revealed. The higher-ups didn't want Walters to know the test results. "I said to [executive producer] Bill [Geddie], 'We have to edit this report!'"
Geddie knew Walters would want to know the truth and let her see the numbers. It turns out that despite her renowned reputation as a top news woman, Walters was not immune to a bruised ego. She was genuinely bothered at her rating lower than Behar, asking "Why do they like the show better with Joy than with me?"
Walters was truly worried that Behar was trying to eclipse her, which resulted in a tough first year between the two women. Network execs spent a lot of time trying to appease Walters, assuring her that Behar's higher ratings were due to her humor rather than a matter of the audience 'liking' one host over another.
Clearly, any previous tension is now firmly in the past. The show is still a hit after 20-plus years, and Behar and Walters enjoy a solid friendship.
Read more: Why Joy Behar Was Fired from 'Good Morning America'