'The View's' Sunny Hostin Has Tangled With 'RHONY's' Bethenny Frankel Before This Latest Go-Round
The View's Sunny Hostin and Real Housewives of New York City's Bethenny Frankel have been involved in a public spat over Hostin's allegation that Frankel had previously yelled at Hostin's children on the beach. Frankel responded to the accusation on What What Happens Live With Andy Cohen by suggesting that Hostin was possibly using drugs, according to People. Hostin promptly fired back on Twitter, and that's where we left off in this she said/she said.
This actually is not the first time the two have gone toe-to-toe.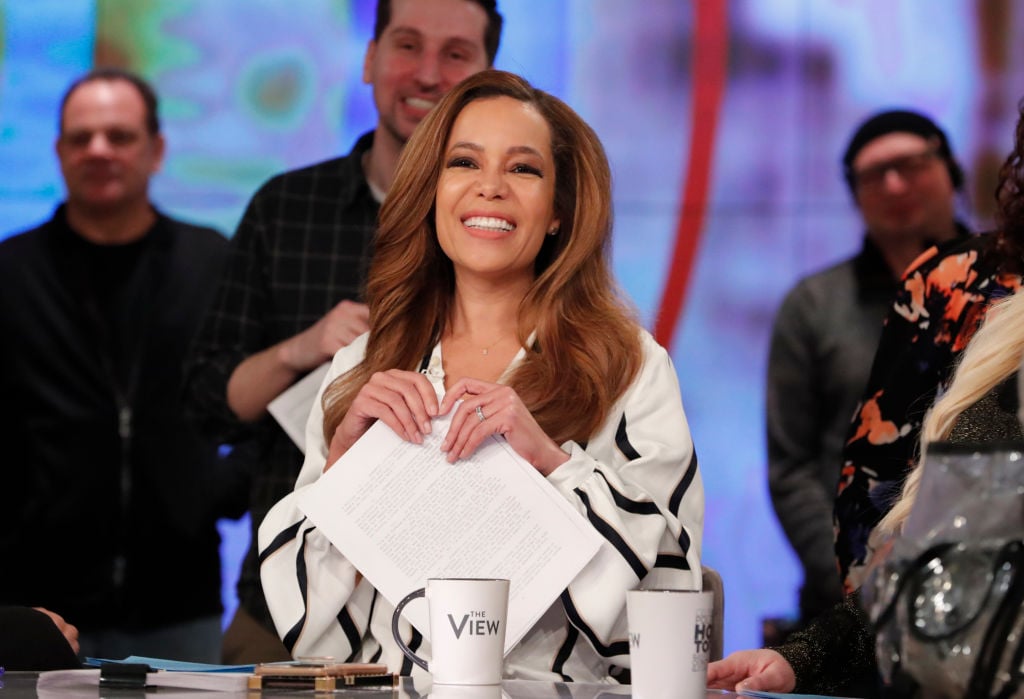 It started with a blog post
As reported by People in May 2018, the panel on The View was discussing a blog post by Real Housewives of New York's Carole Radziwill that took a shot at Frankel and her charity work.
The glib tone of the post confirmed the tension in the already contentious relationship between the two. "I'm glad to see my friend Bethenny step outside her affluent bubble, with her stream of rich boyfriends, rich friends with private planes, million dollar homes, and five-star resort vacations," Radziwill wrote. "One gets the impression this is the first time she's witnessed real poverty. It can be life-changing. I know it was for me, many years ago when I first covered tragedies as a journalist. The shock of having, then losing, one's home and all its possessions (and having the guts and dignity to soldier on) is awe-inspiring. It is partly why I quietly give money to charities and political campaigns I believe will make a difference in the world. And why, years ago, I created my own charitable foundation… It is a good use of celebrity, and I hope this journey will make Bethenny a wiser and kinder person closer to home too. From the looks of it, she's got a ways to go."
The post sparked a conversation with the ladies on the daytime talk show, which ended up stirring the pot.
Charity in question
Hustin pick up on the blog post by Radziwill, commenting that Frankel was helping Hurricane Maria victims for "self-serving publicity," after the RHONY star posted her time spent in Houston and Puerto Rico on social media and the Bravo reality show while she was there with her B Strong Disaster Relief organization.
"I think that the work that she has done there is helpful and I think that has been wonderful," Hostin said on The View. "But for me, that is just not the true meaning of charity. I don't think you go to a disaster area with personal photographers and videographers following you, watching you hug people."
Alyssa Milano was guest-hosting on The Viewthat day, and praised Frankel along with co-host Joy Behar for bringing awareness to the relief effort, but Hostin still claimed that Frankel was just trying to "grow a platform," as reported by People.
You can be sure Frankel had a response.
Twitter war ensues
Many Twitter users take to the platform to hash out disputes, hence the tweets started flying between Frankel and Hostin.
Frankel started by thanking Milano for her support, then shared how much she's done for Puerto Rico after being ravaged by Hurricane Maria, posting, "Hey @Alyssa_Milano @TheView thanks for using your platform to help raise awareness for the hurricane ravaged areas & @sunny FYI- I've been there 6x, 1x on my bday & sent 54 planes & 50 mil in relief & 1 mil cash & only 1 trip was documented."
Hostin was not deterred, replying, "Well, that's not really accurate @Bethenny. Your efforts were documented by you & personal photographer/videographer & then distributed to media outlets & on social media," she wrote. "I thank you for the important charitable work you do but question the need for the self-serving publicity."
Then it was Bethenny's turn. "If someone was supporting that island in a substantial way, my team there knows about it. It is a small island," the SkinnyGirl founder tweeted. Hustin took the ball and ran with it, replying, "Your team must be really impressive if it knows all the support being given to over 3 million people, Savior much?"
The Twitter volley continued where Frankel added some names to back up her statements, tweeting, "Ask Secretary of State @LuisRiveraMarin or the Deputy Sec. of State @EArosemenaM or @clopezlay or @linmanuel or @rosieperezbklyn @rickymartin or the mayors of the 53/73 communities we visited. #bstrong"
The View host simply responded, "Hmnn. I see I've struck a nerve," to which Frankel shot back, "I think you have struck many…"
Now with their latest brouhaha, it may be a safe bet the two ladies will not be lunching anytime soon.