'The Voice': Are Blake Shelton and Adam Levine Jealous of EGOT Winner, John Legend?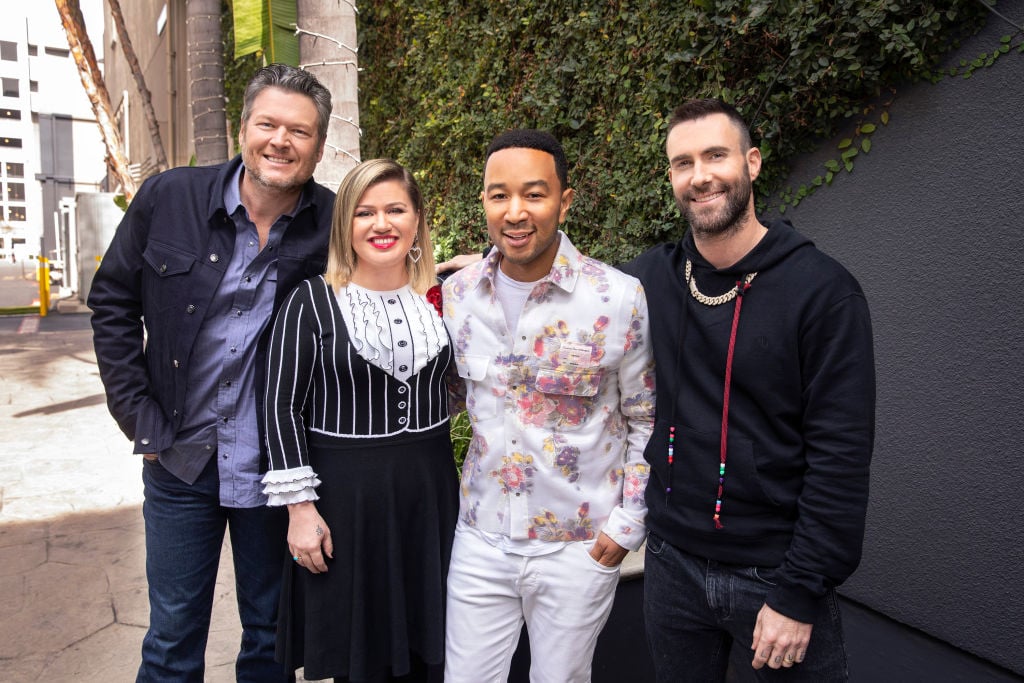 Blake Shelton and Adam Levine are used to being the hot shots on The Voice. They've been there since Season 1 and have the most wins under their belt. Now they have to go up against John Legend in Season 16. Are they jealous about his EGOT status? Here is what they said.
Clarkson and Levine said Legend is their biggest threat
Legend is coming to the show for the first time as a coach. That might put him in a vulnerable position, but the returning judges are pretty worried considering the singer's impressive resume.
"It's exciting to have an EGOT (Emmy, Grammy, Oscars, Tony) winner on The Voice. I won Season 14 and  I won Season 15 but he is my biggest threat this season," Clarkson said in a sneak peek of the season.
Levine also wasn't playing it cool when it came to the new host. "John is a threat," he admitted. "All three of us have already tried to block this man."
Legend said the other hosts hazed him
It doesn't sound like Levine was joking when he talked about blocking Legend. The new coach revealed that the veterans hazed him and how it affected his team.
Legend already teased what the dynamic has been like between the coaches. "Yeah, they haze me," he told Jimmy Fallon. "My very first day you know we have the blind auditions and if you hear somebody you like you turn around, but each coach has an opportunity to block one person, one other coach. You can only use it once. Every single person chose to use it on me."
Is the blocking just strategy or is about something else? Levine and Shelton revealed whether they are jealous of Legend's EGOT status.
Levine and Shelton joked that they don't want to be EGOT winners
The veteran hosts hold the most wins on the show, but fans are wondering if they are a little worried they now have to go up against someone who won an Emmy, Grammy, Oscar, and Tony. They joked that they are not only not worried, but they don't want to EGOT anyways.
"I don't know how deadly John is as a coach. I can only tell you that I have absolutely no faith in his ability to win this show," Shelton told People. "Not as long as I'm on, you know what I'm saying? I wanna beat him."
The two coaches talked about being named PEOPLE's Sexiest Men Alive in the past and how it compares to being an EGOT winner. "That's so much better. Are you kidding me? I don't want a Tony," joked Levine.
Shelton then said, "I don't want to go to one of those shows to get one of those things. The parking's horrible, the backstage is cramped, you can't get a drink. It's much more convenient to just go for Sexiest Man Alive."
Levine and Shelton seem to have fun joking about not wanting to become an EGOT winner, but are giving Legend a hard time. They really want to beat him this season so it'll be interesting to see if they are successful.
Read more: 'The Voice' Season 16: Is Kelsea Ballerini Being Kelly Clarkson's Battle Advisor an Advantage?
Check out The Cheat Sheet on Facebook!