'The Voice' Blake Shelton Disses John Legend Calling His Version of This Song Irrelevant After This Audition
Season 17 of The Voice has kicked off and the coaches are already competitive. One singer blew the coaches away.
This also led to Blake Shelton and Kelly Clarkson dissing John Legend. Find out what they said and why Shelton called his version of this song "irrelevant."
John Legend and Blake Shelton will get competitive this season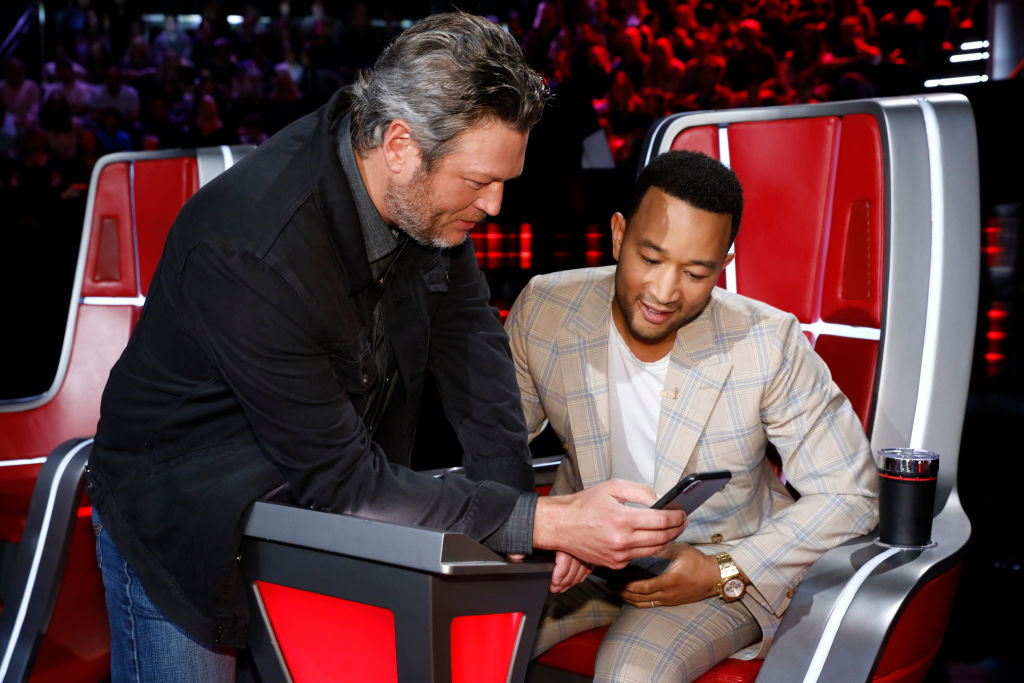 It was hard to predict how this new season will go since Shelton won't be feuding with Adam Levine. Now it looks like the country singer will be given a hard time by the remaining coaches.
A teaser showed Shelton calling himself the king of The Voice. He has some reason to be confident given he has won the show the most with six wins. However, John Legend wasn't going to let that go.
"That's a lot of arrogance from someone who just lost The Voice," Legend said after Shelton's declaration. The soulful singer said he isn't afraid to go against Shelton.
"[Gwen Stefani and Shelton] probably won't argue as much as he and Adam did…Maybe I'll have to start arguing with Blake now," he told E! News.
It took some time for artists to pick Shelton
Shelton had a rocky start because he kept losing artists to the other coaches. By the end he did get some strong competitors.
One is Marina Chello who he felt America would be drawn to and therefore support. Then there is the young Kat Hammock.
The coach that ended with the most artists is Stefani. There is still a lot of time to see how the teams will stack up.
Shelton called Legend's version of 'Preach' irrelevant
Rose Short really impressed the coaches in the premiere of season 17. She previously was a correctional officer in a prison for eight years. Short blew the coaches away by singing "Preach" by Legend.
"I feel like I'm gonna do it justice because I am connected to it. You turn on the news and something's happenin' over here, something's happenin' over there. You want to do something about it hence preach," Short explained to the camera before her audition.
The coaches felt that connection because Clarkson and Stefani turned their chairs for her. They couldn't help but compare Short's version to Legend's.
"I cannot see a world where people don't turn around when someone like you sings. You can cover any song and annihalte the original singer," said Clarkson.
"Like dead!" added Legend. Clarkson said, "I'm so sorry! You know I love you," she told Legend. The coach added, "I didn't mean to insult you."
However, Shelton did get a dig into his fellow coach. "I tell you the apology should come from Kelly right now. Pretty much announcing that we finally heard a good version of this song."
Short picked Stefani as her coach. Shelton had one more thing to add by telling the camera, "Rose is so talented that she made John's performance of his own song irrelevant."
We will have to wait and see how far Short will make it through the competition. Clarkson predicted that she would reach the finale.