'The Voice': Did All of the Coaches Sabotage Team John Legend Immediately in Blind Auditions?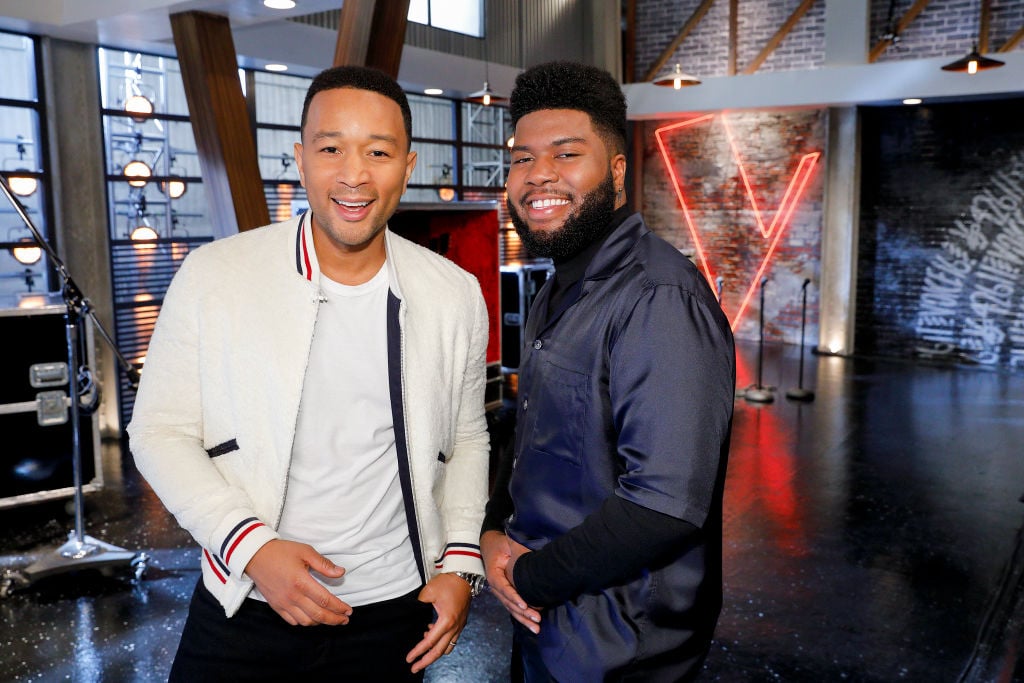 Season 16 of The Voice started with the coaches not pulling any punches. Blake Shelton, Adam Levine, Kelly Clarkson, and John Legend are building their teams and can affect each other with a block button. How three coaches used it have some people wondering if the coaches sabotaged Team John Legend. Here is the reason why.
The Voice Season 16 includes a block button
The show always likes to introduce twists to keep things fresh and competitive between the coaches. This season it's a block button that coaches can use on each other in the blind auditions. It stops a specific coach from being able to turn around and compete for a singer to join their team.
It didn't take long for the Season 16 coaches to use it in the first episode. Two of them used it and it was definitely targeting a newcomer.
Blake Shelton blocked Legend from getting Gyth Ridgon
Shelton is very competitive so it's probably not surprising that he was the first coach to use the block button. What is a little surprising is that he used it against Legend.
Shelton blocked Legend for Gyth Rigdon's audition. Rigdon was a fan of the new coach too and said he was a fan of the EGOT winner "even though I grew up in the South and I am mainly country, I sing pop, rock, blues, soul music." Shelton put a stop to that and it took some time for Legend to notice.
"How am I the first person blocked?" asked before Shelton and Clarkson tried to persuade Rigdon onto their team. In the end, Shelton won.
Kelly Clarkson blocked Legend from getting Rizzi Myers
It was then Clarkson's turn to use the twist when Rizzi Myers performed Ariana Grande's "Breathin." Clarkson, Legend, and Shelton all turned around for the impressive singer but Clarkson and Shelton were the only ones who had a shot because Legend was blocked.
Clarkson revealed why she decided to use the button on Legend. "I used my block on John. He's new. He doesn't know that you have to go quick if you're gonna block somebody," explained last season's winner.
That certainly is a strategy, but it is interesting that the other coaches decided to target Legend when they all have multiple wins under their belt. It turns out that Levine will use his button against Legend as well.
Legend previously admitted that all of the other coaches hazed him by using their block buttons on him
We know that Levine also blocked Legend this season because he previously revealed it in an interview with Jimmy Fallon. He talked about how the twist played out.
"Yeah, they haze me," said the singer. "My very first day you know we have the blind auditions and if you hear somebody you like you turn around, but each coach has an opportunity to block one person, one other coach. You can only use it once. Every single person chose to use it on me."
So did this move sabotage Team John Legend? If Ridgon and Myers go far the answer might be yes. However, there are still so many more things on the horizon.
Season 16 will have The Comeback Stage once again with coach Bebe Rexha so a knocked out artist will come back later in the season. The save button will also be in play later this season so Legend could save a team member he wants to hold on to later in the game.
There are many variables that it's too early to say whether the team is sabotaged, but it's certainly not being helped by the other coaches.
Read more: 'The Voice' Season 16: Is Kelsea Ballerini Being Kelly Clarkson's Battle Advisor an Advantage?
Check out The Cheat Sheet on Facebook!