'The Voice': Fans Are Not Happy With Blake Shelton After This Controversial Move
For years, Blake Shelton has been a beloved country singer. Throughout his career, he has had several No. 1 albums and has received numerous awards for his fun and lighthearted hits. In 2011, Shelton gained a whole new fan base when he became the one of the coaches on The Voice. Since that time, fans have gotten to see a whole new side of Shelton, and they instantly fell in love with his fun-loving, goofy personality.
While Shelton is known for his witty personality, he recently did something on The Voice that fans did not like at all. So what controversial move did Blake Shelton make that caused fans to be unhappy with him? Keep reading to find out.
Blake Shelton and Trace Adkins' performance on 'The Voice'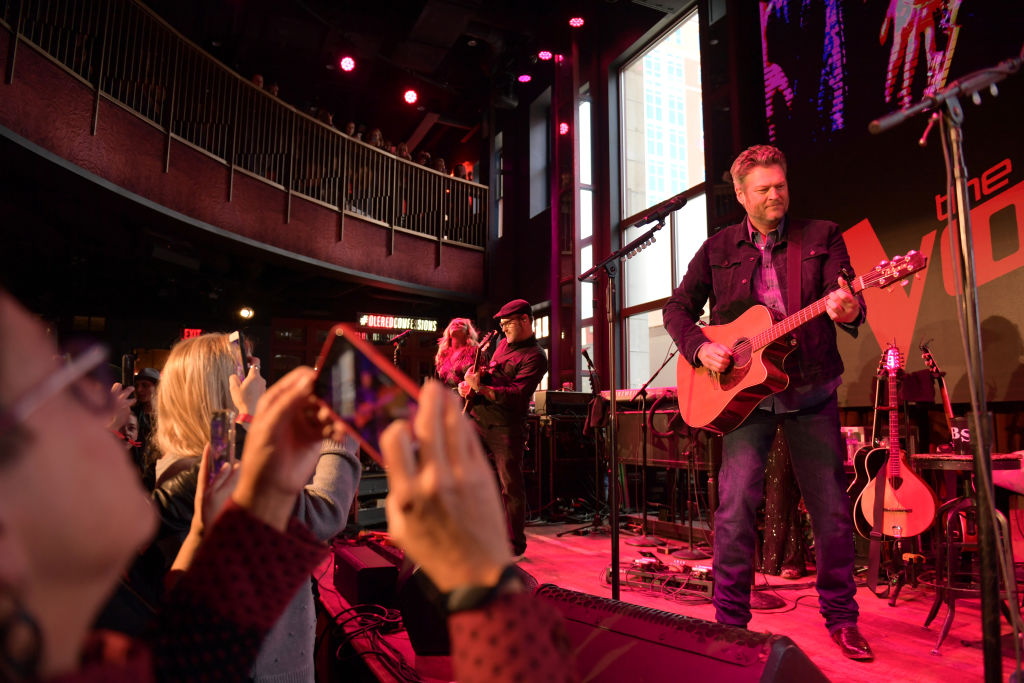 Recently on The Voice, Blake Shelton and his good friend, Trace Adkins, took the stage to sing their new song titled Hell Right. Just like most of Shelton's songs, this one was upbeat and fun.
While he was singing the song, the audience seemed to be having a good time and gave him a standing ovation when he was finished. Even Kelly Clarkson was up on her feet during his performance. After the song was finished, Shelton said, "Merry Christmas, America," and fans started to cheer even louder.
In the past, Shelton and Adkins had sung a couple of other songs together. And whenever those two collaborate, fans go crazy.
Some fans were not happy with Blake Shelton's latest performance
While the crowd at The Voice seemed to really love Shelton's new song, there were a few people who did not like the song at all. According to Country Living, after the performance several fans took to Twitter to voice their outrage of the song. Some fans were saying that because the song had the word "hell" in it, it was inappropriate for primetime TV.
One fan had said: "I used to like The Voice but I think this might be my last season. I am disappointed in Blake and Trace. I like them both, but I don't think we need more swearing to be cool and hip. Please be the integrity we need because that wasn't."
Other fans thought it was inappropriate for Shelton to say "Merry Christmas" right after saying the words "hell right."
This isn't the first time Shelton sang a song with swear words in them. A few years ago, Shelton came out with a song called Kiss My Country Ass that was an instant hit.
There were a lot of fans who loved the performance
While there were a few fans who disliked the song, there were even more fans who loved it. For the people who have been a long-time Blake Shelton fan or a long-time country music fan, hearing a few "bad words" in a song is not that surprising.
However, when it comes to the fans of The Voice, many of them aren't necessarily country music fans and only know who Shelton is because of the show. So these fans might not be used to hearing certain types of language in a song.
And when you look at some of the comments on Twitter, there are quite a few that are overwhelmingly positive. Many people loved his performance, loved his song, and hope that he and Adkins decide to collaborate on songs more often.
Shelton's song may have been controversial to some, but he still had quite a few fans who loved his song, and it made it to the top of the music charts. So far, Shelton has not responded to any of the negative tweets, but given his outspoken and witty personality, there is a good chance that the negative comments don't bother him at all.