'The Voice': Fans Can't Agree On Who's the Best Coach
After 16 seasons, Adam Levine decided to leave The Voice. This season, the show brought back a familiar face to fill the empty coach's seat.
Gwen Stefani is now back on the show alongside Kelly Clarkson, Blake Shelton, and John Legend. Levine and Shelton's bromance made them an instant hit with the fans.
Now that he is gone, fans are taking a closer look at the individual judges and deciding who they would like to see next season and who they wouldn't mind saying goodbye to.
So, what are fans saying about The Voice coaches this season? There seems to be quite a bit of mixed reviews and fans can't quite decide which coach they like the best. Here are a few of the things that fans are saying about the coaches this year.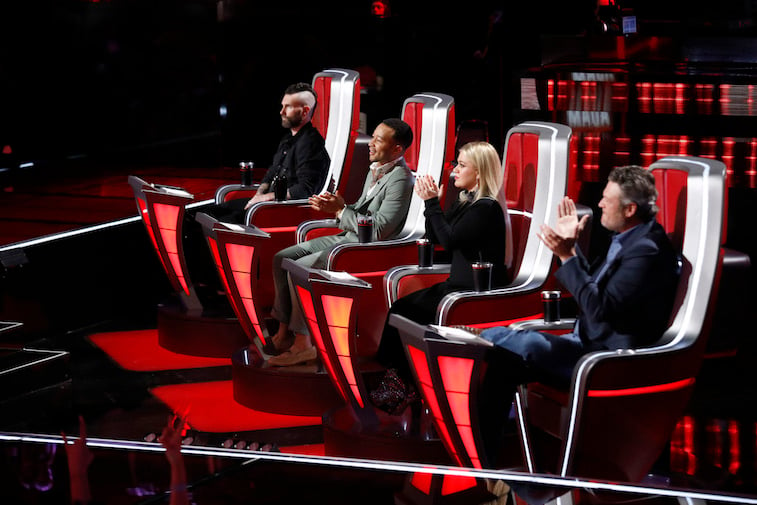 John Legend and Kelly Clarkson are two of the most popular judges right now
Kelly Clarkson first became a judge on The Voice on season 14. At the time, many fans thought that she was a great choice because she already had some music competition experience.
Being that she was the first-ever winner of American Idol, she was able to see the competition from the perspective of the contestants and because of that, she seemed to have a deeper understanding of what they were going through.
John Legend joined The Voice last year. Even though he is pretty new, he seemed to catch on pretty quickly how to pick singers that have the most potential and how to work with them so that they are able to truly become great singers.
According to a recent discussion on Reddit, many fans feel that Legend and Clarkson are two of the best coaches on the show right now. They seem to think that both Legend and Clarkson seem to really care about the contestants the most and give the best advice to their team members.
One commenter said: "John comes across as extremely analytical (Kelly, too, although not quite to the same degree), even just with the comments he makes to the singer who don't get a chair turn. He seems like he'd be a really solid coach."
"Kelly transparently cares a lot about her team members. From the limited sample we see, she seems like a really helpful coach – not just onscreen, but post-show also," the commenter continued.
Many other people on the thread had pretty much echoed that sentiment and seemed to think that a far as coaching goes, Legend and Clarkson are two of the best coaches on the show.
Fans have mixed feelings about Gwen Stefani
Stefani has come and gone as a coach on this show for the past few years. And while most people love to see the chemistry that she and Blake Shelton have together played out on the show, many people are unsure about her talents as coaches.
Another discussion that was had on Reddit was about Stefani's questionable coaching abilities.
One poster wrote: "[Stefani's] always been the weakest judge in my opinion. Her focus on looks and style are literally the opposite of the stated mission of the show…All that said this is my favorite of her seasons and its post her coming out as Blake's partner, but to be fair I think they need to shake up the judging."
However, one commenter on Reddit had said that they believe that Stefani is a good coach, she just has a unique ear for talent.
"I wouldn't say that Gwen is a bad coach," the commenter said. "To me, she seems to press her button for unique talent rather than technically perfect singing like the other judges. Which makes a lot of sense, since I would put Gwen's vocals in that category as well. I would say Gwen and John have the strongest teams this season."
Are all of the judges returning for Season 18 of 'The Voice'?
Clarkson, Shelton, and Legend are all set to return to their judging chairs for the next season of The Voice. However, Stefani's busy schedule will not allow her to come back next season. Sitting in her seat for Season 18 will be Nick Jonas.
Jonas's award-winning career in music makes him the perfect choice for the show. Although this is his first time to ever be a coach on the show, we are sure that he will be a natural.
And in case he needs any advice, he can always ask his brother Joe, who was a coach on the Australian version of The Voice.