'The Voice' Host, Carson Daly Said Blake Shelton Was Miserable Before Hooking Up with Gwen Stefani
Blake Shelton has been on The Voice since season 1. Fans probably can assume he enjoys it since he's the last original coach to be on the show.
However, Carson Daly revealed that he doesn't enjoy one thing about filming. Find out what it is and how things changed once he got with Gwen Stefani.
Blake Shelton and Gwen Stefani met and fell in love while working on 'The Voice'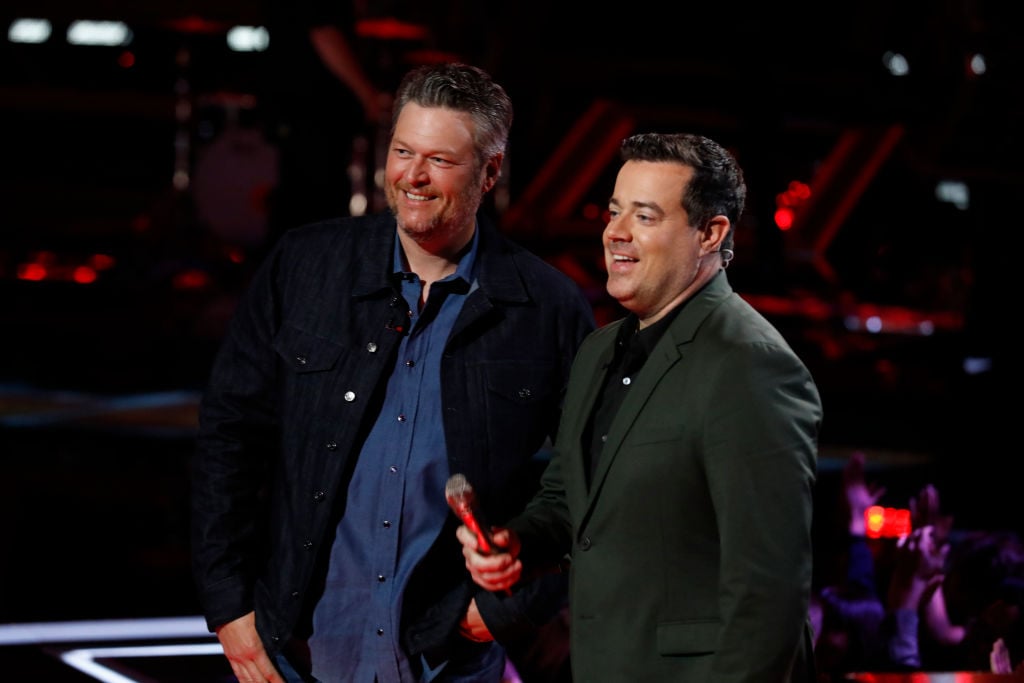 The singers became much closer during their second season working together. That's because Shelton was getting a divorce from Miranda Lambert and Stefani was dealing with the end of her marriage with Gavin Rossdale.
"She didn't tell me much, because we didn't know each other at the time, but she said, 'I'm going through something very similar to what you're going through. I understand. And I hate it,'" Shelton revealed to Billboard. 
He continued, "That's kind of how our friendship and bond started, that day. It went from that, to checking in on each other once a week through email — 'This sh*t happened to me, what happened to you?' — to maybe three times a week, then every day, to 'Hey, here's my phone number if you ever want to text.' Next thing I know, I wake up and she's all I care about, and I'm ­wondering if she feels the same about me."
Carson Daly previously called Stefani a keeper
Carson Daly once shared an old photo of him and Stefani in a recording session. He wrote a sweet message in the caption on Instagram.
The host wrote, "It's pretty crazy that I've known @gwenstefani since 1995. Here she's on my afternoon radio show in San Jose, Ca. #TragicKingdom was released in Oct that yr. Now, almost 25 yrs later we work together @nbcthevoice She is the realist, sweetest, most talented & just down right coolest person I know. Grateful for our friendship. @blakeshelton You got a keeper my brother!"
Stefani also shared the post and added, "@carsondalyeverything u just said back at u!!! Love u so much – can't believe I'm back at @nbcthevoice this season sooooooo grateful off to church to give my thanks @blakeshelton did u see what @carsondaly said keep me! Gx."
Daly said Shelton was miserable before her
The couple has a good time working on The Voice together. Daly had something to say about how things changed with them getting together.
"Early on in the show he'd be in L.A. and he's such an Oklahoman. He really is like he was miserable here before he started fornicating with her," he said on the Kelly Clarkson Show gesturing to Stefani.
Stefani looked shocked by this. Shelton reacted by clapping and saying, "Hear! Hear!"
The host wasn't done. "Thank you to Gwen," he continued. "But before Gwen when we were in L.A. it would be a mission to try and find something for the cowboy to do because he was such a fish out of water in L.A."
Daly said one day they went to a Bass Pro Shop. "Walking around with Blake Shelton at a Bass Pro Shop is like walking around with Jesus Christ at the Vatican," said the host. "Like his people are there! He was very at home."
It seems like now Shelton has plenty to do with Stefani. Fans now know another way they have changed each other's lives by being together.