'The Voice': How Is Blake Shelton Reacting to Adam Levine Leaving the Show?
Season 16 of The Voice just wrapped up and fans are looking forward to Season 17. At first, it seemed like Blake Shelton, Adam Levine, Kelly Clarkson, and John Legend will be back as coaches next season. Now there is huge casting news.
Levine has quit and won't be back next season. How does Blake Shelton feel about the news? Here is everything you need to know.
Blake Shelton and Adam Levine have been on The Voice since Season 1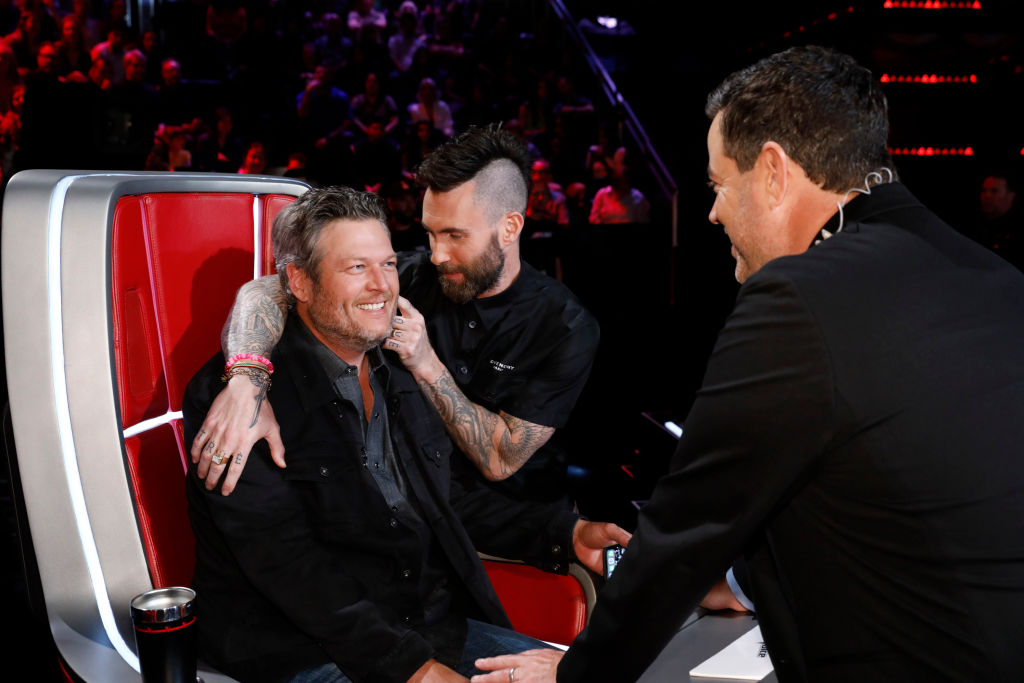 The two coaches have been the reigning veterans on The Voice since Season 1. They started having a friendly feud or bromance because of it and it became a big part of the show's dynamic.
"I don't know if you realize that or not and maybe the fans forgot for a minute, that he is an idiot," Shelton told Extra when talking about Levine. "And, you know, that's the thing about when we go live, it's…Adam and I are constantly jabbing at each other, but when we go live, it's out there ya know? So, I've figured out how to kinda tame mine back a little bit because they don't have a chance to edit it out of the show."
Shelton doesn't just trash talk his friend. He gave a touching speech for Levine's Hollywood Walk of Fame ceremony.
"I want [to] talk about my journey with Adam because it's been one of the most important relationships of my life… I first met Adam in 2011… this little scrawny guy with a white t-shirt on came in the room and if you would've told me than that this guy would've ended up being one of my best friends I would've called you crazy," he said.
Carson Daly announced that Levine has quit The Voice
The host announced on the Today show that there is a huge shakeup in the cast next season. Levine won't be a coach and it's reportedly his decision to leave.
Carson Daly said Levine will "always be cherished member of The Voice family, and of course, we wish him nothing but the best," according to E! News. He also announced that Gwen Stefani will be back to replace him.
How does Shelton feel about the news? It might be a mix of emotions given he won't be working with his best friend anymore, but he will be working with his girlfriend again.
Shelton tweeted that he's having a hard time wrapping his head around the news
The country singer is usually happy and all about joking around. He has reacted publicly to the news with what seems to be genuine surprise.
He tweeted, " Having a hard time wrapping my head around @adamlevine not being at @NBCTheVoice anymore. After 16 seasons that changed both of ours lives. I only found out about this yesterday and it hasn't set in on me yet. Gonna miss working with that idiot."
It's probably not that surprising that Shelton just found out about this news. That's because it was previously reported that Season 17 was supposed to including Shelton, Levine, John Legend, and Kelly Clarkson.
The show previously tweeted a picture of four of them with the words "back for more." The caption read, "A group of Coaches so good we need an encore. This iconic squad is returning to #TheVoice next season."
Clarkson also reacted by tweeting, "Found out last night about @adamlevine leaving The Voice & while I get that he's been doing the show 4 a while & wants to step away, it will be weird showing up 4 work & he's not there To start an amazing show from the ground up is a big deal!"
John Legend and Levine have yet to tweet about the news.