'The Voice' Season 16: Is Kelsea Ballerini Being Kelly Clarkson's Battle Advisor an Advantage?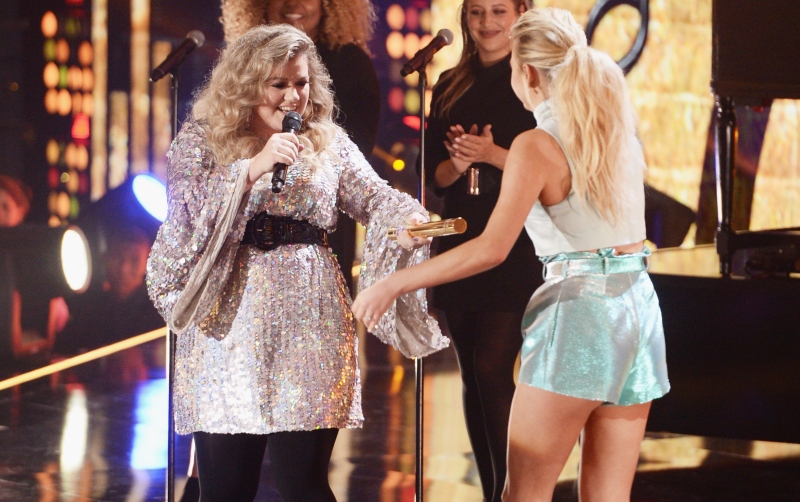 Blake Shelton has dominated The Voice for most of the show's run. But Kelly Clarkson won Season 15 with country singer, Chevel Shephard. This season she will try again and she will have Kelsea Ballerini as her team's battle advisor. But is that an advantage? Here are the reasons why it maybe a big one.
Kelsea Ballerini was a fifth coach on Season 15
The competition tried something different last season by having Kelsea Ballerini be a fifth coach. She didn't get her own chair, but she was on the series The Comeback Stage on YouTube.
There she mentored six of her own singers who auditioned on the show but didn't make it onto a team. They were then given a chance to get onto a team after competing in battle rounds. Ballerini picked who made it to the final rounds to perform on The Voice live and through Twitter votes someone got to come back and pick their new team leader.
Lynnea Moorer was the one who successfully came back and joined Team Kelly, but was later eliminated. This change was pretty controversial. But it looks like Ballerini is the one thing to stick around for another season from it.
Kelly Clarkson said it's easy with Ballerini because she has done it before
After it was announced that Ballerini is coming back as Clarkson's battle advisor, the two had an interview together. There the Season 15 winner revealed why working together will be easy.
"Oh it's easy with her because she's done it before because she did The Comeback thing last year," Clarkson told Access Hollywood "what you did before is what we're doing now."
Ballerini did chime in with what makes this season different from her perspective. "It's different though doing it with her because I feel like I'm learning from what she's saying. So I feel like I'm being way more quiet because I'm listening to everything she's saying. I'm like 'I need to do that too.'"
When asked if there is a good cop and bad cop between them Clarkson said "Oh no, we're both just nice."
The other battle advisors this season are Khalid, Charlie Puth, and Brooks & Dunn who have less experience with the show. Also, Clarkson won last season with a country singer and having a country singer that's strong on the scene might be another added advantage.
Ballerini could give her an added country edge over Blake Shelton
Could the addition of Ballerini be a sign that Clarkson will gun for another country winner? She talked about last season's win with Chevel Shepherd in the same interview.
"Gwen [Stefani] was the one who rubbed it in. She was like 'Oh my god, she beat you with a country artist!'" revealed Clarkson. She added, "and I was still kind of fresh so I was like [nervous laughter.] But I was like 'I did.'"
Still, Blake Shelton has six wins under his belt so he is the toughest one to beat. The addition of John Legend as a coach this season also is a wild card. Legend might have never been on the show before but he's notably an EGOT winner. So Clarkson looks like she's set up well but it's still not a safe bet for her team just yet.
Read more: 'The Voice': What Chevel Shepherd Plans to Buy with Her Season 15 Prize Money
Check out The Cheat Sheet on Facebook!