'The Walking Dead' Season 7: Everything We Know So Far
Spoilers for The Walking Dead season 6 ahead!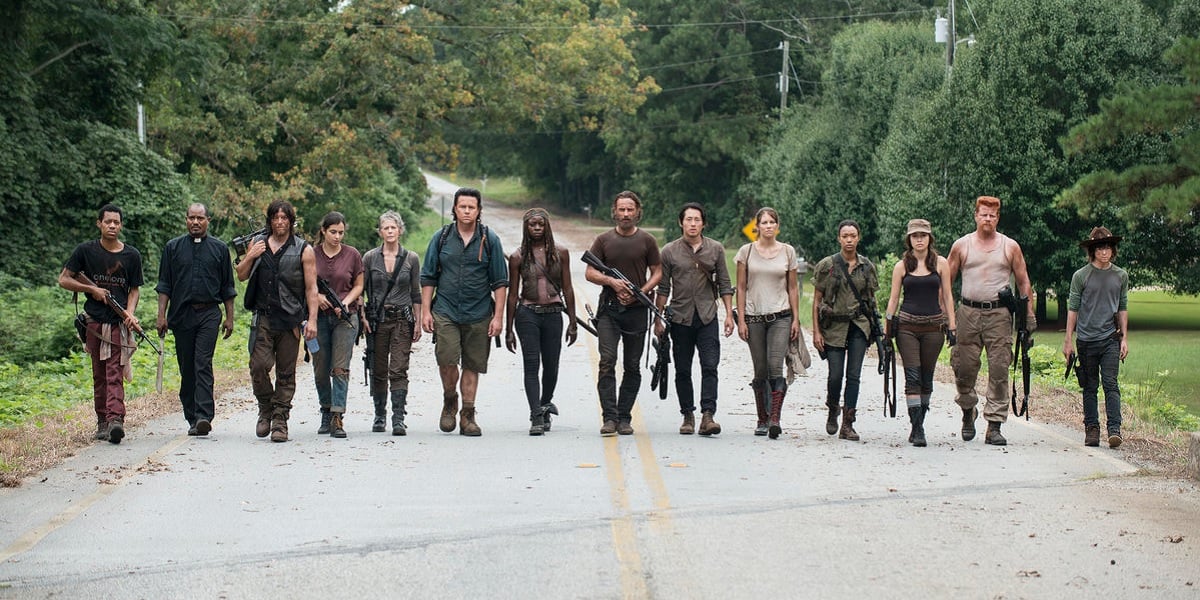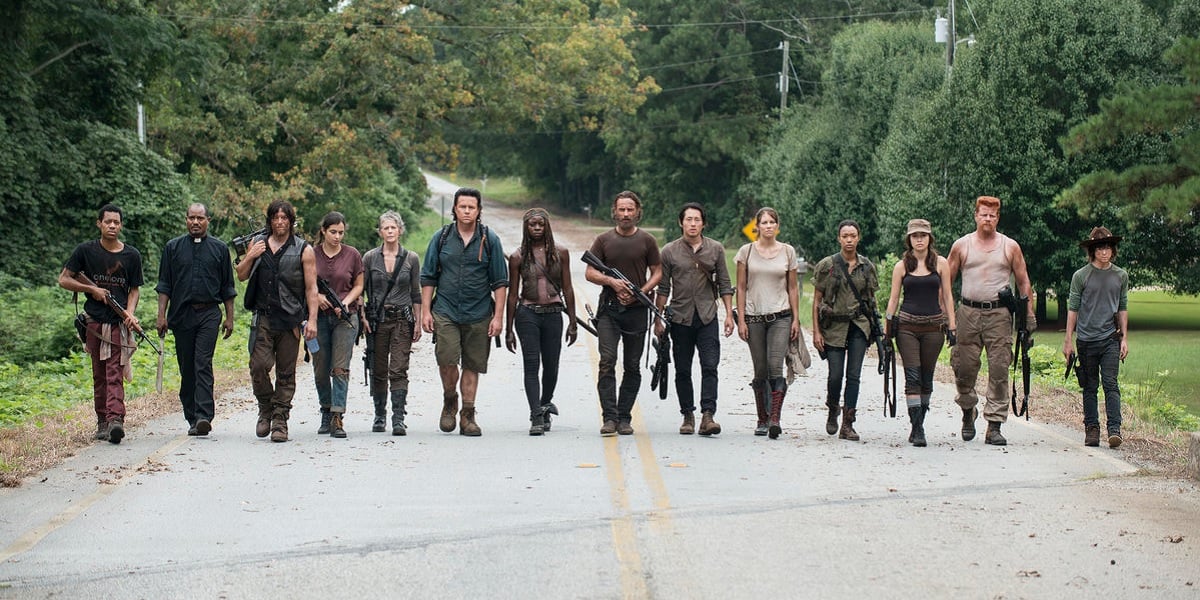 The Walking Dead wrapped up its sixth season on a major cliffhanger, once again leaving fans in the dark as to which character dies at the hands of the new big bad, Negan. Needless to say, viewers are not too happy with the inconclusive ending, with the episode spurring some major backlash on social media. Still, there's plenty to look forward to, as the zombie drama's creative team has promised.
Here's what we know about The Walking Dead Season 7 so far:
1. It will pick up right where it left off
The Walking Dead's seventh season will pick up immediately after the Season 6 finale cliffhanger — which means audiences won't be forced to wait any longer to find out who the unlucky one is on the receiving end of Lucille.
"Season seven is going to pick up right where we left off. So you're going to see who's on the end of that bat," Jeffrey Dean Mogan, who plays Negan, told Vulture. "I didn't know it was going to be a cliffhanger until I watched the show. That was done in my world."
Meanwhile, Gimple is confident that viewers will feel the cliffhanger was justified, after seeing the opening episode of Season 7. "I truly hope that people see 701 and they feel it justifies the way that we've decided to tell the story," he said, per Yahoo. "I know what 701 is, and I feel that it delivers on what 616 sets up."
Producer Greg Nicotero recently said that fans shouldn't expect the aftermath of Negan's brutal assault to play out exactly as it does in the comics. "I don't think we would be doing the material justice if we just regurgitated it word for word," he told Digital Spy. "There are iconic moments, and there are things that we will pay tribute to, and even if we don't do it exactly the same way that we find it in the comic book, we will find a way for fans of the graphic novel to feel like they are getting their money's worth."
Update 10/9/16: Another Season 7  sneak peek was released at New York Comic-Con, below.
2. Things will get dark very fast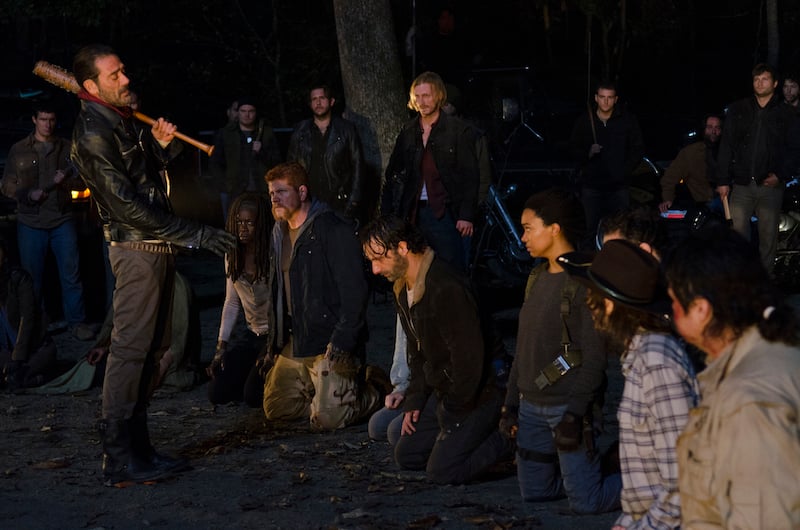 We know that someone is about to die at the hands of Negan, so it should come as no surprise that things will get ugly very quickly. "I can say without spoiling anything that things are going to start off very, very, very dark," Gimple explained. "Everybody knows where we're starting, but that won't be the whole season. It's not going to be darkness upon darkness upon darkness. I'm very psyched with all the individual character journeys, except for the way we start, which will be awful."
Gimple also promised that the next season will feature "probably the biggest variety of stories" that the show has seen yet. "The world opened up this past season, and you know, it opened up to some bright places, it opened up to some dark places. In the next half season, the world is going to open up even more," he explained.
Update 5/25/16: Although Negan's victim in the Season 6 finale has yet to be revealed, creator Robert Kirkman recently gave fans at Hawaii Comic Con a list of characters who "should" be dead before the series ends. As reported by CinemaBlend, Kirkman named Rick, Carl, Michonne, Daryl, Abraham, Rosita, and Jesus. To clarify, these are characters who should be dead before the entire series concludes — not necessarily a list of potential Negan victims.
Update 7/8/16: Ross Marquand, who plays Aaron, has promised that the show will make up for the cliffhanger finale with an intense Season 7 premiere. "It's brutal, it's insane, but I think it is going to be exactly what the fans are looking for," he told EW.
Update 8/14/16: In a message read-out on the The Walking Dead Season 7 preview special, Gimple offered no specifics, but did given fans an ominous warning. "You know the beginning, and it's almost here, so enjoy your summer because the beginning is someone's end," the showrunner said in the written statement. "But it is a beginning. What happens in episode one will shatter the lives of those who survive and will rend the narrative into different trajectories in which we will see our characters in completely new situations, torn from the pages of the comic and remixed in The Walking Dead remixinator 5000."
Update 9/6/16: A new trailer featuring Negan can be seen below.
Everything you have belongs to Negan now. #TWD returns Sunday, October 23.
https://t.co/uQxdBACQvI

— The Walking Dead AMC (@WalkingDead_AMC) September 5, 2016
3. Heath will be back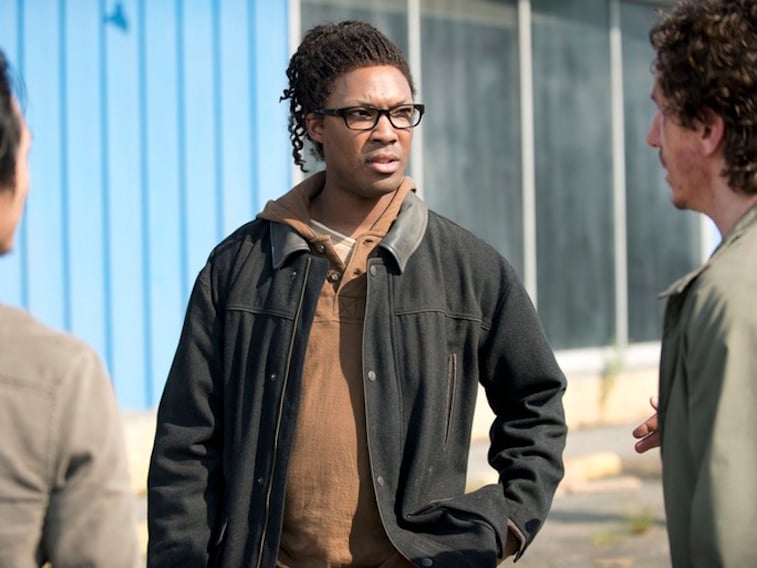 Actor Corey Hawkins, who plays The Walking Dead's Heath, recently signed on to star in the upcoming 24 reboot, leading fans to wonder whether that was the end of his character on the AMC series. Gimple has since confirmed that there are plans for him to reprise his role on future episodes of The Walking Dead, although scheduling is still being ironed out.
"We will absolutely see Heath again. At this point, we've had to 'choose your own adventure' a little bit. We're hoping to have him in a certain episode for a certain thing that would lead to another thing," he said, also adding, "We have a lot of contingency plans … It's a problem, but schematically with the character, luckily, I had been thinking about this possibility for a while and really just tried to find several different ways to get what we wanted to get with the character, if we don't get to do it on the exact schedule that we hope to."
4. It will explore the dynamic between the Alexandrians and Negan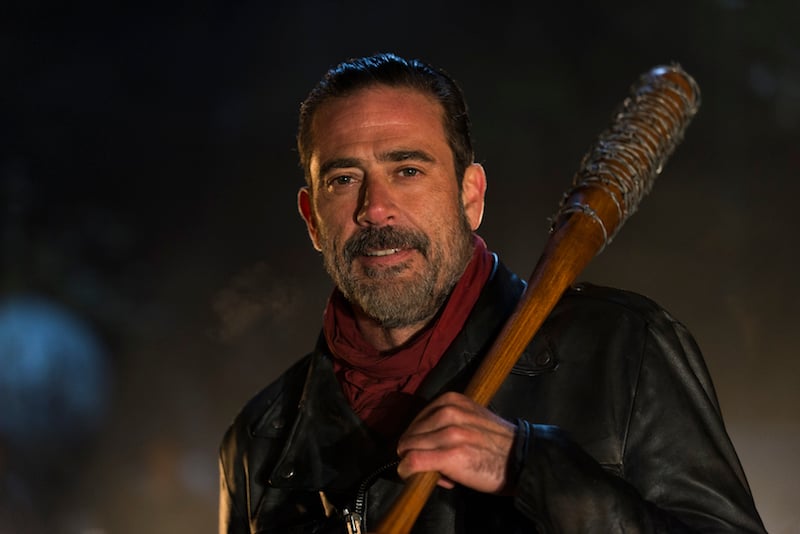 The introduction of Negan will be a game changer for the show and its characters. "He's certainly the most formidable foe that Rick has ever encountered, not only in the comic books but now on the show. We certainly got a taste of that in the finale," executive producer Gale Anne Hurd said, per Deadline.
In the comics, Negan and Carl also develop an odd relationship, with a strange sense of respect between the two. That will be highlighted in the show, as Gimple shared.
"It may be very, very brief, but we will absolutely see them have a pretty intense moment," he said, per Yahoo. "There's going to be a bit of remixing. There might be another character involved that takes some of it… That relationship will be absolutely shown. Whether it's with Carl or not, I cannot say. I absolutely want to explore Negan having that strange respect for someone, which I think was the hallmark of that relationship, and tell versions of that story."
Update 7/8/16: Morgan (Negan), Tom Payne (Jesus), Austin Amelio (Dwight), and Xander Berkley (Gregory) have all been promoted from recurring guests to regular cast members for season seven, according to the Hollywood Reporter. While this isn't much of a surprise—especially for Morgan, considering he's the show's main new villain, it's an indicator that all four of these character will play a major role in the next season.
Update 7/14/16: EW has released the first official photo from The Walking Dead Season 7, seen below. The picture shows Negan getting ready to hurt his victim, although clues as to who it may be are not revealed in the image.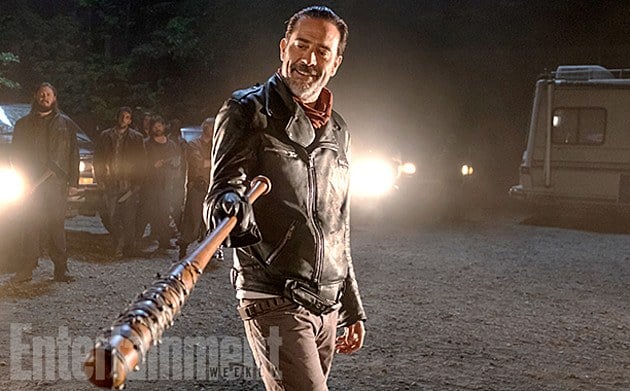 Update 8/5/16: At some point, Negan apparently upgrades his weapon of choice to a gun, as seen in the new photo released by AMC below: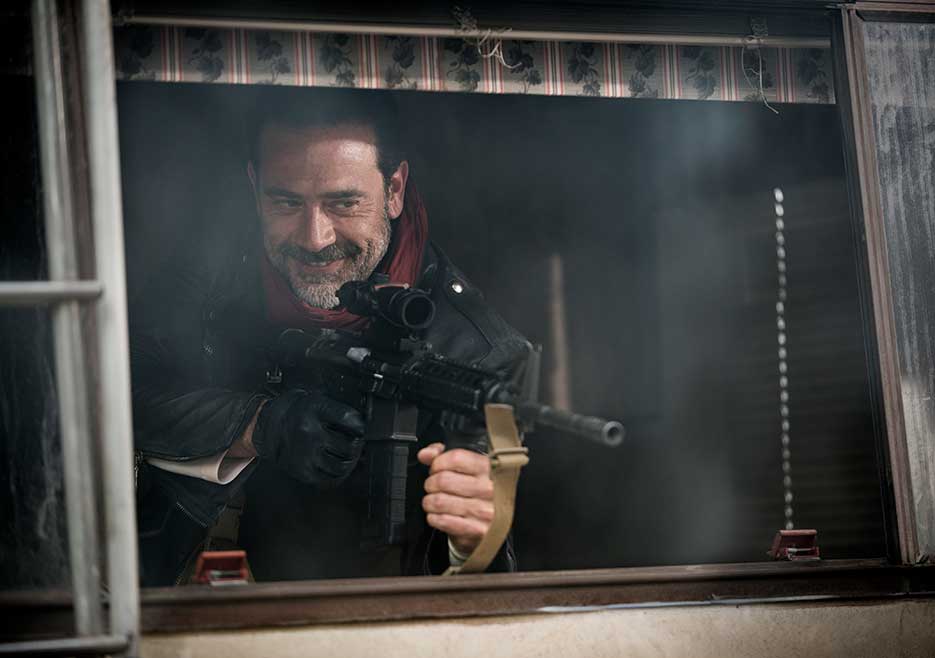 Update 8/16/16: A new Season 7 teaser, seen above, seems to hint at the possibility of Daryl's death. In the clip, Negan's henchmen Dwight is seen wearing Daryl's vest and riding his motorcycle through a zombie roadblock of sorts. While that certainly isn't a good omen for the favorite character, there may be another explanation: a recent rumor suggests that Daryl will be kidnapped by Negan and his crew in the upcoming season. On the plus side, that means he's still alive…for now.
5. Season 7 will introduce several new characters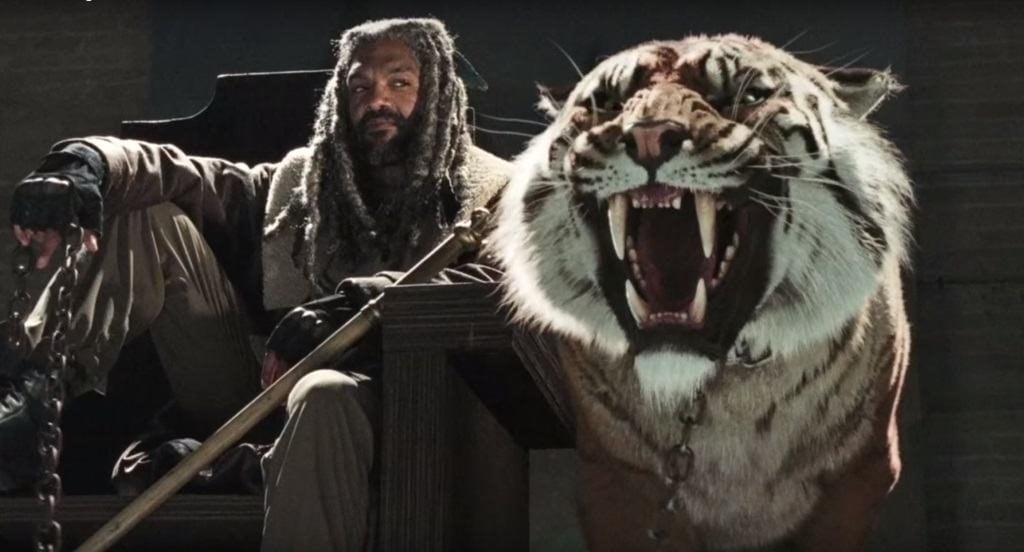 According to TVLine, the seventh season of The Walking Dead will introduce two new characters who aren't found in the original comic book series: Naomi, "a grandmotherly type who, having lost so many loved ones, is now willing to do whatever it takes not to have to bury any more" and Jennie, a "sunny-side-up kinda teenager who is kind, with a world-weary toughness." One of the show's most popular characters (Daryl) is not found in the comic book series either, so these new characters could also prove to be a welcome addition to the show.
Also joining the cast next season is Ezekiel (above), the leader of the community known as The Kingdom, who will be played by Khary Payton (Teen Titans, General Hospital). The character, who was first introduced in "Issue 108" of Robert Kirkman's comic series, is usually shadowed by his pet tiger, Shiva.
Update 8/19/16: According to the Spoiling Dead Fans (via Comicbook.com), The Walking Dead is apparently casting for another leader-type role named "Brion" to be introduced in the back half of the season. The casting call's description reads: "Brion is an educated, pokerfaced leader who has a superior air and does not let his/her motives be known." The name Brion has never been mentioned in comic books, but some have pointed out it sounds similar to Alpha, the female leader of the savage Whisperer group currently who is at war with Alexandria in the recent issues.
6. Season 7's theme will be about starting over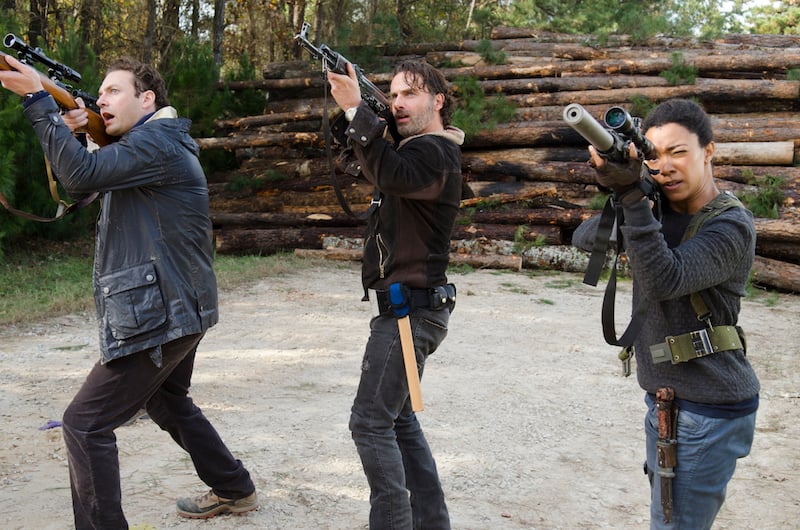 Much of Season 7 will deal with the characters trying to figure out how to survive in this world with Negan. "A big part of it is, 'How do you begin again?' The world is not what they thought it was. How do you basically start over in this new world?" Gimple said of the themes in season seven. "All of these characters – even the [ones] that weren't in that lineup – are in a position where they will learn the world isn't what they thought it was and it will challenge them as far as how they choose to move forward and who they want to be."
Star Norman Reedus also recently opened up about how the show will change following Negan's introduction, telling Deadline, "It's a brand new world right now, man. We have big bad guy and that opens up our world quite a bit and changes everything. I mean, you see a shift of power completely on our show. And you see a lot of people who've gone through a whole lot, having to bite their tongue for a minute and deal with this new world and this new villain. If you know the comic books, it opens up even larger than that."
Once Negan's victim is finally revealed, Nicotero says the show will be forever changed. "The next season is a very different Walking Dead from the one we are accustomed to," he explained to DigitalSpy. "I think that people will enjoy that the show continues to change direction and doesn't just deliver the same thing over and over again. It's the logical place where our show should go. We close one chapter and open a whole new chapter."
Update 7/29/16: EW has revealed new photos at the upcoming season below: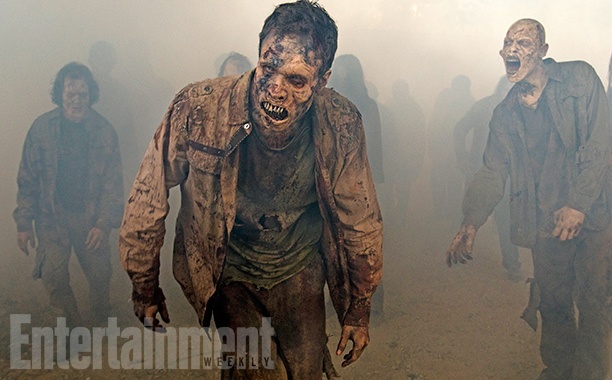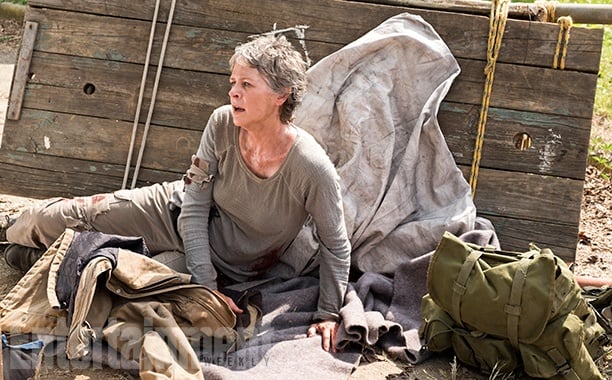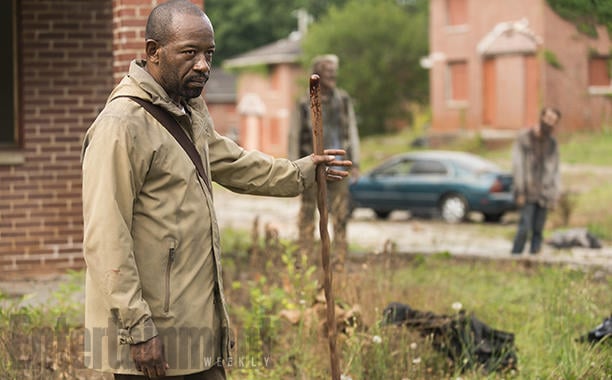 The Walking Dead will return to AMC on Sunday, October 23 at 9:00 p.m. ET.

Update 10/17/16: Per AMC's schedule, the premiere episode "The Day Will Come When You Won't Be" will be extended, running for six minutes longer than usual. The second episode, titled "The Well," will run 76 minutes with commercials, making it one of the longest episodes to date

More from Entertainment Cheat Sheet: