The Weird Reason Why Kanye West Compares Marriage to 'Dog Years'
It is well-known that Kanye West is currently married to reality star Kim Kardashian. The two of them have been described as a power couple since they both were famous in their own right before dating each other.
While West and Kardashian's marriage looks awe-inspiring on the outside, many people might not be aware of how West and Kardashian themselves see their relationship. In fact, West recently shared his perspective on it all, even going as far as comparing his marriage to dog years.
Kanye West has been married to Kim Kardashian since 2014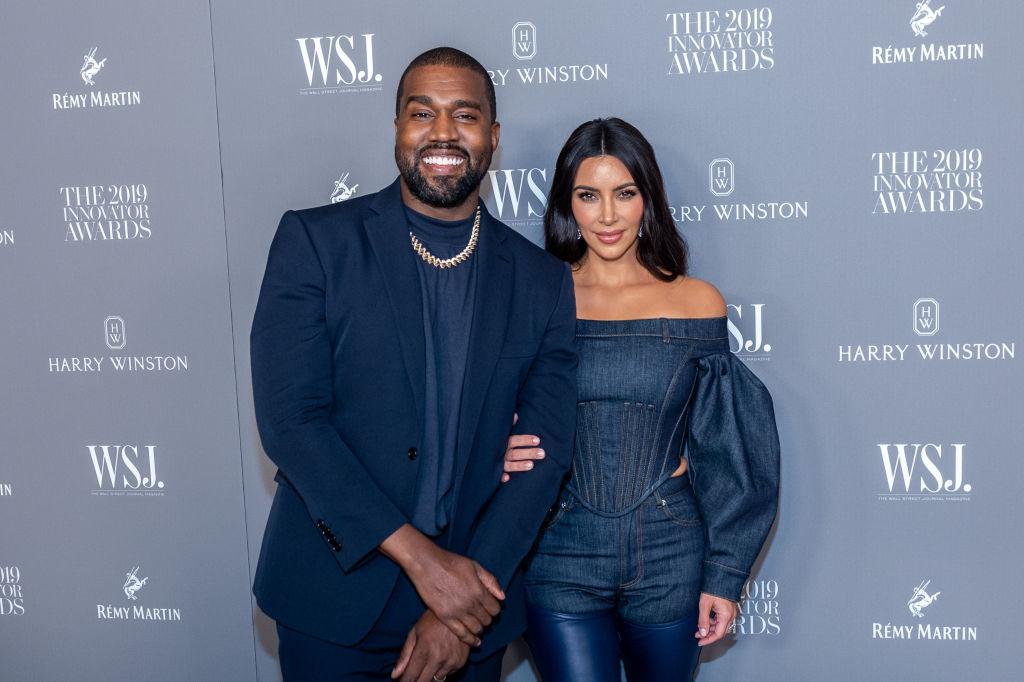 West and Kardashian had known each other for a long time before they started dating. They initially met sometime in the early 2000s through a mutual friend: singer Brandy. Both West and Kardashian were in relationships with other people at the time so they did not pursue anything romantic with one another.
However, in 2012 — while Kardashian was the middle of finalizing her divorce with Kris Humphries — she and West went on their first date. Kardashian recalled that hanging out with West was "just so much fun." She even told West during their joint interview with Vogue Arabia: "I realized you were the one and then I was like, damn, why did I waste so much time and energy? Why didn't I do this sooner?"
The couple went on to tie the knot in 2014 in a private ceremony in Italy. They currently have four children together: North (b. 2013), Saint (b. 2015), Chicago (b. 2018), and Psalm (b. 2019).
Kanye West says that marriage is like 'dog years'
While West and Kardashian seem to be lasting longer than many other celebrity marriages, West admits that marriage is not always easy. On a recent episode of James Corden's Carpool Karaoke, West shared that he sees married life as being a bit different than single life.
He said: "You know how dog years are like seven years? Every marriage year is like 100 years."
Thus, West joked that he has actually been married for 500 years.
Fans think Kanye West and Kim Kardashian's marriage might be in trouble
Although West and Kardashian have not revealed any serious problems in their relationship, onlookers believe that there are clues indicating they might be heading towards a divorce.
In October, Keeping Up With the Kardashians aired an episode showing West and Kardashian having an argument about her outfit at the recent Met Gala. West told Kardashian that her outfit was more revealing than he was comfortable with, saying: "You are my wife and it affects me when pictures are too sexy."
Many fans see this argument as pointing to the fact that two of them are beginning to have different outlooks on life. West seems to be focusing a lot of his time on Christianity nowadays, though Kardashian is not as dedicated as he is. The couple has some different values as well with West being a proud supporter of Donald Trump while there are signs that Kardashian is not on Trump's side.
Moreover, West did defend his actions on Keeping Up With the Kardashians, saying that after the argument he "suffered on social media," but that "there are other married men that I know are happy to hear me say that."
Later on, Kardashian posted a few pictures of her family dressed up in various outfits for Halloween. In all of the photos, West was present, though he was hard to identify. Some people believe that West might not have been under these costumes, thereby igniting more divorce rumors.
However, West and Kardashian seem to just be turning a blind eye to all the gossip, and perhaps only time will tell whether the couple can remain united despite their many differences.