The Weird Reason Why Kim Kardashian Loves Wyoming
Kanye West and Kim Kardashian recently turned a lot of heads when they made the announcement that they were moving to Wyoming. While it is still unclear if this will ultimately be a permanent relocation or simply an addition to their living options, it does seem that the family has a lot to love about their new space. While the privacy and the chance to work on their projects in peace is one of the main draws, there is also a weird reason Kardashian loves living in Wyoming.
The Kardashian-West family's primary residence was in California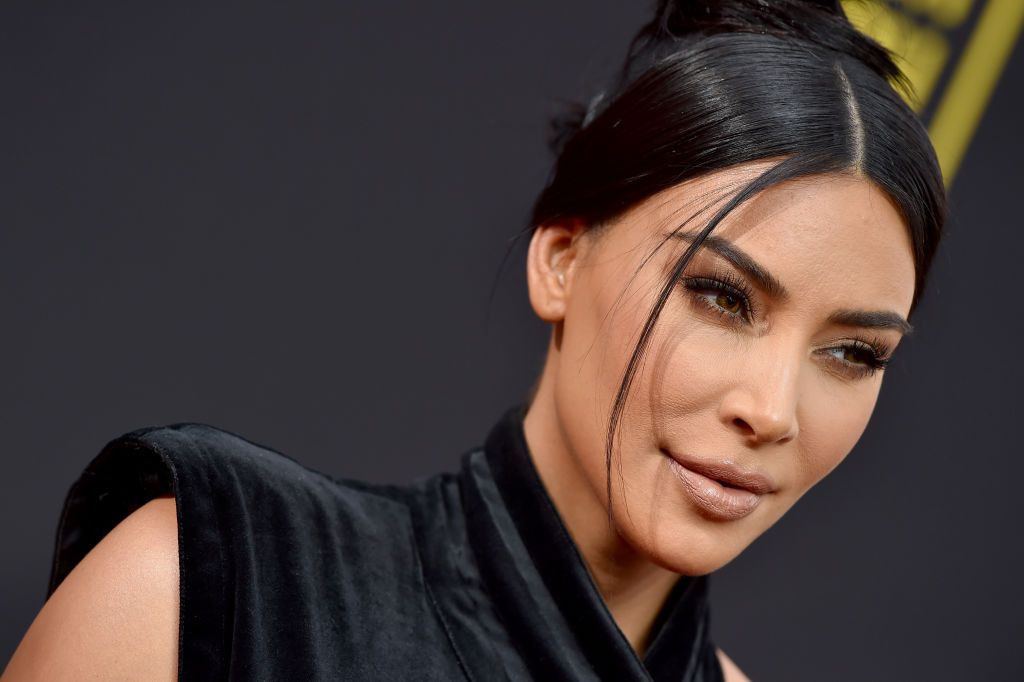 West and Kardashian live with their kids in Hidden Hills, California. This neighborhood is located right next to the Calabasas, and both are upscale neighborhoods filled with multi-million dollar homes and celebrity residents. This location put them close to family — several other Kardashians call the area home — but it also put them into some sticky situations when they ran up against the neighborhood's strict homeowner's association rules.
Most notably, West ran afoul of his neighbor's goodwill when he began erecting dome-like structures that he said were prototypes for his vision to eliminate housing insecurity across the country. While the goal of ending homelessness is no doubt a noble one, his neighbors were frustrated with the constant noise and construction clutter that didn't abide by the neighborhood code.
The new Kardashian-West property offers a lot more freedom
If they are relocating to avoid nosy neighbors and strict rules, they likely went to the right place. Their new ranch is in Cody, Wyoming and boasts 9,000 acres of mostly pristine wilderness. It was listed at $14 million, but it's not clear what the family actually paid to relocate there.
If West is looking for a new place to continue his housing project, he certainly has the space to do it on the ranch. He will; however, have to keep in mind that there are still rules in his new land.
In fact, it appears the family already got a visit from authorities after a video they posted showed West riding behind a group of antelope on an ATV. They may have a lot of open space and freedom, but making sure they do not harass the wildlife is an important part of upholding the values (and laws) of Wyoming.
Kim Kardashian seems content with the move
Reports suggest that West has been checking out local elementary schools, so it may be that the family fully intends to make Wyoming their primary residence. If so, it's worth wondering how Kardashian, who is used to being in the spotlight and surrounded by adoring fans, will handle the move. If her recent comments are any indication, she'll take to the change just fine.
She did mention that she plans to keep her Los Angeles residence and hopes to go back and forth between the two homes. She is also still planning to pursue her career path to become a lawyer. Since those plans include using California's rather unique law that you can skip law school if you can pass the bar, some may see that as a need to keep close ties to the Golden State. However, Wyoming is another one of the few states that has this arrangement, so it seems like Kardashian can continue her plan in either location.
While the pictures Kardashian has been posting seem to show her family enjoying the leisure and natural beauty of their new surroundings, there is also a weird thing that she's enjoying about her new life: the "chill" of it all. Kardashian explained that Wyoming is far less demanding.
"You can just do absolutely nothing. I've worn no makeup and my sweats and just hang out," she explains.
It can be hard to imagine Kardashian, who is famous for her perfectly-designed presentation, in sweats without makeup, but it sounds like she's loving the chance to relax. She admits that she still loves L.A. and sees the family returning for summers and weekends, but it seems like the no-makeup life and the peace and quiet are an important draw for the star.