'The Wendy Williams Show': Kathy Griffin Shares She Still Hasn't Made up with Andy Cohen and Anderson Cooper
Kathy Griffin appeared on 'The Wendy Williams Show' and shared she still isn't over her feud with Anderson Cooper and Andy Cohen.
This summer Bravo producer Andy Cohen hoped former friend Kathy Griffin had "found some peace" regarding their ongoing feud. The two have exchanged barbs in the media and Cohen told USA Today in July, "She's made up a lot of stuff about me in the past few years that has just been untrue and sad. I hope she finds some peace."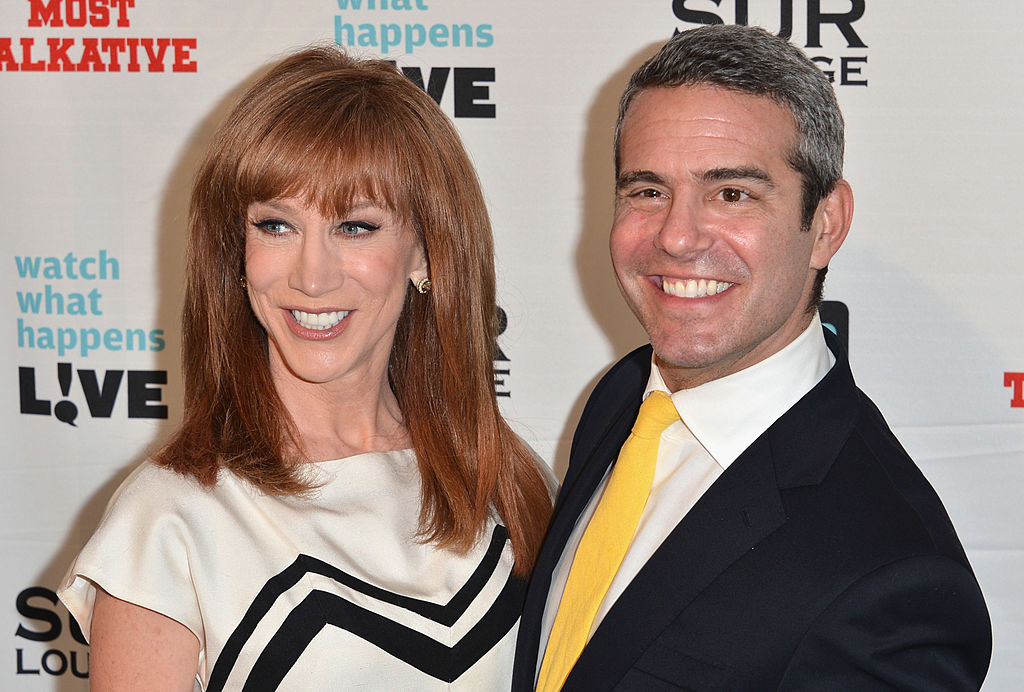 Apparently Griffin has not found peace just yet. She appeared on The Wendy Williams Show and ripped both Cohen and CNN's, Anderson Cooper. Griffin appeared on the show to discuss her new documentary A Hell of a Story and the new disturbing video of Donald Trump shooting people in the media, as well as Griffin.
But during their conversation, Williams asks Griffin where her relationship currently stands with Cohen and Cooper. It seems she still isn't thrilled with either Cohen or Cooper.
She says Cooper and Cohen turned their backs on her
Williams says Ryan Seacrest may have a co-host opening for his New Year's Eve gig. She asks Griffin about her former New Year's Eve hosting job with Cooper and asks if he turned his back on her. The audience groans. "Sorry, you all saw it," Griffin says. "I can't lie about it. And it hurt."
But then Williams asks Griffin about Cohen. "I don't get along with Andy Cohen," Griffin says shaking her head. Williams then wants to know which celebrities does she get along with. But Griffin continues, "Well not Andy Cohen. He was terrible to me. He fired me from Bravo and he was a horrible boss the whole time I was there."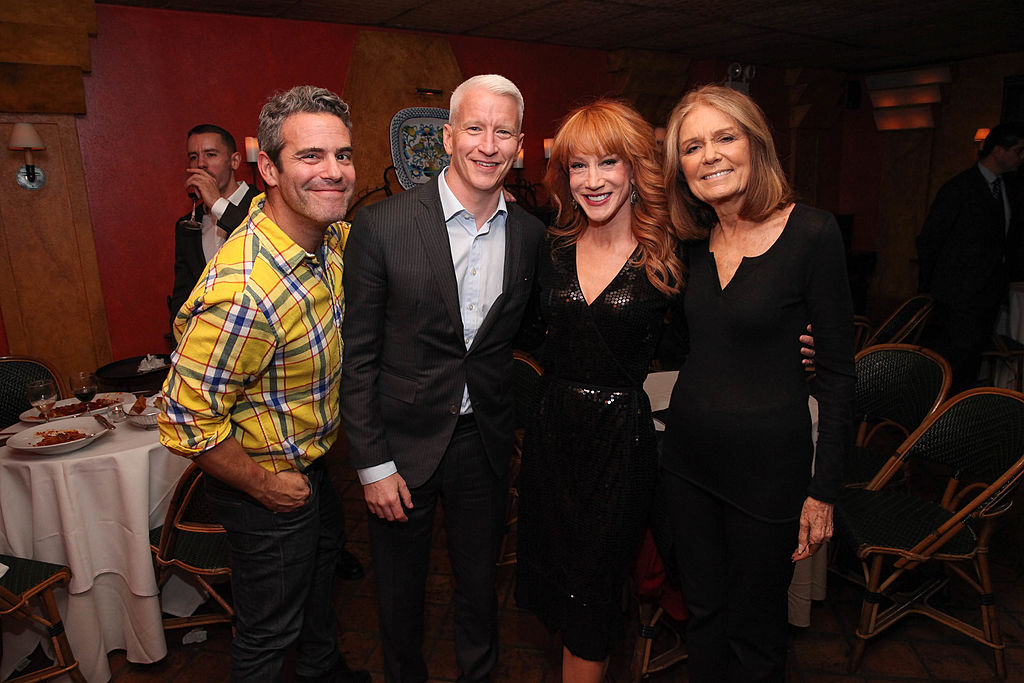 Plus, she adds, "You know, he gave himself a talk show and he still runs the network. He's the only person in the history of television to give himself a nightly talk show which magically gets picked up every season."
Griffin says Cohen 'treated her like a dog'
Griffin shared similar thoughts with People in July. "Andy Cohen treated me like a dog," she said. "He was, like, one of the worst bosses I ever had." Adding, "The guy, he decides the entire slate at Bravo, and yet he gave himself a talk show that magically gets renewed every year," she said. "So, you know, I had a talk show at Bravo for two years that got canceled. And I thought, 'Yeah it's sort of competition for Andy,' So, no, he has not been very kind."
Her wildly popular Bravo reality show, Kathy Griffin: My Life on the D List was unceremoniously canceled in 2010. Griffin and Cohen seemed to be pals when her show was on the network. But later she created a 17-minute video ironically called, A Hell of a Story where she alleged Cohen asked her to do cocaine before Watch Happens Live with Andy Cohen appearances.
Cohen may have added fuel to the fire when he jokingly pretended not to know Griffin in a TMZ video too. He later admitted it was just a joke that didn't land. "So I didn't land that 'I don't know her' [joke]," he said. "But can I ask you a question? If you were a comedian and someone said, 'I don't know you,' and it was obvious, like, aren't there much more important things? How offensive is that in the galaxy?"