'The X-Files': Are There More Episodes on the Way?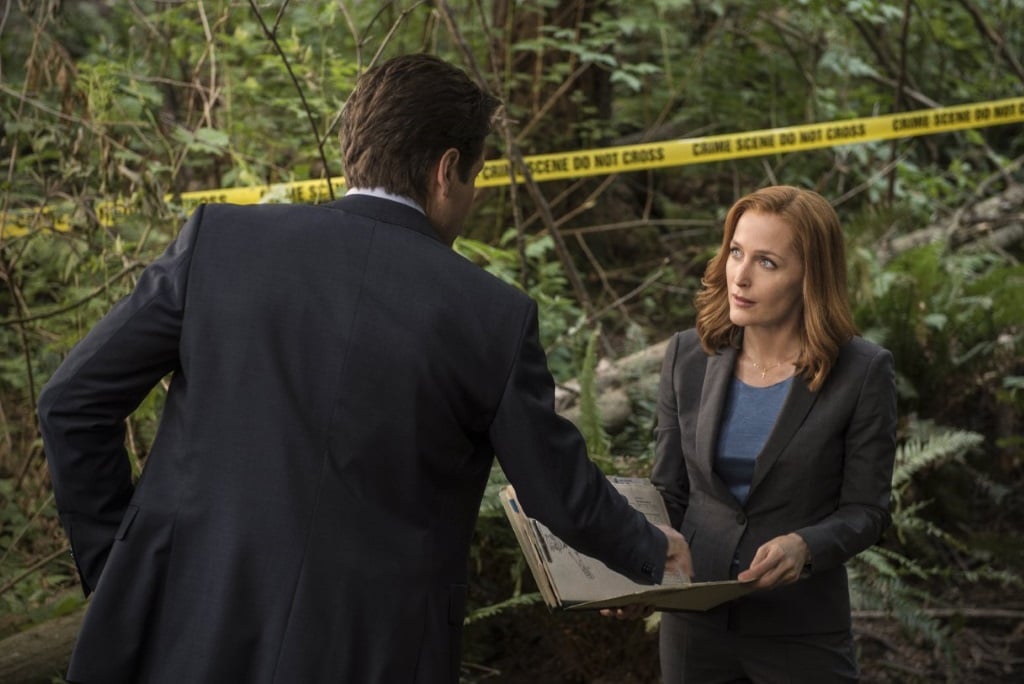 Fox's six-episode revival of The X-Files only just came to an end, but fans might not have to wait too long for more episodes. On the heels of the finale's major cliffhanger, series creator Chris Carter has essentially confirmed that the network isn't quite done with the franchise just yet
As fans know, The X-Files had a pretty open-ended finale, with Mulder (David Duchovny) and Scully (Gillian Anderson) tasked with stopping a Syndicate-sponsored pandemic. While it initially looked like they were going to be successful, their efforts came to a halt when a UFO appeared over a panicked Washington, D.C., shining a bright light on the pair before ultimately cutting to black. Given the inconclusive ending, it's no surprise that fans immediately began speculating whether the story would continue in the near future. But viewers didn't have to wait long for an answer, as Carter has just revealed that Fox has already expressed interest in making more episodes of The X-Files.
"[Fox is] going to ask for more," Carter told The Hollywood Reporter in an interviewing following the season finale. "The ratings were very good. They were happy with the show."
Carter also went on to reveal that he had already talked to Fox TV Group CEO and chairman Dana Walden about potentially continuing the series, although negotiations haven't actually started yet. "It was casual," he explained. "She said, 'No pressure. We'd love to do this. We liked the way it worked out.' So there's an appetite for more in the future; it's just a matter of figuring out how to get it done."
While that should come as good news to longtime fans of the show, they shouldn't expect more episodes right away. As Carter told THR, it'll likely take some time once again work around Anderson and Duchovny's busy schedules. "The last negotiations took about five months, so it could be a while before we figure out how to do this, " he said.
While it might take some back-and-forth to make it work, Carter reassures fans that he believes both stars would be willing to reprise their iconic roles."I have been speaking with David pretty regularly. I think he's game. I have spoken to Gillian less frequently, but I believe she would be game," he said.
Prior to Carter's all but official confirmation of the future of The X-Files, there were also rumors that there could be a spin-off centering on the new junior agents played by Lauren Ambrose and Robbie Amell. The show creator addressed that speculation as well, saying that nothing of a spin-off nature is currently in the works. As for whether the two will be included in other future episodes, that's still up in the air. Neither Amell or Ambrose signed a series deal, so there's a chance that both could be signed on to other projects by the time The X-Files begins filming again.
So with more episodes practically already a go, what can viewers expect from the series when it makes its probable return? Carter wouldn't reveal details of any potential plans, but he did say this of the recent finale: "The X-Files traditionally ended with a cliffhanger, and we didn't want to do anything different. This just happens to be a very big cliffhanger. I have an idea of where the story goes."
Carter didn't reveal a projected timeline for when The X-Files could return to Fox, so stay tuned for more details. In the meantime, fans can catch Anderson on the upcoming third season of The Fall on Netflix and Duchovny on the second season of NBC's Aquarius.
More from Entertainment Cheat Sheet: