There Are 2 Reasons Kylie Jenner and Travis Scott 'Aren't' Rushing Down the Aisle
It seems like Kylie Jenner and Travis Scott are on cloud nine. They've been together for more than two years, and they share a beautiful 1-year-old daughter. Naturally, fans have found themselves wondering when they'll make their relationship more than Instagram official and tie the knot. However, the famous pair is taking its time before taking such a big step. 
Here's why Jenner and Scott won't be swapping nuptials anytime soon, according to a new report.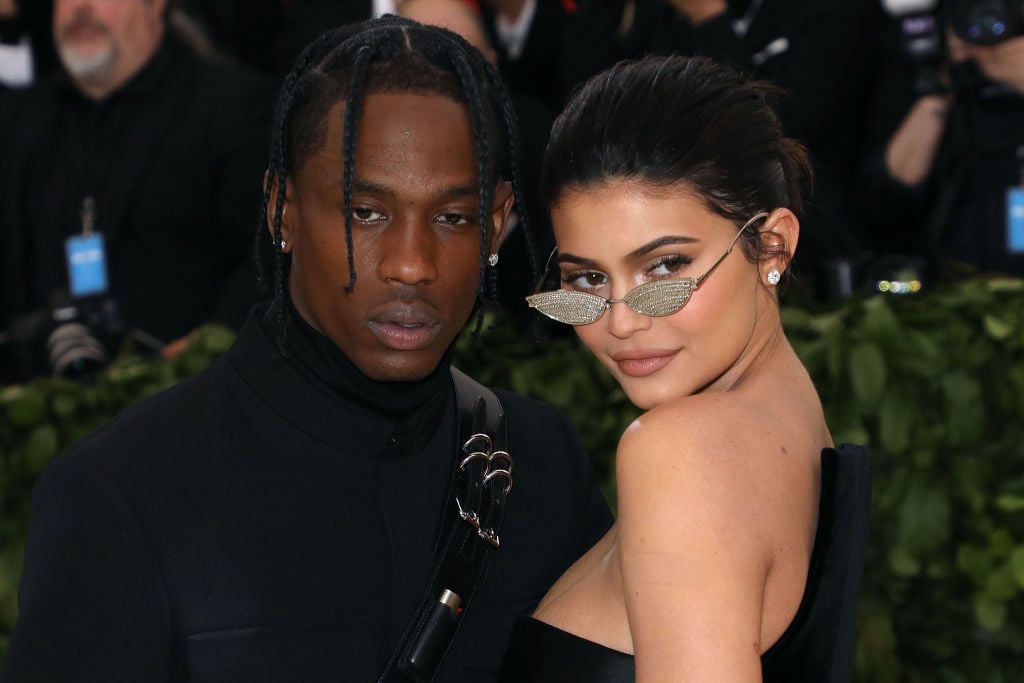 There are a bunch of factors
A source told Us Weekly on July 23 that there are several reasons why Jenner and Scott aren't ready to get married. Although they've reportedly discussed it, the reality star isn't prepared for that life right now.
"Kylie and Travis have discussed getting married before, but it is not happening tomorrow," the insider explained. "Kylie's business career is booming like crazy with Kylie Skin and right now she honestly can't add that life chapter into her book at this moment in time."
There's no doubt that Jenner is a busy woman. Aside from Kylie Skin, she's eyeing a bunch of business endeavors, including a nail collection and a fragrance line.
The other reported reason they aren't rushing to the altar? They're happy with the current state of their relationship. "Her and Travis are very happy with where they're at in their lives and relationship and with Stormi," the source added of the two and their 17-month-old daughter. "They aren't trying to rush into a marriage."
The report echoes one that surfaced on July 18. A source told Us Weekly that while the couple has discussed taking the next step in their relationship, the beauty mogul hasn't expressed as much "interest" as the ASTROWORLD rapper. 
"Marriage isn't important to Kylie but it's increasingly important to Travis," a source told the publication of the 28-year-old. "Travis is definitely into it. Kylie hasn't expressed huge interest in getting married but they've talked about it a lot."
Scott said a wedding would happen "soon"
It seems like if it were up to the "Apple Pie" rapper, he and Jenner would be married sooner rather than later. In a December 2018 interview with Rolling Stone, he said that his girlfriend is "the one" and opened up about a potential wedding date.
"We'll get married soon. I just gotta sturdy up — I gotta propose in a fire way," he told the publication.
He's not the only one who is reportedly ready for a wedding. "Kim [Kardashian] and some friends are advocating for them to get married because they like the structure of it," an insider told Us Weekly on July 18. "[They] think it … could be helpful for Kylie."
Will they have more children?
Jenner has openly discussed her desire to expand their family. Back in April, for example, she told her boyfriend in a birthday tribute that she wanted another baby.
"Watching you evolve into the partner, friend, son, and father you are today has been so fulfilling," she captioned a series of Instagram photos at the time. "My real life bestie & hubby all wrapped into one. I love you and I'm so so proud of you. Happy happy birthday. Let's f**k around and have another baby."
More recently, reports have said that the couple is indeed "trying" to have another baby. But this latest update from Us Weekly kind of pushes back on those claims.
"They're … considering expanding their family, but again, right now that's not the appropriate time for that to happen," the insider added.
Well, then. It looks like Jenner and Scott are overall happy with the way things are. So, there's that.