These 2 Avengers Are the Biggest Late-Night Partiers in Real Life
With Avengers: Endgame now less than a week away – and the stars of the superhero franchise struggling to remain spoiler-free during each anxiety-inducing interview – it's time to take a step back from movie speculations, and talk about the real juicy news.
While nothing is more captivating than fan speculations (especially for those of us who have not ruined the experience by watching a spoiler) let's talk about the Avengers and partying for a bit. Who rallies the crowd for the late-night outing? Who's putting back drinks into the wee hours of the morning?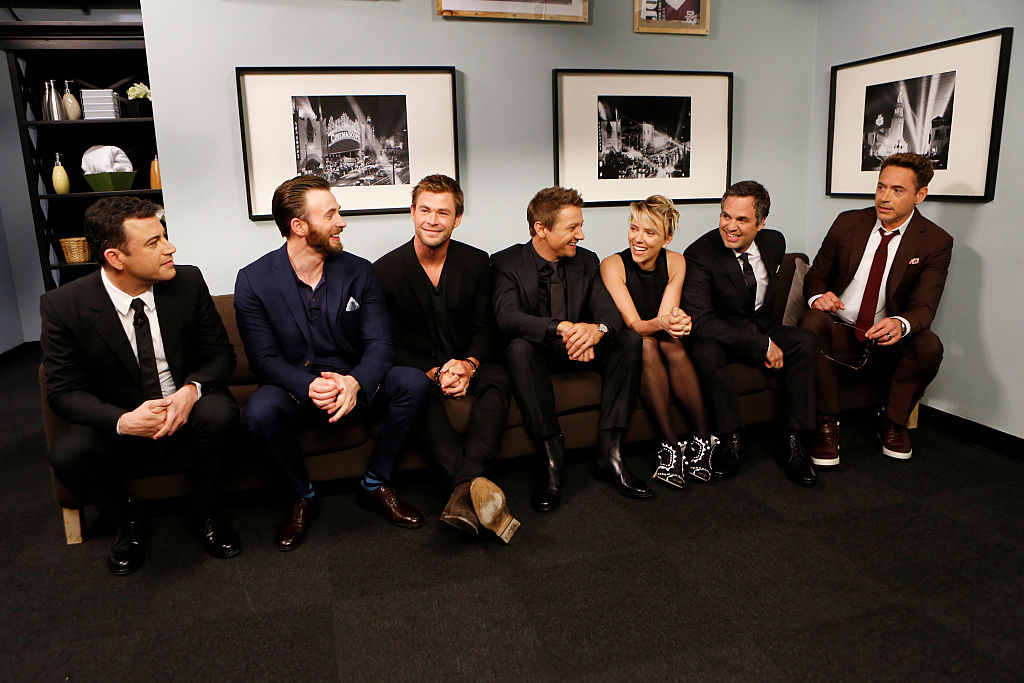 The Avengers: Endgame cast sat down for an interview with Jimmy Kimmel, back when Infinity War was all the hype and revealed the two Avengers responsible for organizing the late-night adventures.

Chris Evans and Jeremy Renner comprise the "After-Hours" fun committee

Jimmy Kimmel asked the OG 6 – Robert Downey Jr., Chris Evans, Jeremy Renner, Chris Hemsworth, Scarlett Johansson, and Mark Ruffalo – which one of them was most responsible for "fun." Most of the cast members responded rather quickly and pointed to Chris Evans. However, Robert Downey Jr. (RDJ) clarified the question, and then the responses were unanimous and instant.
RDJ asked Kimmel if he was talking about the "brunch" kind of fun or the "after-hours" type of fun, to which Kimmel responded "after-hours." With this clarification, everyone immediately pointed to Chris Evans and Jeremy Renner. So, while we all know RDJ is the king of brunch, often hosting elaborate lunches with delicious catered food for the cast, it seems that Chris Evans and Renner have him beat in the late-night department.

Chris Evans, quickly growing a little bit embarrassed – proceeded to shake his head, laugh, and utter comments akin to "Come-on. Not on TV." However, this is nothing to be embarrassed about! Evans is single, young, successful, and handsome. Why shouldn't he be taking to the town on Friday night?
The likely reason Chris Evans and Jeremy Renner are in charge of late-night fun

While Jeremy Renner married Canadian model Sonni Pacheco in 2014 and had one daughter before marrying, they divorced the same year they wed. So, Jeremy Renner and Chris Evans are the singles on set.
Mark Ruffalo has been married to Sunrise Coigney since 2000 and has three children. RDJ has been married to Susan Levin, now Susan Downey, since 2005, and also has three children. Chris Hemsworth has been with Elsa Pataky since 2010, and together, they have three children. Seems like three is the lucky number when it comes to kids amongst the Avengers cast!

Scarlett Johansson has one daughter from her previous marriage to Romain Dauriac and is now in a rather serious relationship with Colin Jost. When it comes to the cast of Avengers: Endgame, both Evans and Renner are still on the search for that special someone. And, going out at night isn't the worst way to try to find love. However, when it comes to Evans, he has the fewest commitments, and it's likely that he has the most free time to party it up! So Evans, shake that embarrassed look off your face and take to the town!