These 'American Idol' Moments Really Made Us Cringe
Immediately after returning to television, American Idol quickly started making viewers cringe once again. A particularly uncomfortable moment in the Season 16 premiere got everyone talking, and it has sparked a fierce backlash.
As longtime viewers know, though, awkward moments are as common on American Idol as reaction shots of Simon Cowell looking bewildered. Almost every season is full of terrible auditions, on-air flubs, and tense confrontations.
Here's a look at some moments from American Idol's history that seriously made us cringe.
1. Katy Perry tricks a contestant into a kiss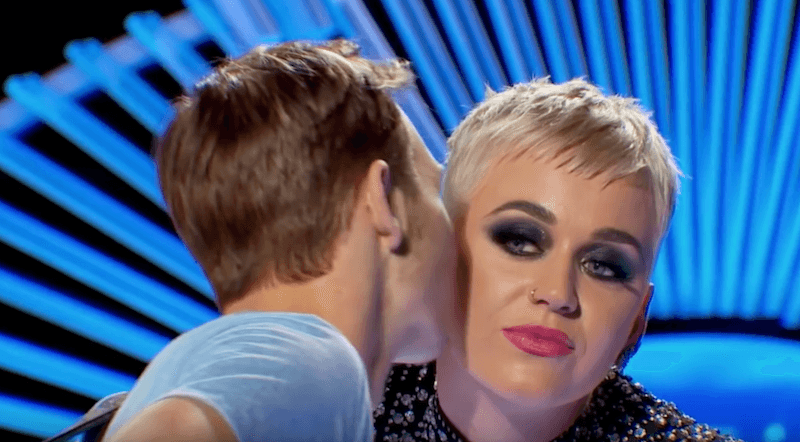 On the premiere of American Idol Season 16, 19-year-old Benjamin Glaze auditioned, revealing that he has never been in a relationship and has never kissed a girl. Perry then told Glaze to come forward, and she had him give her a kiss on the cheek.
This was already a little uncomfortable to watch. But then Perry told Glaze to do it again, and this time, when he went in to kiss her on the cheek, Perry turned her head, tricking him into kissing her on the lips and giving him his first kiss without his consent. 
The American Idol producers obviously thought this was cute and endearing. But viewers didn't feel the same way. Glaze later told The New York Times that he wasn't thrilled about this because he wanted his first kiss to be special.
Next: This audition was incredibly difficult to get through. 
2. James Lewis' awful audition
Bad auditions on American Idol aren't always cringe-worthy. Sometimes, we get the sense that the contestant is being intentionally ridiculous just to get on TV. But it's tough to watch when someone comes in who seems like a genuinely nice person, only they've been unfortunately deluded into thinking they're a good singer.
That's apparently what happened with James Lewis, who gave one of the worst auditions of all time by singing "Go Down Moses" in Season 7. Almost immediately after he began, the judges all burst into laughter.
But when Randy Jackson explained to Lewis that singing isn't for him, he didn't freak out. He just looked heartbroken and defeated as he walked out the door. Instead of laughing at the disaster, this was one dreadful audition that just made viewers feel bad, and due to the second-hand embarrassment of it, it's pretty hard to get through.
Next: It got super awkward when Simon Cowell called this contestant out on a blatant lie.
3. Simon calls out a contestant who lied about his age
It's always cringe-worthy to watch a person who is caught in a lie try to weasel their way out of it, which was the case with Joseph Land in Season 4.
When Cowell asked Land how old he is at the start of his audition, Land insisted he was 28, which very clearly wasn't true. Cowell immediately called him out, asking what day he was born and whether he saw the moon landing. But Land kept doubling down on the lie, making viewers at home cringe at the trainwreck.
Land finally did reveal his real age at the end after being rejected: In reality, he was 44.
Next: This tense confrontation between a contestant and a judge got everyone talking.
4. Harry Connick Jr. scolds contestant 
Quentin Alexander
Not all of American Idol's most awkward moments happen during the audition phase. Season 14 featured a pretty cringe-worthy confrontation between a contestant and a judge.
During a live show in Season 14, contestant Quentin Alexander was upset that some of his friends and fellow contestants were not saved, so he declared that "this whole thing is wack." Connick Jr. was pretty annoyed by that, and so he scolded Alexander, telling him that if this is so wack, he should just go home.
Everyone tensed up as Alexander proceeded to walk over to the judges' table and confront Connick Jr., although he ended up apologizing. Alexander was eliminated the following week.
Next: Paula Abdul made this downright embarrassing mistake in Season 7.
5. Paula accidentally judges a performance that a contestant hasn't given yet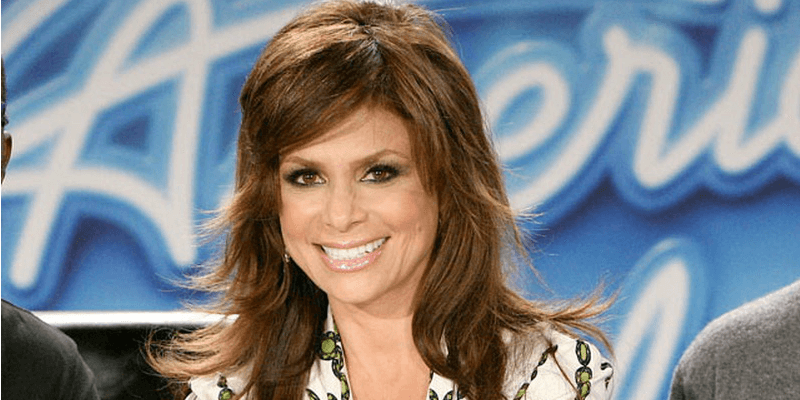 In a Season 7 episode, there was a format change so that judges didn't offer critiques right after each song; rather, they waited until every contestant had sung, and then they went back and talked about the performances.
So after everyone had gone, Paula Abdul offered her reaction to Jason Castro's performances, saying she loved his first song but that his second song was lacking his usual charm.
The problem? Castro hadn't actually sung his second song yet. As Abdul continued to discuss a performance that hadn't yet happened yet in detail, viewers could sense the awkwardness in the room and hear a few giggles in the audience. Abdul finally found out what happened and said, "Oh my god, I thought you sang twice!" 
Next: This contestant had an unusual proposal for the judges during her audition.
6. Contestant tries to become the first Idol winner who can't sing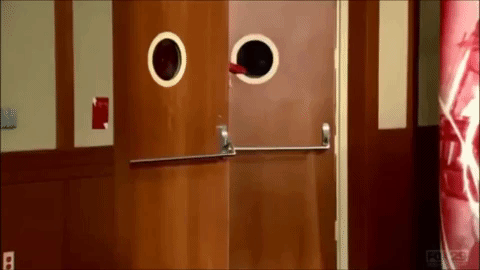 At first, Sarah Goldberg's Season 6 audition seemed like it would be just another example of an awful singer going on the show and trying too hard to be wacky in order to get airtime. But after her atrocious performance, she had something unique to say.
Instead of trying to defend herself, Goldberg teared up as she admitted to the judges that she's not a singer. But she wanted them to still let her on the show so that she could be the first American Idol winner in history who doesn't know how to sing. The judges, obviously, were not having it, though she apparently thought screaming, "Look at this! I'm unique! Woo!" would help.
Goldberg's legendary audition ended with her saying that she wanted to be the next American Idol before trying to walk through the wrong door.
Next: When this husband and wife duo went on the show, it ended in disaster. 
7. Husband gets through, but his wife doesn't
Nobody wants to watch a married couple bicker, but a very public dispute broke out between Alex and Jordan Sasser during Season 15.
The Sassers decided to audition together, bringing their baby along with them. But unfortunately, the judges unanimously rejected Alex Sasser, only to unanimously accept her husband.
The fallout of this was quite uncomfortable as the Sassers exited the room to their families with only one golden ticket. Alex proceeded to blame Jordan for distracting the judges by dancing with their baby on the ground. And in an interview, Jordan desperately tried to calm Alex down as she said she has never been good enough and has been forced to watch Jordan follow his dreams. Yikes.
Next: Ryan Seacrest must have instantly regretted doing this.
8. Ryan attempts to high-five a visually impaired man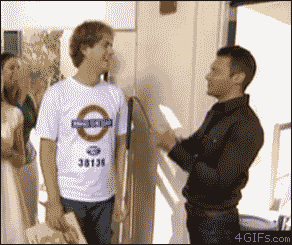 There's nothing more cringe-worthy than watching someone do something that they immediately regret and then have to play off, and that's exactly what happened with Ryan Seacrest in Season 8.
After Scott MacIntyre made it through his audition, Seacrest raised his hand for a high five. What he obviously forgot in that moment is that MacIntyre is visually impaired.
After holding his hand in the air for a moment, Seacrest did get out of the moment fairly smoothly, reaching down to MacIntyre's hand and lifting it up. Still, it's one of those awkward moments everyone can relate to, which makes it all the more embarrassing. 
Check out The Cheat Sheet on Facebook!