These Are Netflix's Top 10 Most-Watched Original Shows For the Past Year
These are the 10 most-watched original series on Netflix.
Throw a rock and you're bound to land on a new gem when you scroll through Netflix's selections. But that doesn't mean that the streamer isn't the home of a group of series that causes fans to form a virtual line in anticipation of their drop dates. It's a ritual, right?
People love their Netflix shows. The company just shared some of its viewership data during its quarterly shareholders' meeting, and it's been revealed which TV shows were its most-watched from October 2018 to September of this year. As you might have guessed, Stranger Things is top-ranking, but the others might surprise you. Here's a look at which series made the top ten, per The New York Times.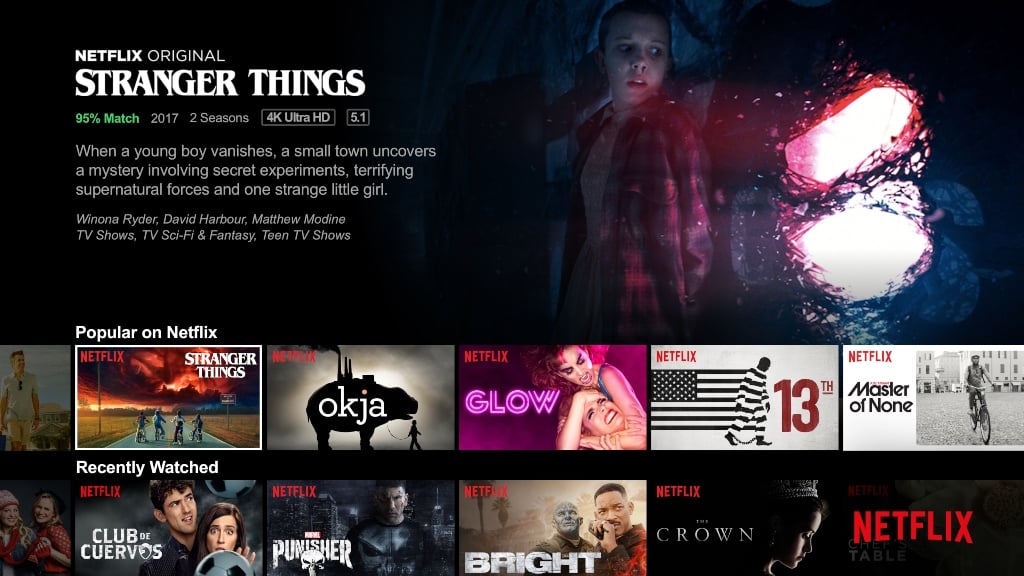 'Élite'

The Spanish language teen drama has murder, mystery, and teen love triangles that rival what you'd see on Riverdale. Season two arrived this past August, and the show cracked 20 million views on the platform.

'When They See Us'

Ava DuVernay's miniseries which is based on a true story about the Exonerated Five earned multiple awards and rave reviews. The 4-episode series arrived on Netflix in May and 25 million people tuned in to watch.

'Dead to Me'

Christina Applegate and Linda Cardellini struck up an unlikely friendship in this dark comedy series which made its debut in early May. It has one season under its belt but racked up 30 million hits on the service in its first few weeks.


'Unbelievable'

People are still talking about the story behind Unbelievable, which is based on true events about a teen who was sexually assaulted and all the missteps in her case. Season one's eight episodes dropped on Sept. 13, and the show was streamed in 32 million households.

'Our Planet'

Backed by the World Wildlife Fund and narrated by David Attenborough, the Our Planet docuseries captivated audiences to the tune of 33 million hits. The eight-episode show was released in April.

'Sex Education'

Season one of this teen comedy debuted in January and it quickly was renewed for season two. The show has received 40 million views.

'You'

Those who missed You when it aired on Lifetime devoured all 10 episodes on Netflix when it arrived on the service last December. Season one of the series clocked in at 40 million views.

'La Casa de Papel (Money Heist)'

One of my favorites, the Spanish crime series scored big this year when part three debuted back in July. It's celebrating 44 million hits on Netflix and part four is due out in 2020.

'The Umbrella Academy'

The action-packed series about a group of superpowered siblings dealing with infighting, secrets, and assassins dropped in February, and quietly dominated Netflix by racking up 45 million views.


'Stranger Things'

The wildly popular Stranger Things has a large fan base who couldn't wait for season three to be released on July 4. Within its first four weeks on Netflix, it amassed a whopping 64 million views.
A quick word on how Netflix measures views
As you are aware, Netflix doesn't typically share viewership data with the public, but it is something the company is looking to change in terms of its "Top 10" listings. Its measurements are different from traditional trackers like Nielsen. For Netflix, a subscriber's view is counted if 70% of an episode of the show was watched during the first four weeks of its debut.
All the movies on the list raked in those views within the first month of their premieres–usually for new seasons. At this time, Netflix has roughly 158 million subscribers globally.