These Are Rafael Nadal's Weirdest Habits When Playing Tennis
Rafael Nadal is one of the biggest names in tennis in the world, carving out a place for himself among the all-time legends. Nadal holds multiple records and awards and is well-respected by fans all over the world.
Nadal started playing tennis at the age of three, and turned pro by the time he was a teenager – needless to say, with all those hours of game time put in, there are some urban legends and a lot of chatter that has sprung up around the way Nadal plays. Read on to learn a more about Nadal's (and fellow tennis pro Roger Federer) strangest on-court habits.
Rafael Nadal is routine-driven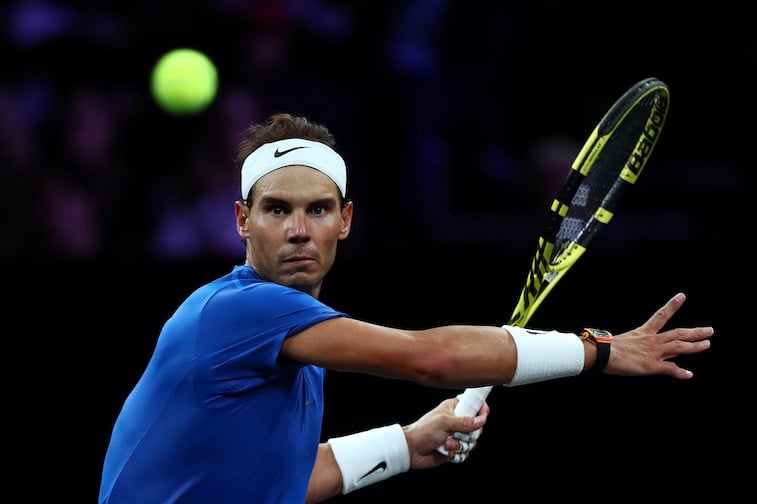 Rafael Nadal is ranked No. 2 in men's singles tennis by the Association of Tennis Professionals and has been honored by his peers many times. Nadal has won 82 titles overall, including an impressive 59 clay court titles.
His career is also long-running, and after becoming a professional player at age 15, his trajectory has never wavered. With those kinds of numbers, it's no wonder that Nadal has a few small quirks when it comes to how he presents himself on the court.
Recently, a source close to tennis professionals opened up to Deadline about how specific athletes act when they are on the court. The source stated that Nadal is a very interesting player to watch, because Nadal "always goes to the ad court [left side] and then the deuce court [right side] for his balls, like during warmup or something."
The source went on to say that Nadal, without fail, always ask for just the two balls, and then retrieves the third one from "the back," in contrast to other players, who might ask for three, four, or even six at one time. 
Rafael Nadal prefers specific towels while on the court
Another one of Nadal's odd on-court habits is his preference for only the finest towels. The source for Deadline described how Nadal only wipes his face with one side of the towel, and reportedly doesn't like the towels provided by the U.S. Open.
In fact, the source claims that Nadal is so preferential when it comes to the towels that he uses on-court, that he suspects Nadal takes them from the hotels where he stays. He remembers seeing Nadal with a duffel bag full of white, fluffy towels that looked far superior to the standard ones provided to players. 
Roger Federer also does something unusual
Another legendary tennis pro, Roger Federer, has his own brand of quirky courtside goings-on.
Federer, who is ranked No. 3 in men's singles tennis by the Association of Tennis Professionals, has won 20 Grand Slam singles titles and 23 ATP tour 500 titles. He is definitely one of the most popular tennis players ever and has made an indelible mark on pop culture. Even people who have never watched a tennis match in their life most likely recognize Federer's name. 
The same source who opened up about Nadal's on-court quirks also chatted about Federer's unique habits. The source stated that Federer always stays very relaxed and calm on the court, and if he ever does appear agitated, it is a signal to everyone that something must be wrong. Federer also stays very aware of his surroundings and likes to keep a close eye on everyone's activity – from the other players, to the fans in the stands, to the ball boys.
There's no doubt that both Rafael Nadal and Roger Federer are legends in their own time, and their impressive achievements (along with stories of their on-court antics) will make for interesting reading for years to come.