These Are Some of Ellen DeGeneres' Best Celebrity Scares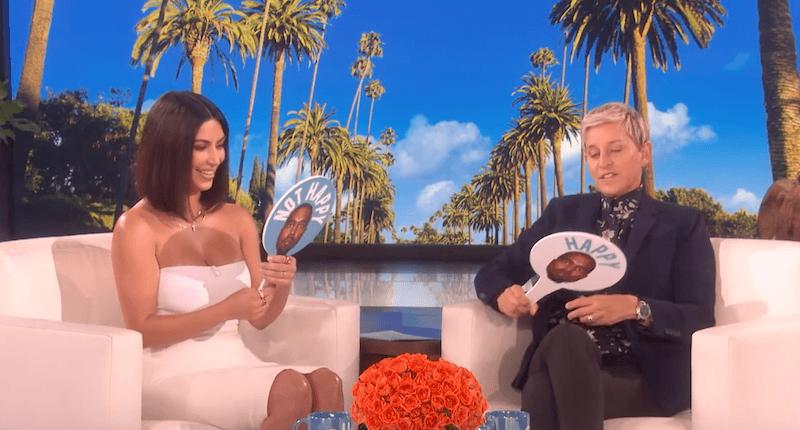 Guests on The Ellen DeGeneres Show know they are taking a chance appearing on her show. The hilarious host is known for her epic jump scares on celebrities, which typically leaves the audience, Ellen (and often the guest) in stitches.
Most recently Ellen pranked Sean "Diddy" Combs when he insisted he is not afraid of clowns. Bad choice making that assertion Diddy. Out springs a clown from behind the rapper's chair. To which he jumped and then did a little dance. "You know, I woke up this morning and I said, I want my life to be full of surprises," Diddy said to Ellen, ENews reports. "Ellen, I thank you."
"That was so gratifying," Ellen said. "I like that you dance when you get scared."
The best advice is: keep your eye on that side table. Who else had a memorable scare on Ellen's show?
Sarah Paulson
Even someone who stars in scary series, American Horror Story Sarah Paulson has a deep-rooted fear of clowns. Not once, but twice Sarah fell victim to Ellen's hidden clown scare. "I feel nervous! I'm really scared something's going to happen. Why are you looking at me like that?" Sarah said to Ellen, Cosmopolitan reports. She knew what was about to happen.
Anne Hathaway
Ellen diverted from the typical side table scare to distract actress, Anne Hathaway. Anne and Ellen sat on each end of a table and played a word guessing game. They progress through the word "wedding" and Anne keeps trying to think of a word. When suddenly a man jumps out of the middle of the table. Anne screams and then busts out laughing.
Benedict Cumberbatch
The actor admits to Ellen he is vulnerable to scary movies. He even tells her that while he knows fake blood is involved in a film, especially if he is in it, he still gets scared. Probably not the best thing to admit to the queen of scream. Thankfully, the censors bleep out what Benedict says when Ironman jumps from that side table.
John Krasinski
John Krasinski, AKA Jim from The Office is way too cool to be scared. Especially after he wrote and directed a scary movie. Ellen and John decide to have a staring contest (by now guests should know when there are any games to be on the lookout). As Ellen and John gaze into each other's eyes, out pops Freddy Krueger! John is clearly jarred and lets it rip. He lays back and takes his blood pressure. And reminds guests, "Don't wear light-colored pants on Ellen."
Garth Brooks
This may be a jump scare gone awry. Country singer (and gentleman) Garth Brooks is victim to Ellen's scare tactics. But the "scary person" trips and falls! Garth jumps up to help the person out and then cleans up by replacing the top of the table.  Ellen proclaims the scare fail to be "The worst scare we've ever done," she says. Garth seems more concerned with how long the person had to hide inside the table.
Debra Messing
Ellen and actress Debra Messing play "speak out," where Debra has a ridiculous plastic instrument in her mouth. If not hilarious enough, out jumps a nun and sends Debra to the ground. She lays on the floor laughing with her mouth open for a while and exclaims, "You did it to me again!"
Taylor Swift
Taylor Swift has been Ellen's victim a number of times. But the singer got in on the "ground floor" of scares back when Ellen was still honing her scare craft. In an earlier scare, Ellen simply sits outside Taylors dressing room and jumps out at her. This sends Taylor to the floor, setting her up for years of Ellen scares to come. The scare was so funny, Ellen and Taylor could not stop laughing or get off the floor for some time.
Check out The Cheat Sheet on Facebook!