These Photos of Donald and Melania Trump Prove They Don't Actually Like Each Other
Donald and Melania Trump are one of the most high profile couples in the world. So, it's natural for us to wonder what goes on behind the scenes in their marriage. There's a lot we'll never know about their relationship. But based on the image they present to the public, there have been quite a few moments that have left us wondering.
From stiff embraces to expressions that are a little too telling, here are some of the most awkward photos of Donald and Melania Trump. Look out for an unforgettable moment from inauguration day (page 7) and a very telling blast from the past (page 10).
1. Lend me some sugar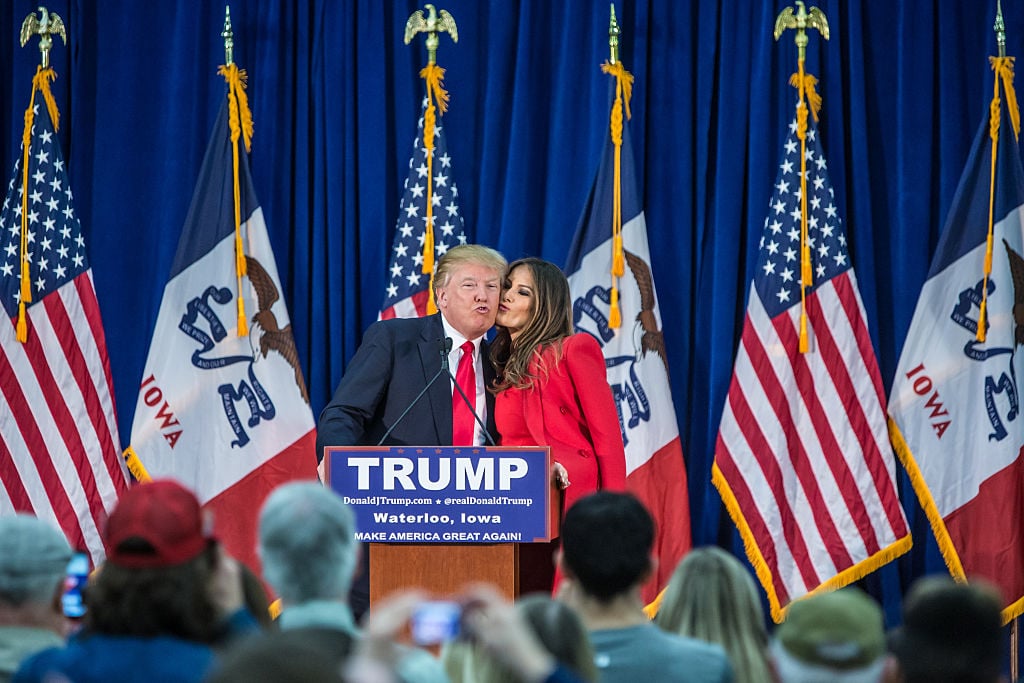 Campaigning for a chance to take up residence in the White House has to be a pretty tiring gig. So it's understandable when candidates and their spouses aren't always 100% on. But this bizarre moment from the 2016 Iowa caucuses makes you wonder if Trump and Melania are ever on when it comes to each other.
On the one hand, it could be seen as a rare goofy moment between them. On the other, it makes it pretty clear that Melania and Trump simply don't put their heads together much. The awkward kissy faces and uncomfortable body language make them look like two people who barely know each other — not husband and wife.
Next: This moment had everyone wondering if they're greeting their spouses wrong. 
2. Pleased to meet you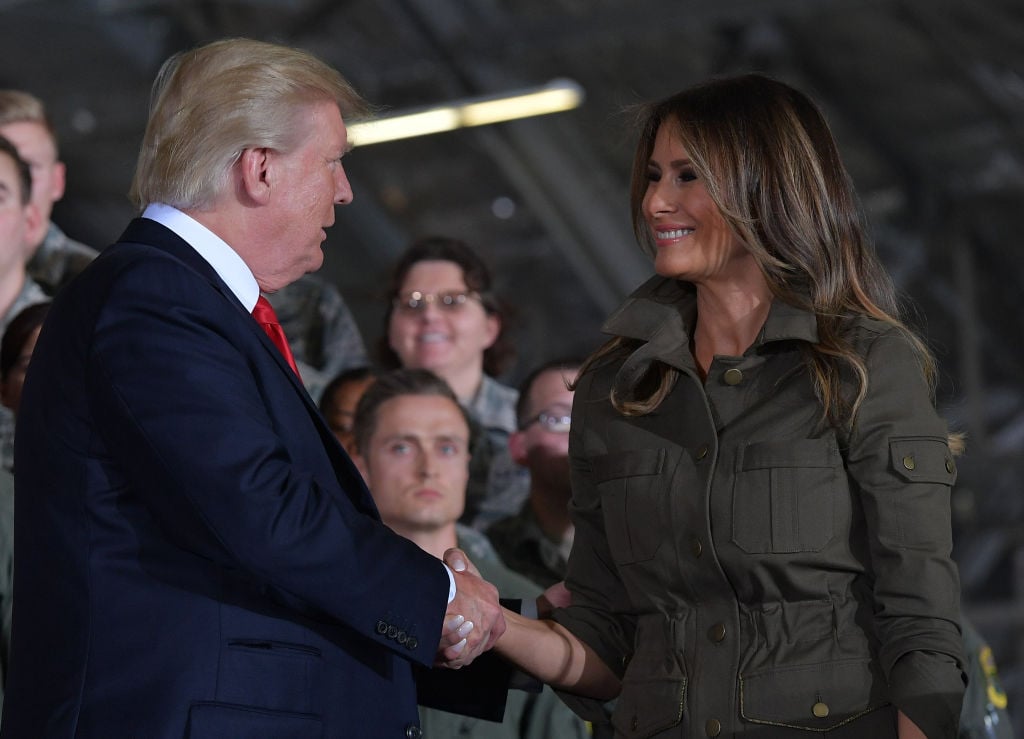 In September 2017, Trump and Melania traveled to Joint Base Andrews to honor the anniversary of the Air Force. After the first lady introduced her husband to the audience, he was so grateful for her kind words that he gave her a nice, long … handshake?
It was weird. There's no way, really, to explain away its weirdness. TV Host Jimmy Kimmel called it "perhaps the most uncomfortable display of affection between any husband and wife this year."
Melania handled the strange moment well — the smile never left her face. Nevertheless, there's photographic evidence that the president shook his wife's hand like she was a business associate.
Next: The next photo isn't just painful to look at because there are no real signs of connection Trump and Melania.  
3. A total eclipse of the heart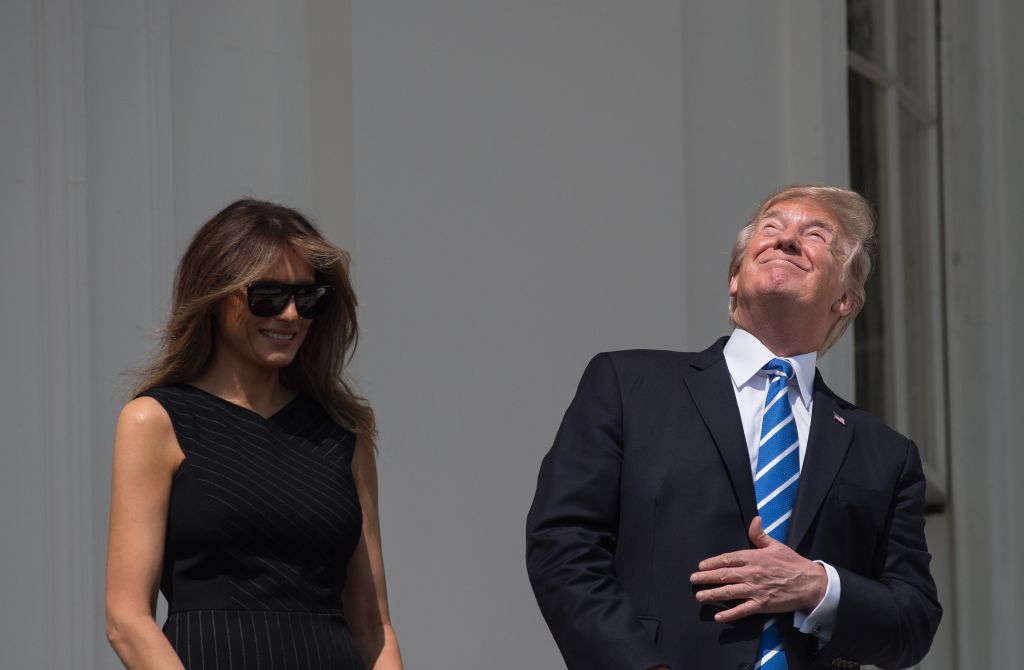 In August 2017, a total solar eclipse passed over much of the United States. And the whole nation stopped to watch in wonder. Among them were Trump, Melania, and numerous other guests on the White House lawn.
And despite numerous news reports and social media reminders that no one should look directly at the sun, Trump did just that. Melania, for her part, kept her UV-protective sunglasses on. But she still looked a bit uncomfortable as she stood and watched her husband potentially incurring permanent retinal damage.
Next: The president and Melania haven't quite mastered the language of love.
4. French kiss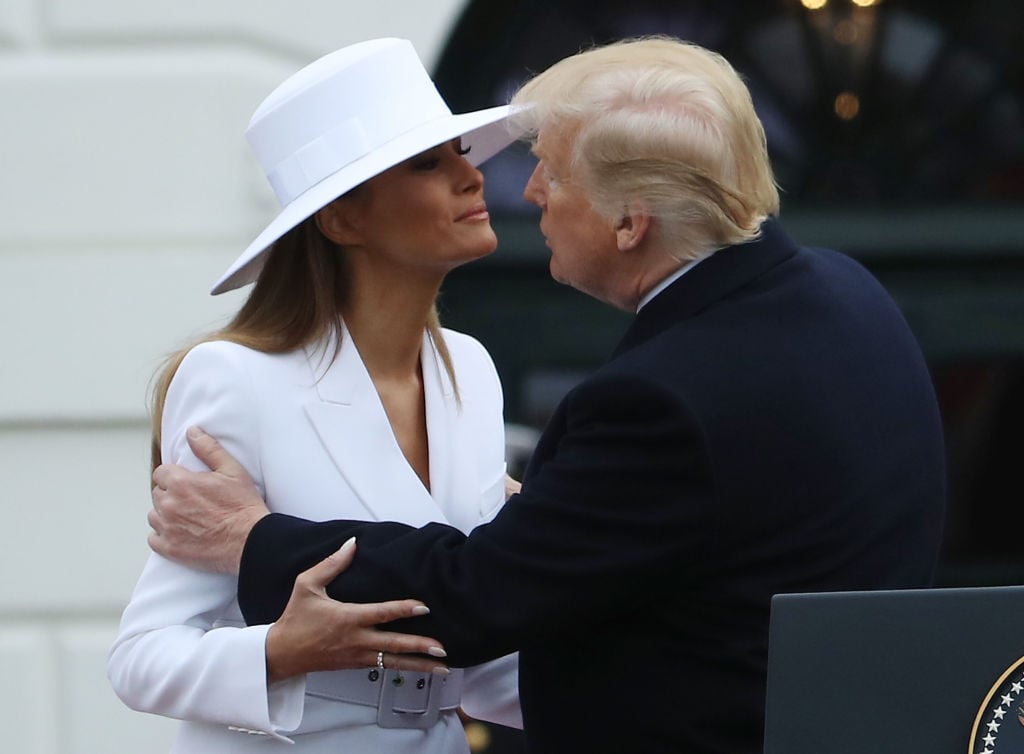 We don't get to see Donald and Melania together all that often. So all eyes were on the couple when they made a joint appearance to welcome French President Emmanuel Macron to the White House. The April 2018 event had its share of awkward moments between the president and first lady.
First, she resisted his silent request to hold her hand. As with a similar moment at Trump's swearing-in, when cameras captured Trump trying to embrace Melania and give her a kiss, it didn't exactly pick up on the look of love.
Between their stiff postures and the fact that they don't appear to be used to having their faces in close proximity at all, it's not exactly a photo that inspires romantic thoughts.
Next: Another presidential couple made Donald and Melania look pretty frosty by comparison. 
5. A tale of two presidents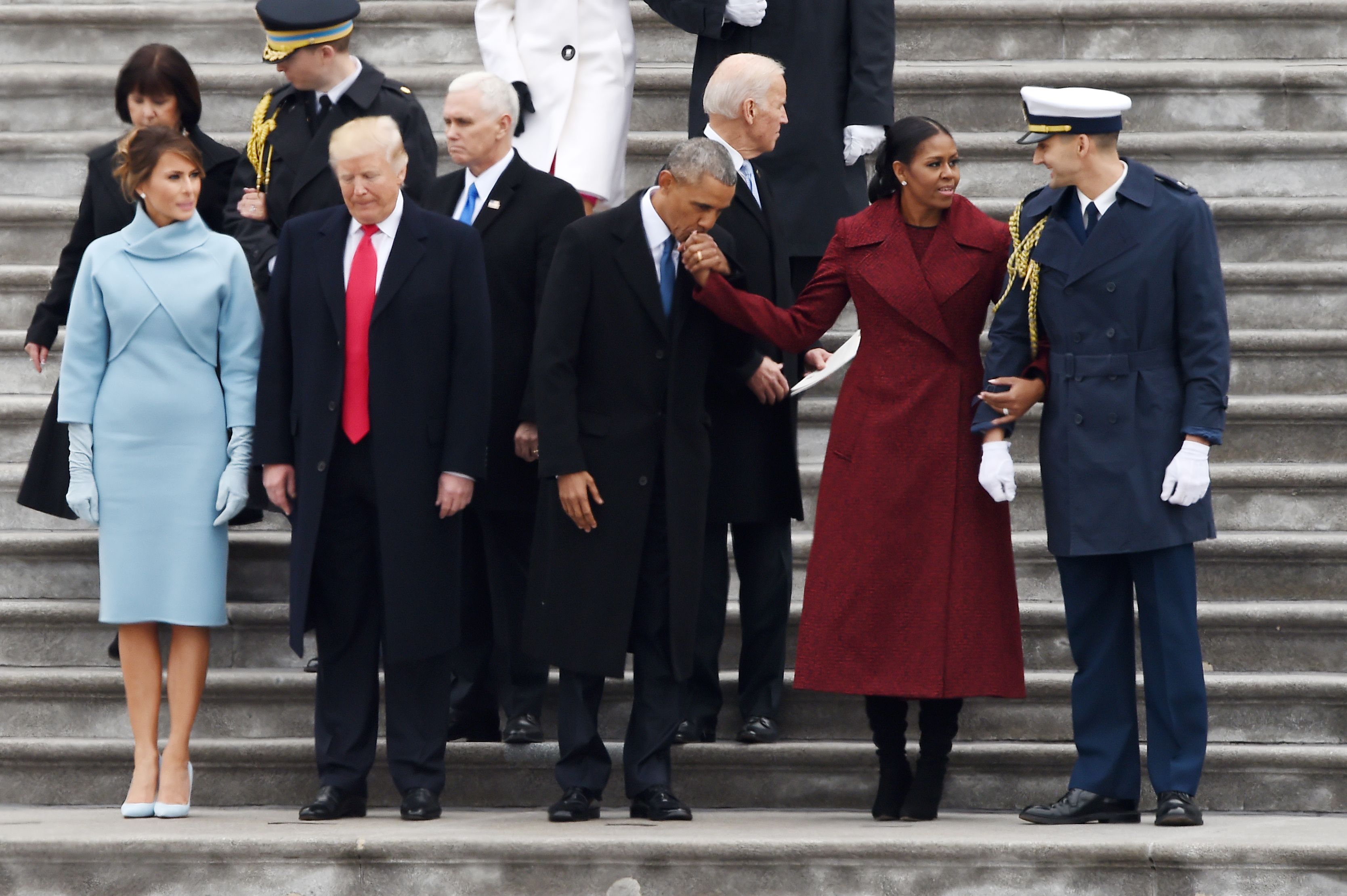 The 2017 presidential inauguration was a huge moment for the Trump family. And for Donald and Melania, it was, unfortunately, a day full of strange moments. Those watching the events unfold at home couldn't help but notice that their relationship didn't seem exactly warm. And that became especially obvious when they stood in contrast to the outgoing first couple.
Trump and Melania standing stiffly side-by-side wouldn't necessarily be awkward on its own. But when you compare their body language to Barack and Michelle Obama, who look warm and affectionate while standing right beside them, it's hard to miss.
Next: Trump and Melania's big day at the White House started off on the wrong foot. 
6. Left behind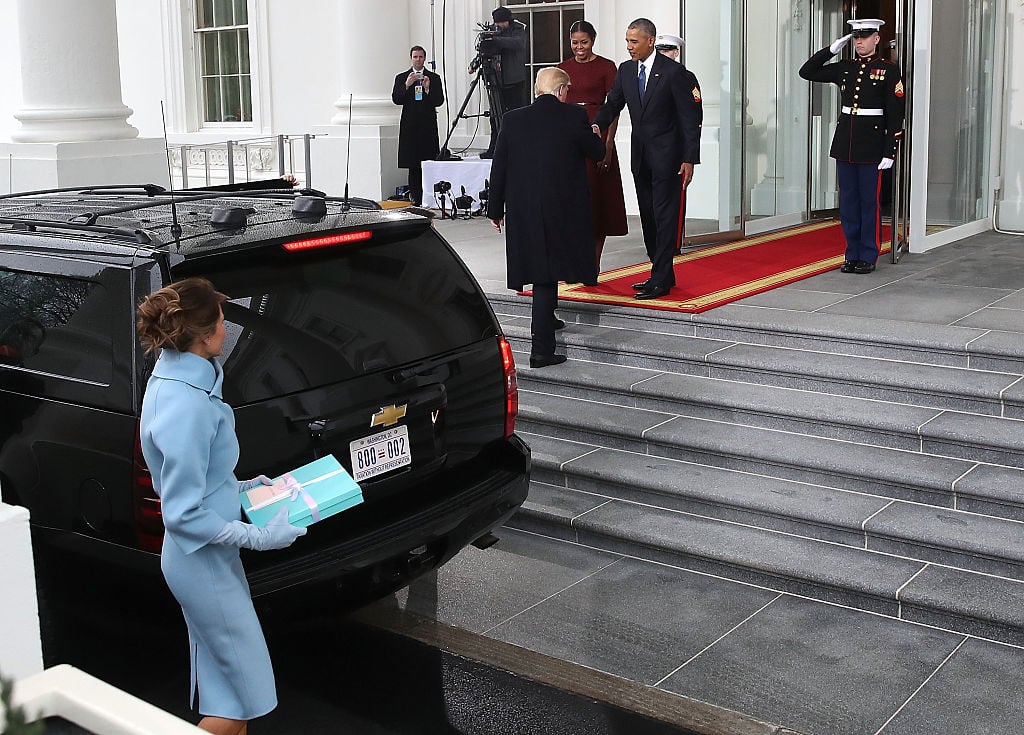 Starting a new job can be stressful. And when we're stressed, sometimes we forget to do really simple things. But even with that in mind, it's hard to explain why Trump left Melania in the dust when the couple arrived at the White House on Inauguration Day. Sure, it's the 21st century, and not all women want men to have a "ladies first" mentality.
Still, you'd expect someone would want to share a big moment like this with their spouse by their side — and not ten feet behind them.
Next: Melania's face said it all at this important event. 
7. Swearing in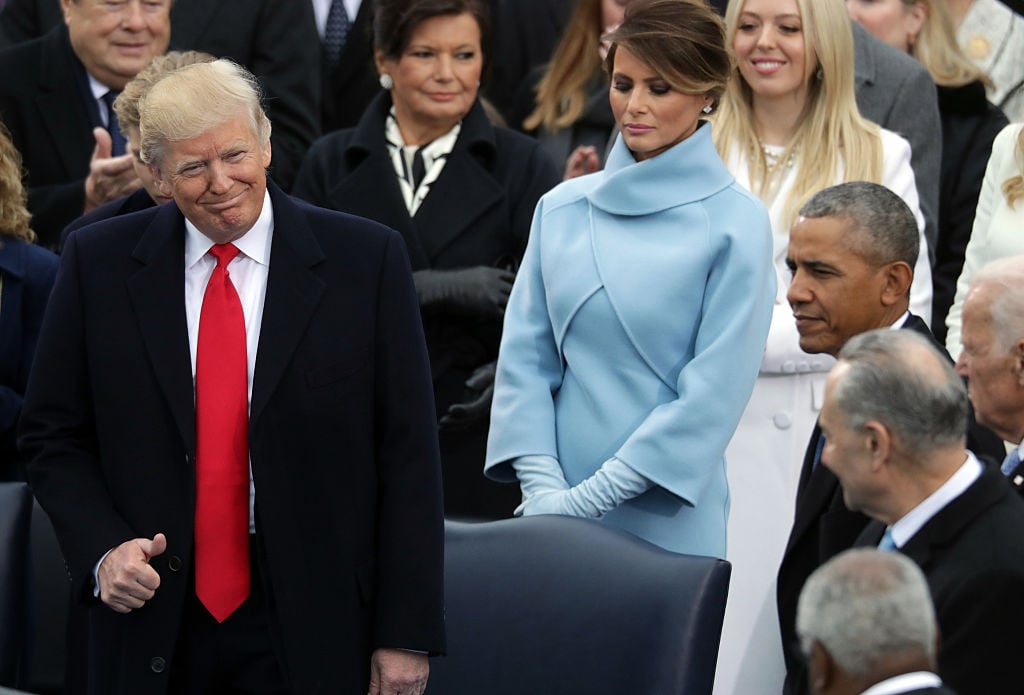 In the midst of a whirlwind day of events on his inauguration day, Trump did take a moment to actually get sworn in. And while he seemed upbeat during the pomp and circumstance, Melania had a harder time expressing her enthusiasm.
There's the infamous moment, captured in fully GIF-able video: the newly minted first lady's face falls from a smile to a frown the moment her husband turns his attention away from her. Even this photo makes it look like the event was a somber moment, rather than a joyous one, for Melania.
Next: But Melania cheered up later in the day, right? Right?! 
8. A moment of silence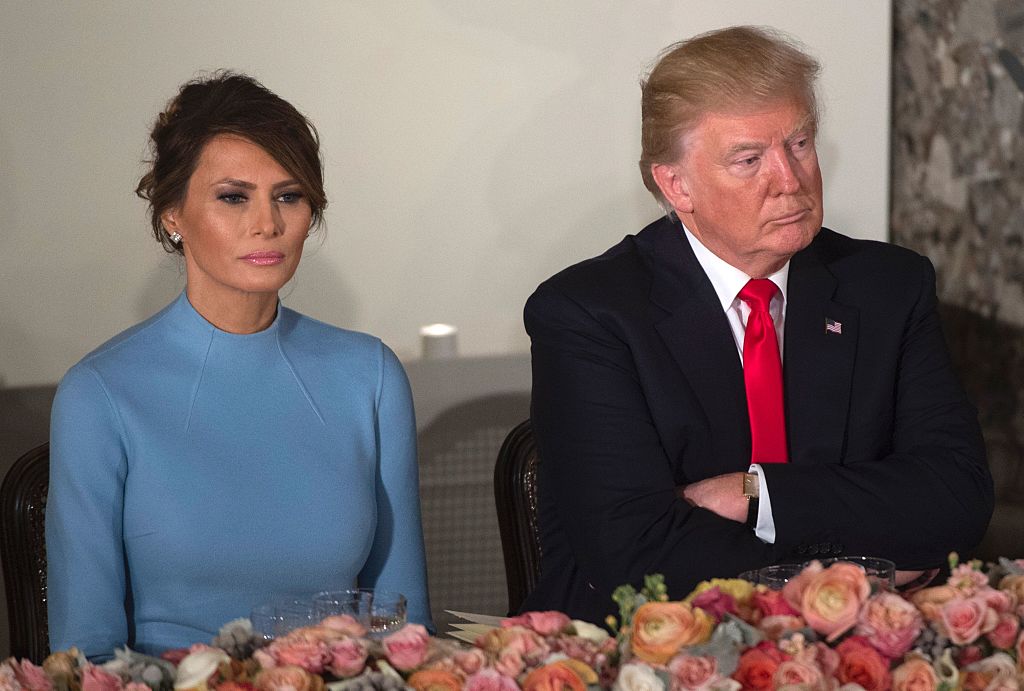 Okay, so, standing in front of a huge crowd and watching your husband take a hugely important oath might be a time for quiet reflection. Sure, we'll give Melania that.
But it seemed as though her mood rarely improved throughout the myriad events she attended that day. Like the Inaugural Luncheon, where she and Trump both appeared subdued, and even tense, even though the meal was being held in their honor.
If you saw this picture without knowing its context, you might think it was two people waiting for bad news, or to be excused from a long day on jury duty. You definitely wouldn't think it was the president and first lady in the midst of celebrating their victory.
Next: Even a fun night out for the new first couple proved to be a little weird.
9. Drift away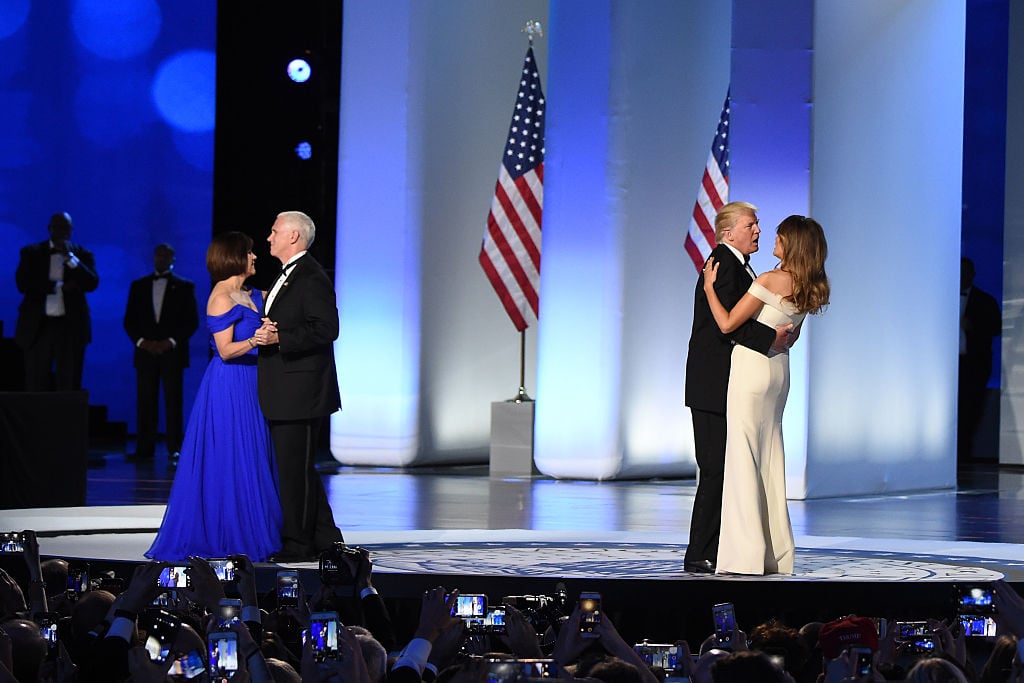 Inaugural balls are supposed to represent the very height of glamour in Washington D.C. And while Melania certainly looked the part in January 2017, there was something missing.
When she danced with her husband, she mostly wore a convincing smile. But her body language, especially how she was literally leaning away from him when he tried to talk to her, told a different story.
Next: This throwback photo is especially awkward given recent allegations against Trump.
10. Meet me in the middle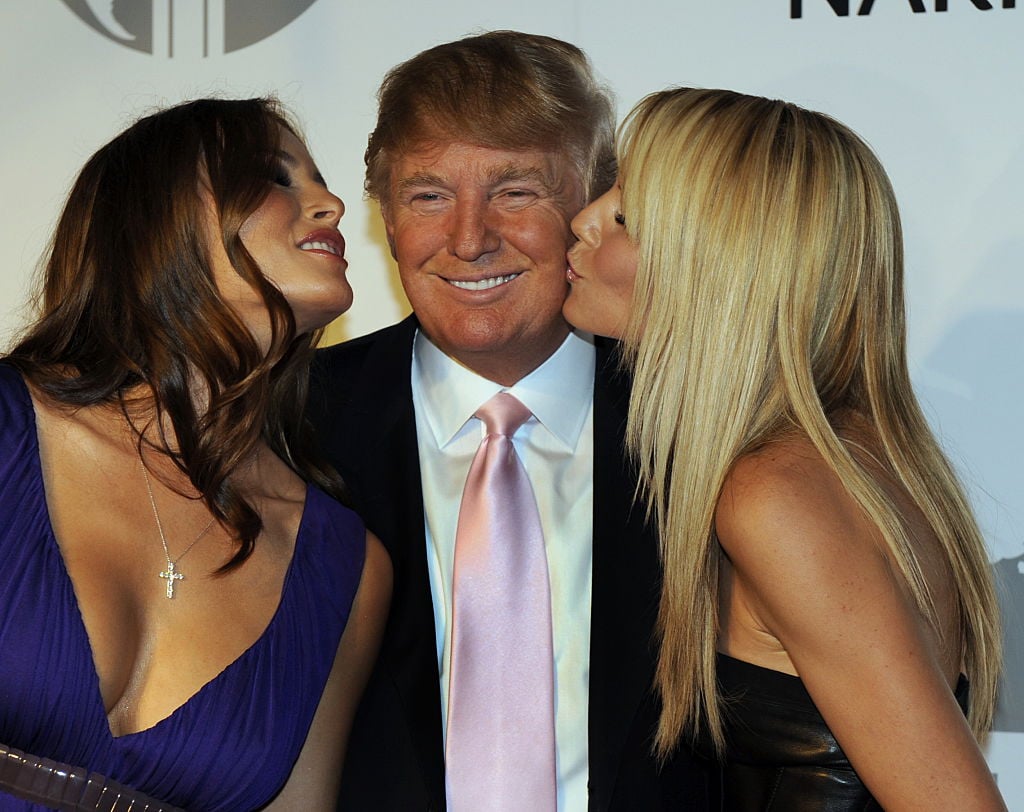 In 2008, the Trumps were still settling into their marriage. But they were, in fact, married, which makes this photo of Melania and supermodel Heidi Klum both leaning in to kiss Donald pretty awkward. It could be seen as a cheesy photo op to celebrate Trump's latest real estate venture — and it was.
But there's also the fact that Trump is soaking up the attention from not just his wife, but another beautiful woman. When you add that to the recent allegations about Trump's infidelity, this picture doesn't seem so cutesy.
Instead, it feels more like a sad reminder that Trump has never been shy about how much he likes the ladies (even the ones that aren't his wife).
Next: Trump wasn't the only one caught in the middle of some awkward affection.
11. Hold me closer (Mike Pence)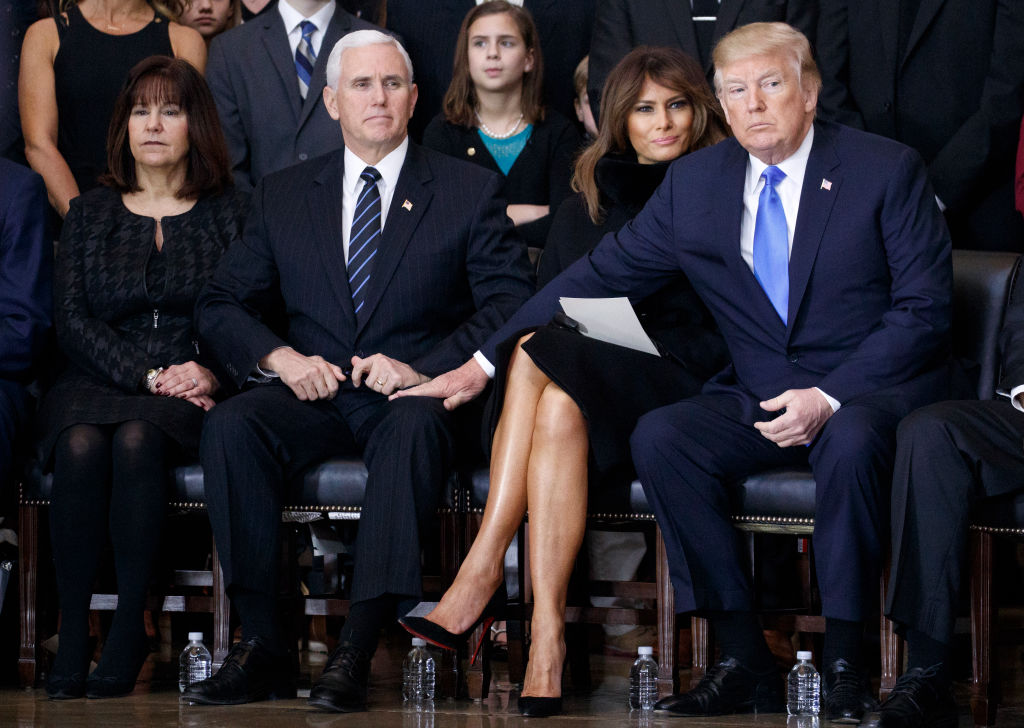 When the Trumps attended Rev. Billy Graham's memorial service, they brought Vice President Mike Pence and his wife, Karen, along to pay their respects. And during the emotional service, Trump leaned over to offer some comfort.
But it wasn't to his wife, who was seated next to him. It was to his vice president, one seat over. Trump's long reach over to pat Pence's leg is, admittedly, a kind gesture.
It's just that he's acting like Melania isn't even there, which makes for perhaps their most awkward moment yet.
Follow Katherine Webb on Twitter @prufrox.
Check out The Cheat Sheet on Facebook!