These Celebrities Have Had Their Hollywood Walk of Fame Stars Damaged or Destroyed
The Hollywood Walk of Fame is where celebrities can be eternally memorialized. And while some famous folks you simply can't stand may have, at some point, been honored with a star, you probably never thought to destroy their memorial. Nevertheless, some brazen people are willing to go on a vandalizing spree — and others have done some seriously weird things to the Walk of Fame stars in the past.
Here are the celebs who've had their stars vandalized, including the one that just occurred in 2018.
1. Donald Trump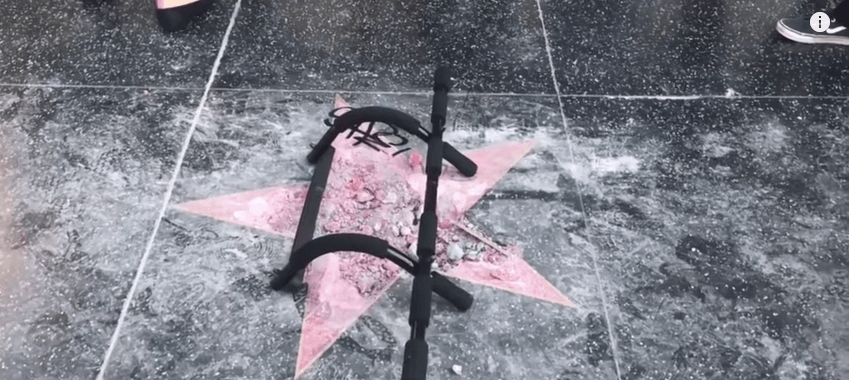 The crime: Star smashed with a pickaxe
The most recent star on the Hollywood Walk of Fame to be totally obliterated is President Donald Trump's. CNN reports a man with a pickaxe, who's suspected to be 24-year-old Austin Clay, was the one who destroyed the star. And Patricia Cox, a woman who witnessed the event, said the person destroying the star looked "like it was his business just to be tearing up the ground."
This isn't the first time Trump's star has been vandalized, either. You may remember when there were other reports that people had defaced it with paint, allowed their dogs to urinate on it, and even smashed it with a sledgehammer in the past.
2. Mary-Kate and Ashley Olsen
The crime: Defaced with the words, "fur hags"
Thanks to their work on Full House, Mary-Kate and Ashley Olsen were rewarded with a Hollywood Walk of Fame star back in 2004. But Alloy explains not everyone was thrilled, as "FUR HAGS!" was written across it just a few years later. It appears that animal rights activists have gone after the twins due to the fact that they frequently wear fur.
3. Bob Marley
The crime: Star smashed with a sledgehammer
Here's another star that was severely damaged. NBC Los Angeles reports the star was pounded with "what appears to be a sledgehammer," according to Ana Martinez from the Hollywood Chamber of Commerce. "It will be repaired by the Hollywood Historic Trust and will cost nearly $3,000 to repair it," she added.
4. John Lennon
The crime: Defaced with graffiti
Back in 2013, The Hollywood Reporter notes John Lennon's star was totally defaced with graffiti just days before what would have been his 73rd birthday. The scrawlings were discovered by Gillian Lomax while she was leading her Magical Mystery Tour group to his star. She saw that the graffiti included drawings of a spotted toadstool, a smiley-face, and the words "I love you" and "Blackbird … Rain was here."
5. Bill Cosby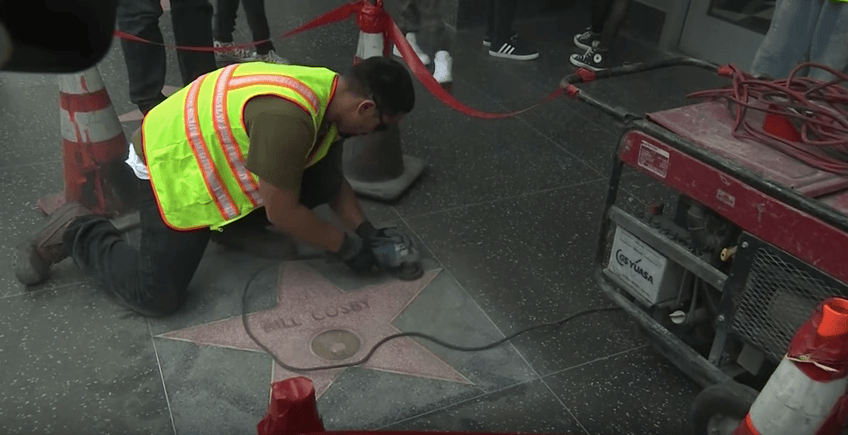 The crime: Defaced with the words, "rapist"
After the sexual assault allegations against Bill Cosby came to light, plenty of Hollywood Walk of Fame goers didn't take the news lightly. The Los Angeles Times reports someone defaced Cosby's star by scrawling the word "rapist" several times across his star. This came after he was given a guilty verdict in court, too.
6. Sharon Stone
The crime: Defaced with the words, "old fur hag"
Another actress who's taken a ton of flack for wearing fur is Sharon Stone. Like Mary-Kate and Ashley, the vandalism on her star also reflects this. Express.co.uk notes someone scrawled "old fur hag" across Stone's star that she's had in place on the Walk since 1995.
7. Hugh Hefner
The crime: Defaced with a blue crown in crayon over his name
Someone may have actually meant this vandalism in a nice way — but regardless of the intent, it still hurt the celebrity's star. Page Six reports after Hugh Hefner's death, someone decided to pay tribute by drawing a crown above his name in blue crayon. Apparently, the crayon was "oil pastel-like" instead of spray paint, which makes it easier to remove.
8. Mariah Carey
The crime: Defaced with a question mark written at the end of her name
Mariah Carey's been around since the '80s, but it seems some Hollywood Walk of Fame goers still question her relevance. New York Daily News reports someone added a large question mark after her name on the star. This simple and offensive marking was cleaned up, but for a hefty price of $1,500 for full restoration.
9. Harry Houdini
The crime: Star was found cracked
On Halloween night in 2000, the infamous Harry Houdini's star was found cracked, UPI reports. The vandalism occurred exactly 25 years after it was first unveiled, too. Thankfully, the star was fully restored — and plenty of magicians, like David Copperfield, Penn & Teller, Lance Burton, and Siegfried and Roy, lent a hand in the restoration process.
10. Sofia Vergara
The crime: Defaced with the words "#Embryodefence"
USA Today explains Sofia Vergara and her ex-fiance, Nick Loeb, chose to freeze two embryos that they were going to attempt to have later via a surrogate. That didn't go over too well with some fans, however, as TMZ notes Vergara chose not to bring her embryos to full term. Loeb even chose to sue Vergara for this decision, too.
To make matters worse, Vergara's star was defaced with the words "#Embryodefence."
Check out The Cheat Sheet on Facebook!