These Hollywood Celebrities Had Encounters With Charles Manson and the Manson 'Family'
Notorious cult leader Charles Manson died on Nov. 19, 2017, of natural causes at the age of 83. His death has stirred up memories of the gruesome murders committed by the "Manson family" in 1969.
In the late 1960s, Manson formed a quasi-commune with whom he conspired a plan to kill Hollywood celebrities. He ordered his followers to slaughter their victims and during the course of two nights, his disciples killed seven people by inflicting 169 stab wounds and multiple gunshot wounds. Two years later, Manson was found guilty of first-degree murder and conspiracy to commit murder for directing the slayings, landing him and his followers in prison for the rest of their lives.
Prior to the convictions, a number of celebs had encounters with Manson and his murderous "family." Some ended in tragedy while others are lucky to be alive. Here's a look at those who crossed paths with Manson and his cult.
Bryan Cranston
Hearing Charles Manson is dead, I shuddered. I was within his grasp just one year before he committed brutal murder in 1969. Luck was with me when a cousin and I went horseback riding at the Span Ranch, and saw the little man with crazy eyes whom the other hippies called Charlie.

— Bryan Cranston (@BryanCranston) November 20, 2017
Following Manson's death, Bryan Cranston took to Twitter and recalled the eerie encounter he had with the cult leader in 1968.
The actor previously told his story to the Daily Beast in 2016 and recounted how as a 12-year-old, he didn't think much of seeing the man who others called "Charlie," but recognized that he was very strange.
Dennis Wilson
The Beach Boys drummer Dennis Wilson had more than just an innocent run-in with Manson.
Manson dreamed of being a rock star, so he and his followers tried to connect with those in the music industry. Wilson ended up meeting the evil leader after picking up two hitchhikers in his cult, and the crew later moved into Wilson's mansion.
His Beach Boys bandmate and cousin, Mike Love, claimed that Wilson distanced himself from the "family" after he allegedly saw Manson fatally shoot someone and dump the body into a well.
Mike Love
Singer Mike Love also had his own connection to Manson and his so-called family. One of Manson's disciples, Susan Atkins, actually babysat Love's children.
In addition, as detailed in his memoir, Good Vibrations, Love said he left Wilson's home after an odd confrontation with the cult leader who tried to orchestrate a sex party. "As we pulled out of the driveway, I thought, Denny, you've got a real nut case for a roommate now," Love wrote.
Terry Melcher
Because he stayed with Wilson for some time, Manson was introduced to other people the Beach Boys member knew in the business, including music producer and son of Doris Day, Terry Melcher.
Love revealed that Manson learned where Melcher rented a home with his then-girlfriend, actress Candice Bergen, when Wilson dropped him off one day. After Melcher and Bergen moved out, the house became the scene where the brutal slayings of Sharon Tate and four others took place.
Neil Young
Canadian singer Neil Young also met Manson through Wilson and thought he had enough talent to make it as a musician. The artist has stated:
I asked him [Manson] if he had a recording contract. He told me he didn't yet, but he wanted to make records. I told Mo Ostin at Reprise about him, and recommended that Reprise check him out. Shortly afterward, the Sharon Tate-La Bianca murders happened, and Charlie Manson's name was known around the world.
The Mamas & The Papas
Like Young, Mama Cass Elliot and John Phillips of The Mamas & the Papas crossed paths with Manson and believed he had a chance to break into the rock 'n' roll industry.
However, when they introduced Manson to record executives, they disagreed. Although the pair tried to help him, they were unsuccessful in getting him signed to an actual record deal.
Deirdre Shaw
At one point, the daughter of Peter Shaw and Murder, She Wrote star Angela Lansbury became involved with Manson and his followers.
Lansbury told the Daily Mail that Deirdre Shaw got mixed up with the cult group. "It pains me to say it but, at one stage, Deirdre was in with a crowd led by Charles Manson. She was one of many youngsters who knew him – and they were fascinated," she said. "He was an extraordinary character, charismatic in many ways, no question about it."
The Manson followers went on shopping sprees and charged their purchases to Shaw's credit cards, but when her parents got wind of it, they cut the cards off and moved the family to Ireland, away from the "bad influences."
Sharon Tate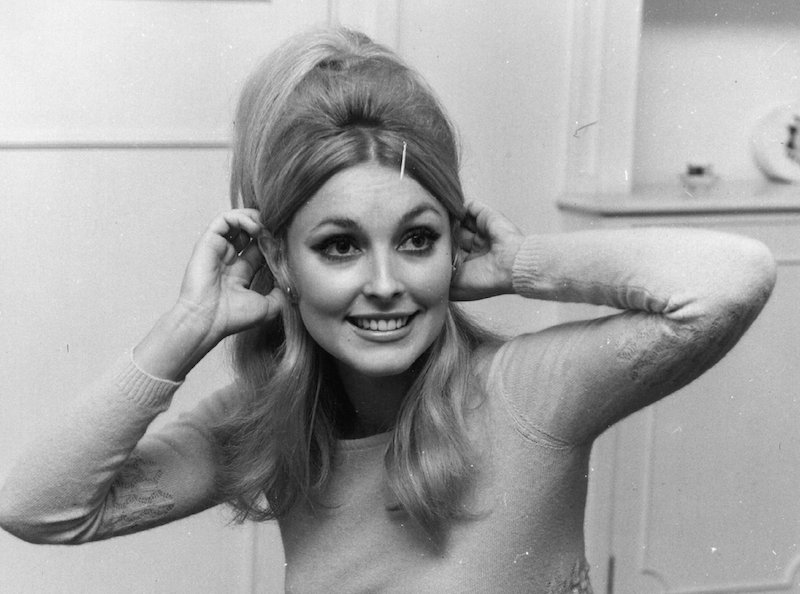 The celebrity who had the most tragic encounter with the Manson Family was Sharon Tate. The actress and wife of director Roman Polanski became the most famous victim of Manson's followers on Aug. 9, 1969.
Shortly after midnight Tate, who was eight-and-a-half months pregnant, was murdered at the house on 10050 Cielo Drive previously rented out by Melcher. Four others, including Folger coffee heiress Abigail Folger, were also killed.
Polanski was out of the country when the slayings took place.
Follow Michelle Kapusta on Twitter @philamichelle.
Check out The Cheat Sheet on Facebook!