These Iconic Photos Will Take You Inside Jackie Kennedy's Marriage to Aristotle Onassis
In 1968, beloved former First Lady Jackie Kennedy stunned the world when just three months after the assassination of her brother-in-law Robert F. Kennedy, and five years after the death of her husband, John F. Kennedy, she remarried. The demure but stunning brunette tied the knot with Aristotle Onassis, a Greek shipping mogul, who was 23 years her senior and one of the wealthiest men in the world.
Those who had revered the Kennedys during their short tenure in the public eye were horrified and appalled. The New York Times reported, "The reaction here is anger, shock, and dismay." However, for the new Mrs. Kennedy Onassis, her choice to marry again had much more to do with comfort and protection then it had to do with love. Travel back in time with these iconic photos of Jackie Kennedy and Aristotle Onassis.
1. Onnasis and Jackie's sister, Lee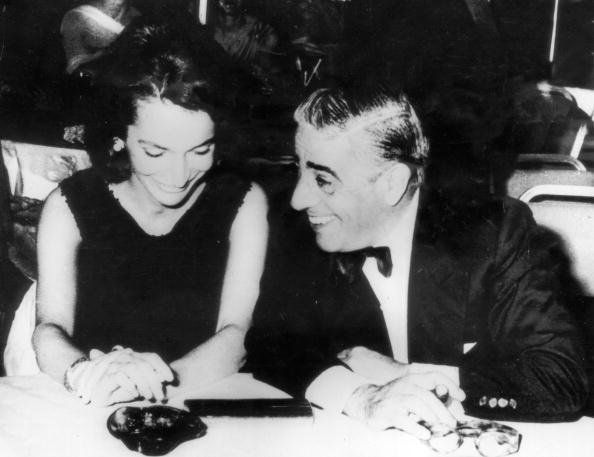 In 1963, when Mrs. Kennedy was still in the White House, her younger sister, Lee Radziwill attended the opening of the Athens Hilton in Greece with Aristotle Onassis. Bob Wentworth, a friend of Nicky Hilton, told Harper's Bazaar, "Onassis said, 'I am lucky. She's magnificent, isn't she? You know she's Jackie Kennedy's sister, don't you?' The way Onassis said it was as if this was what distinguished Lee most, her relationship to Jackie."
The pair had an ongoing courtship though Radziwill was married to Polish aristocrat Prince Stanisław Albrecht Radziwiłł at the time.
Next: The first interaction 
2. A faithful yacht excursion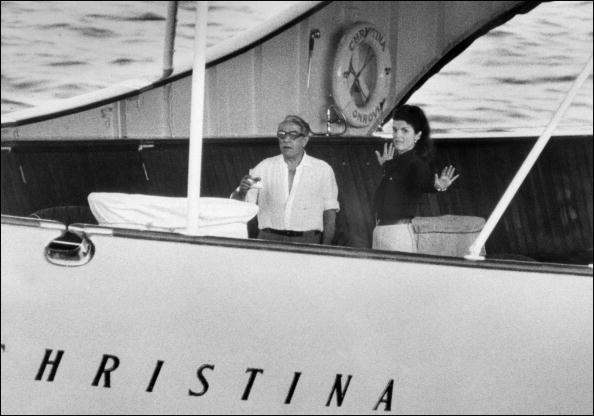 In the months before John F. Kennedy's assassination, Mrs. Kennedy first became acquainted with Aristotle Onassis. She was devastated after the death of her third child, a son named Patrick who was born prematurely and died shortly after that. As a result, the first lady fell into a deep depression. Desperate to help her out of it, her younger sister, Lee Radziwill, invited her on Onassis' yacht for a break.
Though he was reluctant to let his wife attend, JFK finally relented with the hopes that it would help bring the first lady back to herself. The trip was a lifesaver in more ways than one, but Jackie Kennedy would lose her husband soon after.
Next: Alone in New York 
3. A mourning widow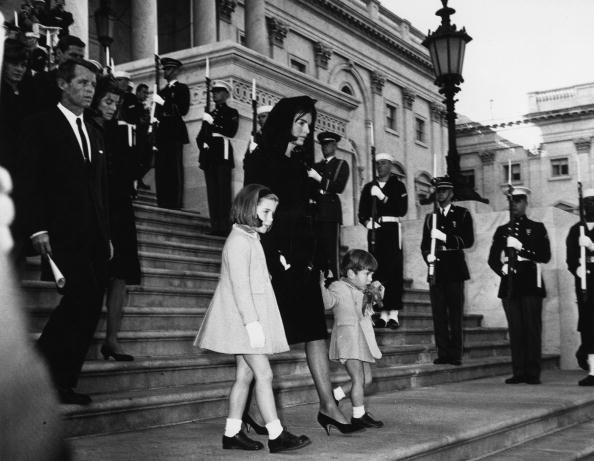 On Nov. 22, 1963, President John F. Kennedy was shot and killed in Dallas as his wife sat by his side. The nation was thrown into chaos, but it was Mrs. Kennedy still wearing her bright pink blood-stained Chanel suit that was a steadying force even as Lyndon B. Johnson was being sworn in.
After JFK's funeral, Mrs. Kennedy and her young children, Caroline and John F. Kennedy Jr., hastily left the White House and Washington and settled for a time on New York City's Upper East Side. Biographer Donald Spoto explained, "The country had idolized her, and now the country needed her to hold all people together. Her sense of history, her dignity, and her refusal to think only of herself: it was she who brought order to the chaos."
Next: Robert Kennedy's assassination 
4. Losing Bobby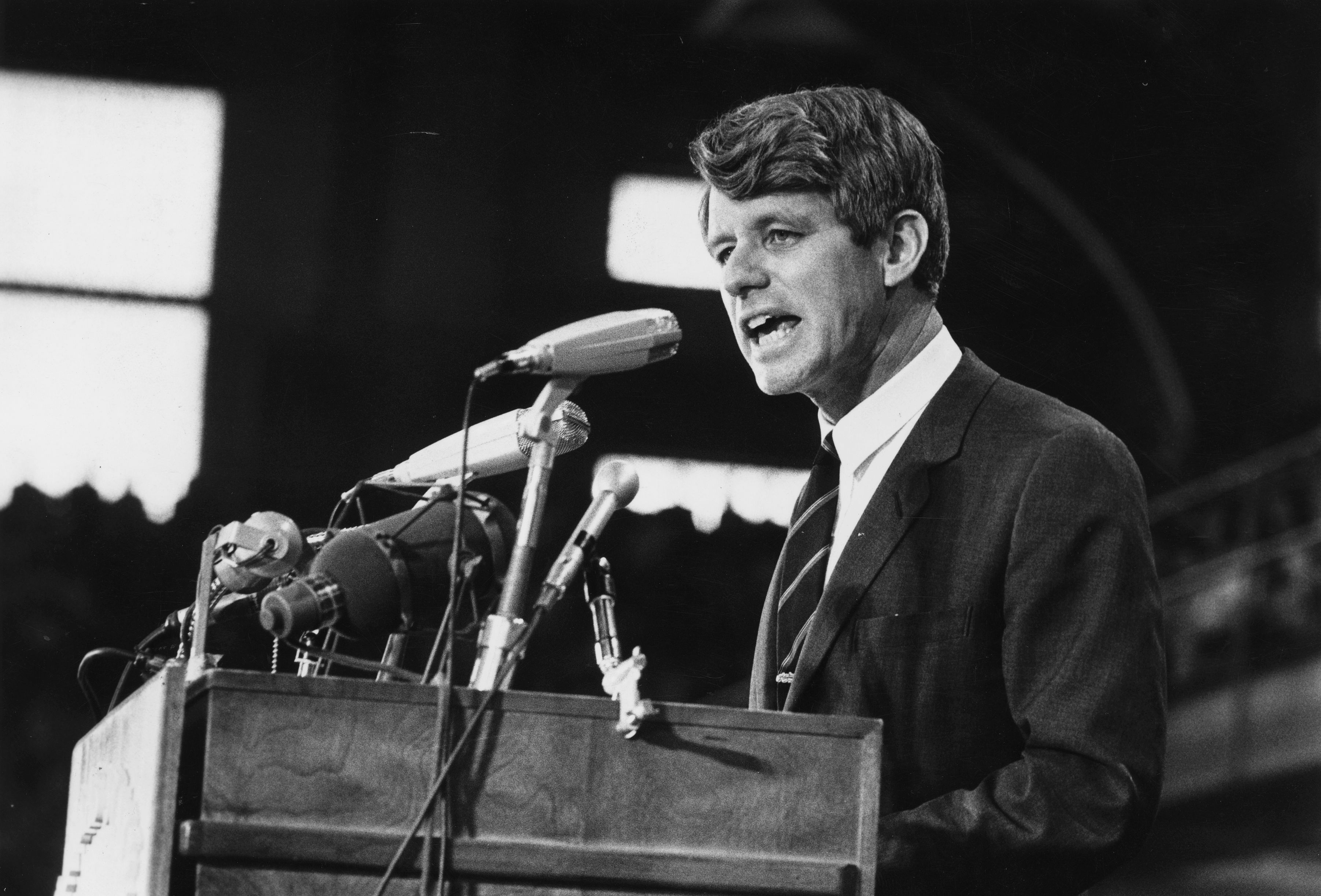 After her husband's death, Mrs. Kennedy and her brother-in-law Robert F. Kennedy became increasingly close –many suspected too close. He would often check on her and the children. However, when Kennedy decided to run for the Presidency in 1968, he became increasingly unavailable. It didn't help that he also detested Onassis who was friendly with Jackie and had a business-related grudge against him. Robert Kennedy also thought Onassis was vulgar.
When RFK was killed in 1968, Onassis swooped in to comfort a terrified and devastated Mrs. Kennedy.
Next: Fearing for her life 
5. Lonely and scared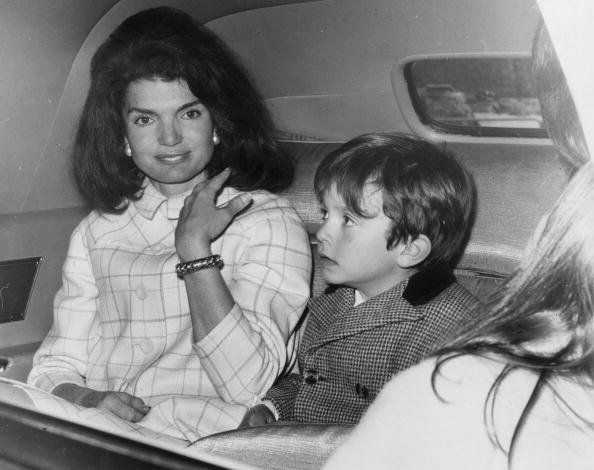 With Robert Kennedy dead, Mrs. Kennedy was increasingly lonely and isolated. Kathy McKeon, her personal assistant said at the time, "She always used to have company all the time, and all the sudden it got very quiet. She was by herself at night, and I think she was very lonely. She needed somebody to talk to."
The former first lady was also increasingly worried for the safety of her children. She expressed her anguish saying, " If they're killing Kennedys, then my children are targets … I want to get out of this country."
Next: A loving presence 
6. A father figure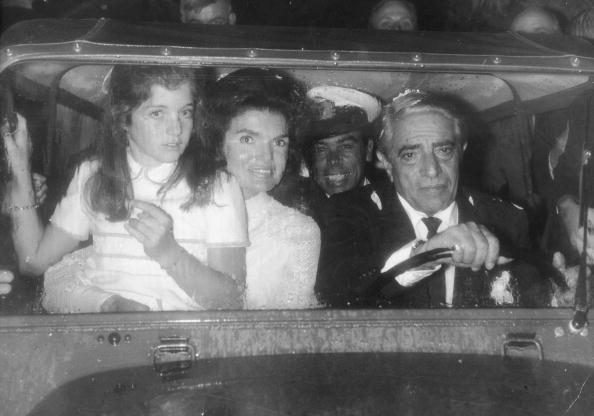 Jackie's father stockbroker John Vernou "Black Jack" Bouvier III had made a mess of the family finances through bad investments. He also visited the racetrack often. Jackie's mother, Janet Norton Lee advised her daughter to marry up, so Jackie sought out wealthy men even after the death of JFK. Onassis had unimaginable wealth and he was also a father figure to Jackie's children.
McKeon remembered, "A lot of people said, "Oh, my God, what did she marry that guy for?" But he was a good father to John and Caroline, He would sit with them at the dining room table and ask how was school. He might have been an older man, but he paid attention to them, and they loved him."
Next: Money and protection 
7. Assurance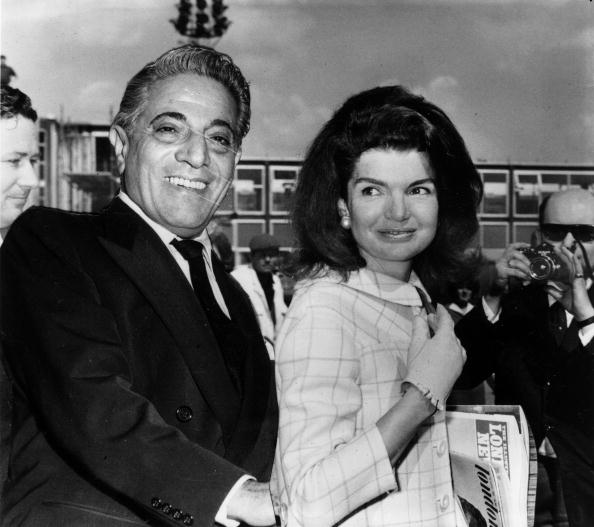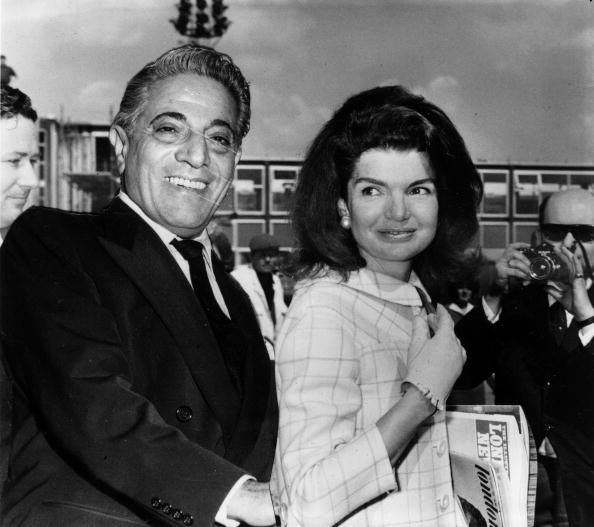 In May of 1968, after inviting Mrs. Kennedy on his yacht, Onassis proposed the idea of marriage, even though they didn't have a romantic relationship. Onassis' friend Joan Thring recalled, "Ari asked Jackie to marry him, assuring her that if she agreed she would still have her freedom. Perhaps more important, though, she would also have protection by his army of security men, 75 strong, some with machine guns. For a woman still suffering from PTSD from the murder of her husband, this was vital information. He loved her, he said, at least in his own way—which meant that he, too, would have his freedom, ostensibly to see other women, like [opera star] Maria Callas."
Onassis provided the wealth and the access to escape the pain of Mrs. Kennedy's past.
Next: Lee's ire
8. A sisterly betrayal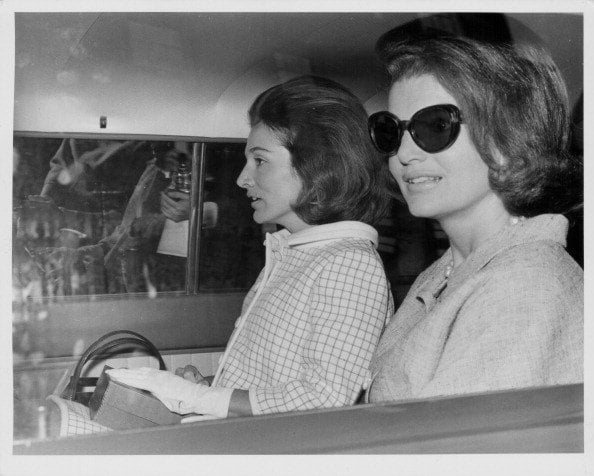 Though she never admitted anything about her relationship to Onassis to her sister or anyone else. Jackie's sister, Lee Radziwill, was devastated when she heard the news about her sister's impending marriage. After all, she had missed her one window of opportunity with the shipping tycoon in 1962 when he begged her not to renew vows with her husband.
In the 1970's Radziwill then-friend author Truman Capote explained she called him weeping about the whole ordeal, "Lee really thought she had Onassis nailed down. She pretended to have great contempt for Onassis and the marriage. She wasn't in love with him. But she liked all those tankers."
Next: A friendly affair
9. The wedding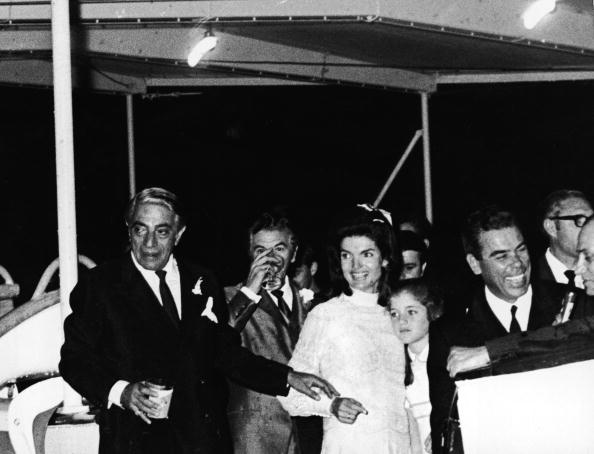 On Oct. 20, 1968, Mrs. Kennedy became Jackie Kennedy Onassis. The 39-year-old widow wed 62-year old Aristotle Onassis in an intimate, Greek Orthodox ceremony. The Washington Post reported, "She wore a lace-trimmed beige chiffon dress which she had worn earlier this year to a friend's wedding. Her shoes were flat-heeled in an attempt to equalize her husband's shorter stature."
40 close friends and family surrounded the pair, and the Kennedy children participated in the ceremony by holding the candles. In the States, folks were outraged. They even wondered if Mrs. Kennedy Onnassis would be excommunicated from the Catholic Church for marrying in a Greek Orthodox ceremony, and to a divorced man whose first wife was still living. Though she lost her Secret Service protection, in her new marriage, the former first lady escaped America, terrible memories, and garnered newfound wealth.
Next: An understanding 
10. Friends and nothing more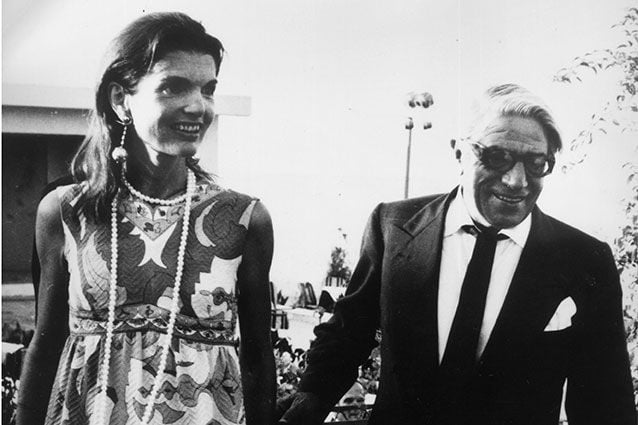 Onassis called Radziwill to be at her sister's side on the day he married Jackie Kennedy. When Radziwill arrived she realized that there was nothing romantic between her sister and her ex-flame. In his new book Jackie, Janet & Lee: The Secret Lives of Janet Auchincloss and Her Daughters Jacqueline Kennedy Onassis and Lee Radziwill, author J. Randy Taraborrelli wrote,
"From a safe distance, she stood and watched the two speak to each other for about half an hour. There was nothing romantic about their interaction, just something easy and relaxed. Lee hadn't spent much time with Onassis lately, but whenever she did, there was nothing but tension and angst between them. There was no doubt about it; Lee had to acknowledge that Jackie seemed happy."
Mrs. Kennedy reportedly told her sister, "I need this, Lee." That's was all she said—"I need this, Lee." Lee looked at her closely, studied her anguished face . . . and she knew it was true. "I know you do," she said. "And you should have it."
Next: Separate lives 
11. A non-traditional union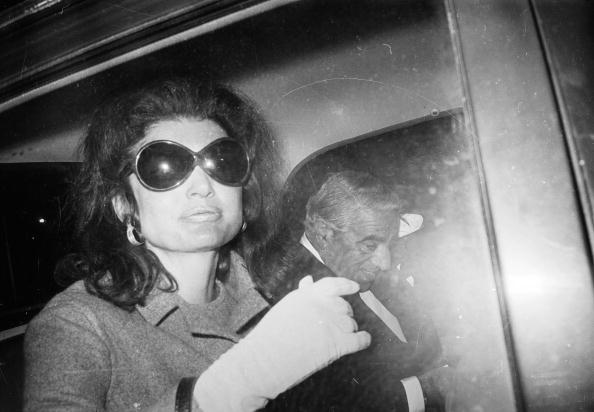 The Kennedy/Onassis merge was not one of tradition. After all, the Greek businessman was extremely busy. He owned an airline, Olympic Airways, a shipping empire, and also had his hands in the oil, gold, and real estate industries. He was also a known philander, at least in his younger years.
As a result, the newlyweds seemed to maintain two separate lives. They had six homes, including Jackie's 15-room Manhattan apartment, her horse farm in New Jersey, Onassis' apartment in Paris, a house in Athens, his private island Skorpios, and his 325-foot yacht which Jackie had recovered on five years before. Later Mrs. Kennedy Onassis would say of her second husband, "[He] rescued me at a moment when my life was engulfed in shadows."
Next: Back on the A-list 
12. Back on the social scene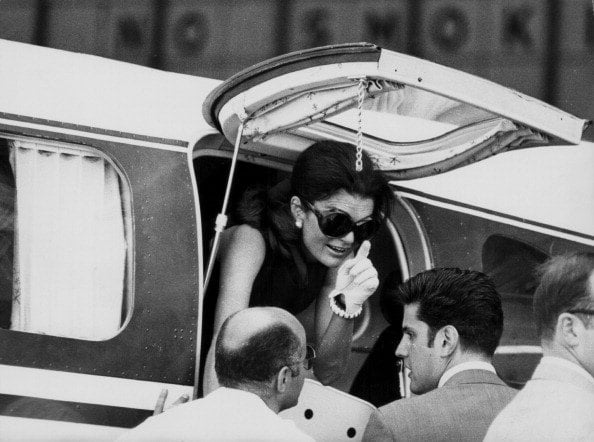 While Onassis was off dealing with his businesses, Jackie was in New York, Cape Cod, or Greece keeping up with her social calendar. Their marriage may not have been conventional, but it worked for them. Though their schedules very much depended on Onassis' work schedule, the former first lady got her social life back, the one that had been stripped from her after JFK was assassinated.
McKeon explained, "He would stay in New York for about two weeks at a time, where they'd entertain A-list guests, including Frank Sinatra before he'd fly off to Paris or another city."
Next: Nearing the end 
13. Yet another tragedy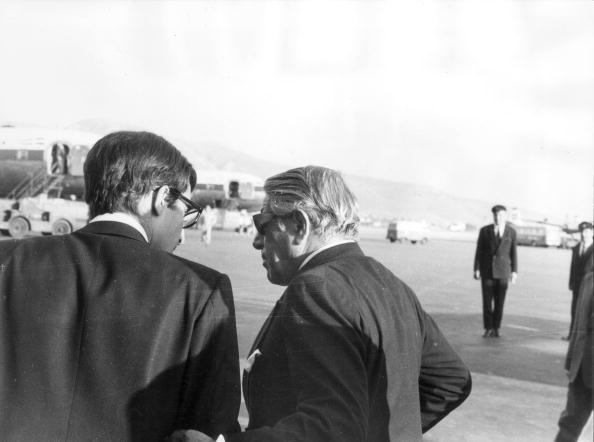 Onnasis had two children, Alexander and Christina Onassis, whom he adored. He even named his yacht Christina O. after his only daughter. Sadly in 1973, just five years into his marriage to Jackie, Alexander died at the age of 24, from injuries sustained when his personal Piaggio P.136L-2 amphibious airplane crashed. He was the passenger, the pilot survived.
The loss of his son was too much for Onassis to bear. In the months after Alexander's death, Onassis refused to believe that it was an accident. Instead, he offered a $1,000,000 reward for proof that his son's death had been as a result of "deliberate action." No charges were brought against the pilot of the plane, Donald McCusker, and it sent Onnasis into a downward spiral. He even tried to sell Olympic Airways.
Next: The death of another husband
14. Onassis' death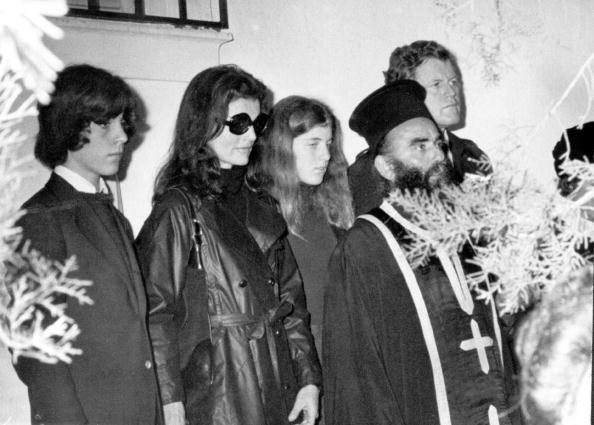 Aristotle Onassis died on March 15, 1975, from respiratory failure. He had never recovered from the death of his son, and his health had rapidly deteriorated in the years following. His death heightened tension between Jackie and Onassis' daughter Christina who had always been suspicious of the former first lady. Christina felt that Jackie was cursed after the death of her first husband and brother-in-law and she never trusted her.
Next: Becoming Jackie O. 
15. Widowed again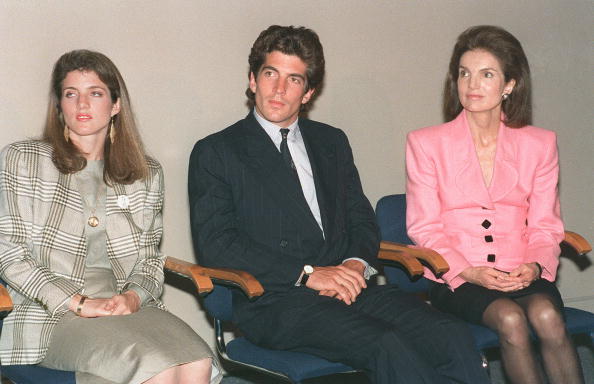 With a second husband dead, Jackie Kennedy Onassis found herself alone again at 45 years old and her stepdaughter, Christina was determined not to make it easy for her to move on. Greek law limited the amount of money Onassis was able to pass on to Jackie, a non-Greek surviving spouse. The former first lady had to have her brother-in-law, Ted Kennedy negotiate for more money.
In the end, Jackie accepted a $26 million settlement from Christina, who was the sole heir her father's fortune. Jackie waived all other claims to his estate. She returned to New York City permanently where she began her career as a book editor and dated, Maurice Tempelsman who was a diamond merchant and her financial advisor until her death in 1994 from non-Hodgkin's lymphoma.
Jackie's time as Mrs. Kennedy Onassis was brief, but it brought her peace after the assassinations of two towering figures in her life.