These Princess Charlotte Photos Will Definitely Make You Smile
Prince William and Kate Middleton's only daughter, Princess Charlotte of Cambridge, is one of the most adorable young royals. Whether she's stealing the show at weddings or impressing crowds with her turn-and-wave move, the little princess always gives us cuteness overload whenever she's out in public and here we've compiled a list of some of those moments.
So kick back, relax, and get ready to smile at these photos of Princess Charlotte.
Giving the crowd a wave
Even at a young age, Charlotte has already perfected her turn-and-wave move.
The gesture has become the princess' signature move as she showed it off quite a few times including when she walked up the hospital steps with Prince William and Prince George to meet her little brother, Prince Louis. She also waved to the crowds gathered to watch the royal weddings outside St. George's Chapel in 2018.
A tired princess
In 2017, the paparazzi snapped a picture of the Duke and Duchess of Cambridge's little girl traveling in an automobile and looking very tired. She and her parents had just attended a Christmas lunch for the extended royal family at Buckingham Palace.
Maybe all the excitement of the day wore her out.
Taking in the Trooping The Colour parade
In 2017, Charlotte was too cute on the balcony as she watched the annual Trooping the Colour parade.
The princess stood next to her big brother, who appeared a little more excited as he looked on, but Charlotte still appeared to be interested in what they were seeing.
Really enjoying the Trooping Color the Colour parade
Charlotte really looked like she was enjoying herself at the Trooping the Colour parade in 2019.
She seemed to be having a lot more fun as she was photographed laughing and cheering alongside George on the Buckingham Palace balcony.
A bridesmaid in her aunt's wedding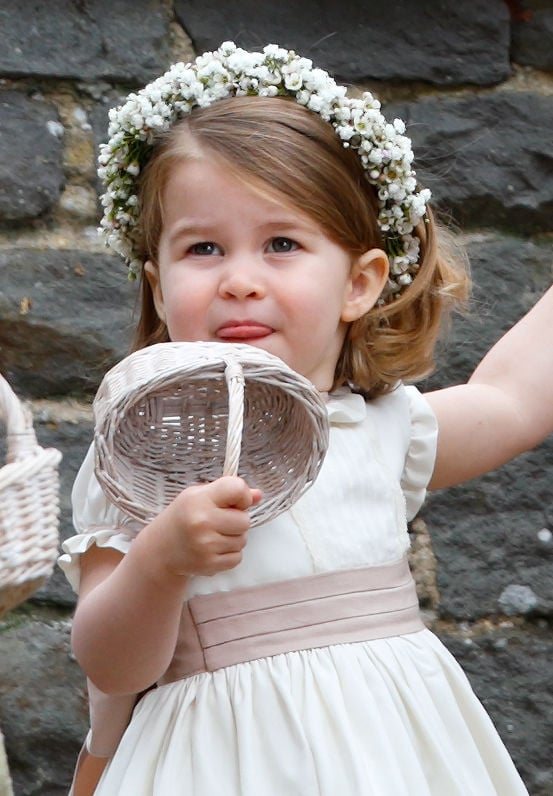 Charlotte was too cute for words at her aunt's wedding.
Taking part in weddings is something Charlotte and her older brother are pros at now. The siblings have served as bridesmaid and pageboy, respectively, a number of times since their Aunt Pippa's wedding in 2017.
Many were hoping Pippa's sister would have been in the bridal party but the duchess was busy keeping up with her little ones who nearly stole the show.
A bridesmaid in her uncle's wedding
At Prince Harry and Meghan Markle's wedding the following year, Charlotte had a good time making silly faces and sticking out her tongue as she traveled in a car on her way to the affair.
The princess gave us some more cute moments that day and was sure to wave to the crowd when she walked in and out of St. George's Chapel at Windsor Castle.
Read more: This is What Princess Charlotte's Friends Call Her on the Playground