These Two 'Real Housewives of Orange County' Just Teamed Up for This Fashion Necessity
Emily Simpson of Real Housewives of Orange County recently decided to join forces with an alum from the reality show. Simpson has always been vocal on women embracing their own unique body types, and decided to collaborate on a fashion item that celebrates each woman's individuality.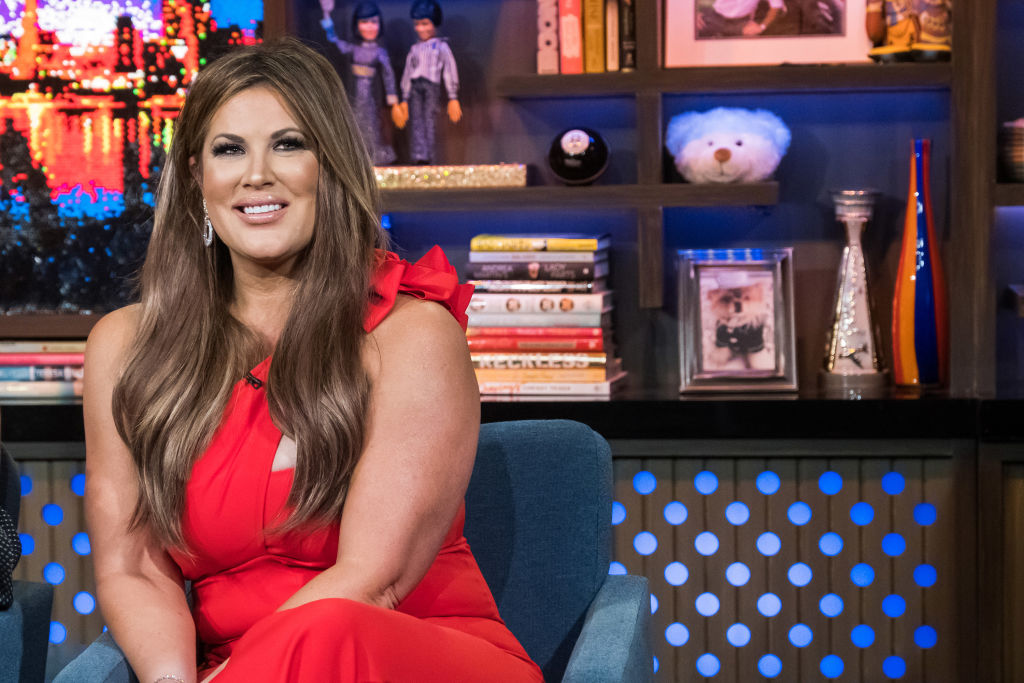 Clapping back at body shamers
Simpson, who joined the cast of RHOC in season 13, recently took to Instagram to put body shamers in their place after being accused of photoshopping '50 pounds' off of her photo that was used to promote the show's 14th season. She shared a behind-the-scenes image of the promotional photo shoot to prove that no photoshopping or other type of editing took place, and decided to give accusers a piece of her mind.
"For you (expletive) out there who feel the need to make derogatory comments on my figure 'photoshopped to look like 50 lbs. were taken off' in reference to the Season 14 #RHOC promo pic…. here's the raw, untouched photo taken with my iPhone by my makeup artist. Looks exactly the same to me! This dress is a size Medium," she posted on Instagram.
She reminded the naysayers that women have both curves and feelings, proudly owning her body type while letting her critics have it. "I'm not sure if you all know this but I'm a woman, I have curves and they are frikin' hot and amazing… but I'm also a human and I have feelings too. Why so many of you feel the need to say downright mean, cruel and vicious things… I truly will never understand it," she wrote. "I hope you find some happiness and peace someday so that attacking someone's looks and being so vicious doesn't come so naturally to you," she wrote.
From reality star to swimsuit mogul
RHOC alum Lizzie Rovsek had a short run on the reality show, but she has remained in the public eye. With her swimsuit line Sun Kitten, Rovsek began designing bathing suits when she was pregnant with her first son Preston. According to her website, she created the line to be "flirty, girly, and beachy."
Now the former reality star is teaming up with Simpson to launch a new swimsuit designed to make all body types look like a Sun Kitten.
A perfect union
With Rovsek's designing eye and Simpson's body positive persona, their collaboration on a new swimsuit is a match made in heaven. On August 5, Rovsek announced her partnership with Simpson on Instagram, revealing a new bathing suit that puts the female wearer in control of how much skin she shows and how much control she gets.
Simpson is modeling the suit on Rovsek's Instagram, along with a post detailing the new item. "☀️👙🦢 Get ready ladies, we are bringing back our BEST SELLING one-piece, The Housewife!@rhoc_emilysimpson, my beautiful friend, who is loved for her curves, collaborated with me to design a swimsuit that all women are going to L-O-V-E!" Rovsek wrote.
The RHOC alum goes on to describe the suit, aptly named 'The Housewife,' and for whom the piece is created. "The Housewife is designed for REAL women with REAL curves, a sexy suit for the voluptuous woman. This one piece boasts a built in bra that accommodates up to a 50 bust size. That's not all, the suit has adjustable ties at the hips and bust so you DECIDE how much coverage you want," Rovsek wrote. "Some women prefer a high cut leg and some don't find that flattering and prefer a lower cut. You decide how much cleavage you want too! The built in bra is equipped with sturdy boning within the garment, enforced elastic shelf bra and a comfortable halter tie at the neck. The garment is double lined and really pulls you in and gives you the support we all want at the waist. Suit sizes range from size 4 to size 22. ⏳🍑If you want the perfect hour glass figure this is your suit! ☀️☀️☀️☀️"
This dynamic duo is sure to be taking bathing suit sales by storm!