Selena Gomez and The Weeknd: Everything We Know About Their Relationship
Selena Gomez and The Weeknd are two of the most famous people in America these days. Up until recently, that was because of their respective careers. Gomez has proven herself to be a savvy businesswoman. She successfully transitioned from Disney princess, snagged chart-topping hits as a pop singer, and is the executive producer of Netflix's new series, 13 Reasons Why. Abel Tesfaye, aka The Weeknd, has distinguished himself as one of the most popular R&B artists of the last decade.
The two musicians have more recently made headlines for an entirely different reason. Seemingly out of nowhere, news began to spread that they were dating. Since then, fans have been captivated by the way their romance seems to be rapidly blossoming. From their first kiss to their jet-setting getaways, they've certainly been one of the most talked-about couples in 2017.
Here are 12 things you might not know about Selena Gomez and The Weeknd's relationship.
1. They were first spotted together in January 2017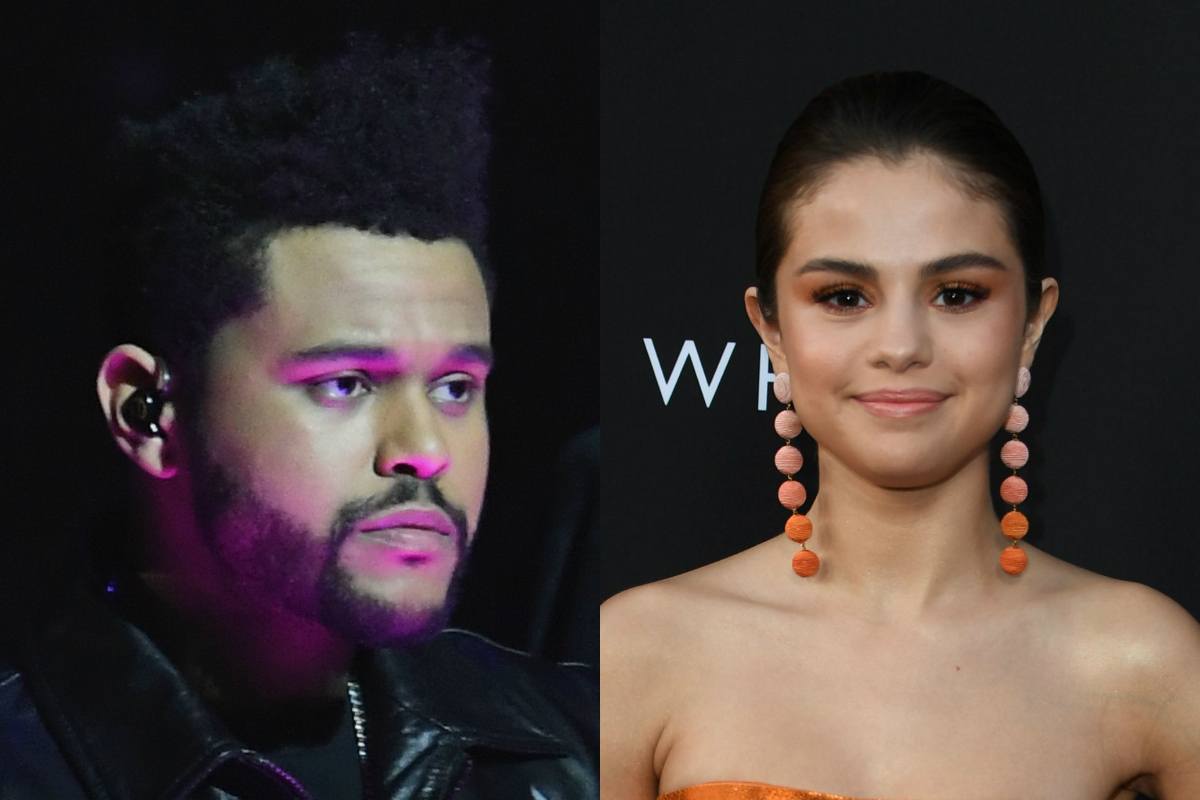 Selena Gomez and The Weeknd certainly raised the bar for unexpected celebrity couplings when news first broke about their potential romance. In early January 2017, TMZ posted photos of the two kissing and cuddling outside the Giorgio Baldi restaurant in Santa Monica, California.
The internet promptly freaked out. After all, until they were spotted together, most fans weren't even aware that they knew each other, let alone were close enough to canoodle in public. A couple weeks later, Gomez further fueled speculation by posting, and then deleting, a video of The Weeknd, complete with a heart-eyes emoji.
2. They've been fans of each other for years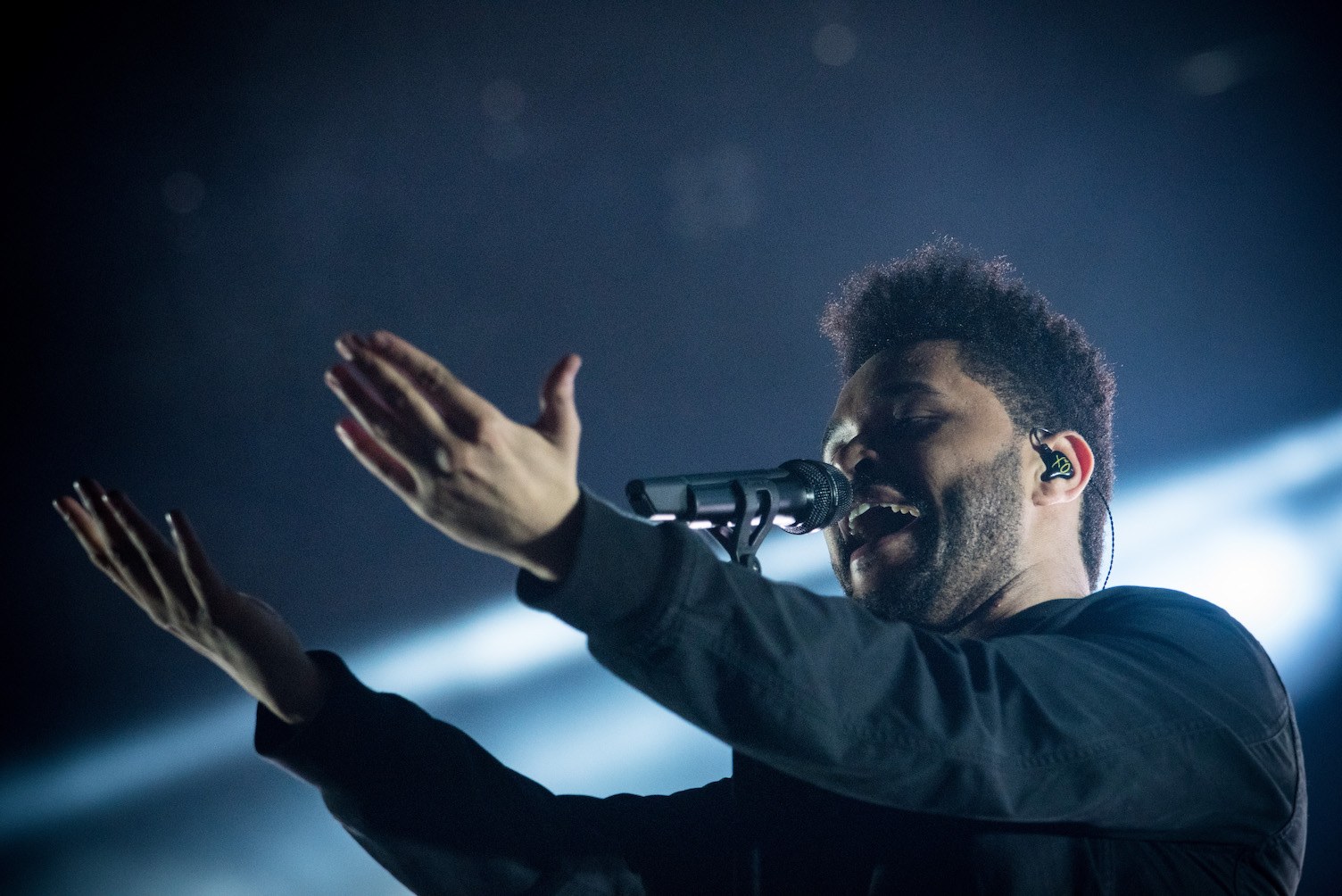 They've allegedly only been dating a short while, but Gomez and The Weeknd have both been fans of each other's work for quite some time. In a 2015 interview with the Open House Party radio show, Gomez gushed about The Weeknd. She told listeners that she was "obsessed" with his album, and proclaimed herself a "huge" fan. According to E! News, he's "always had a thing" for Gomez.
3. They've known each other since at least 2015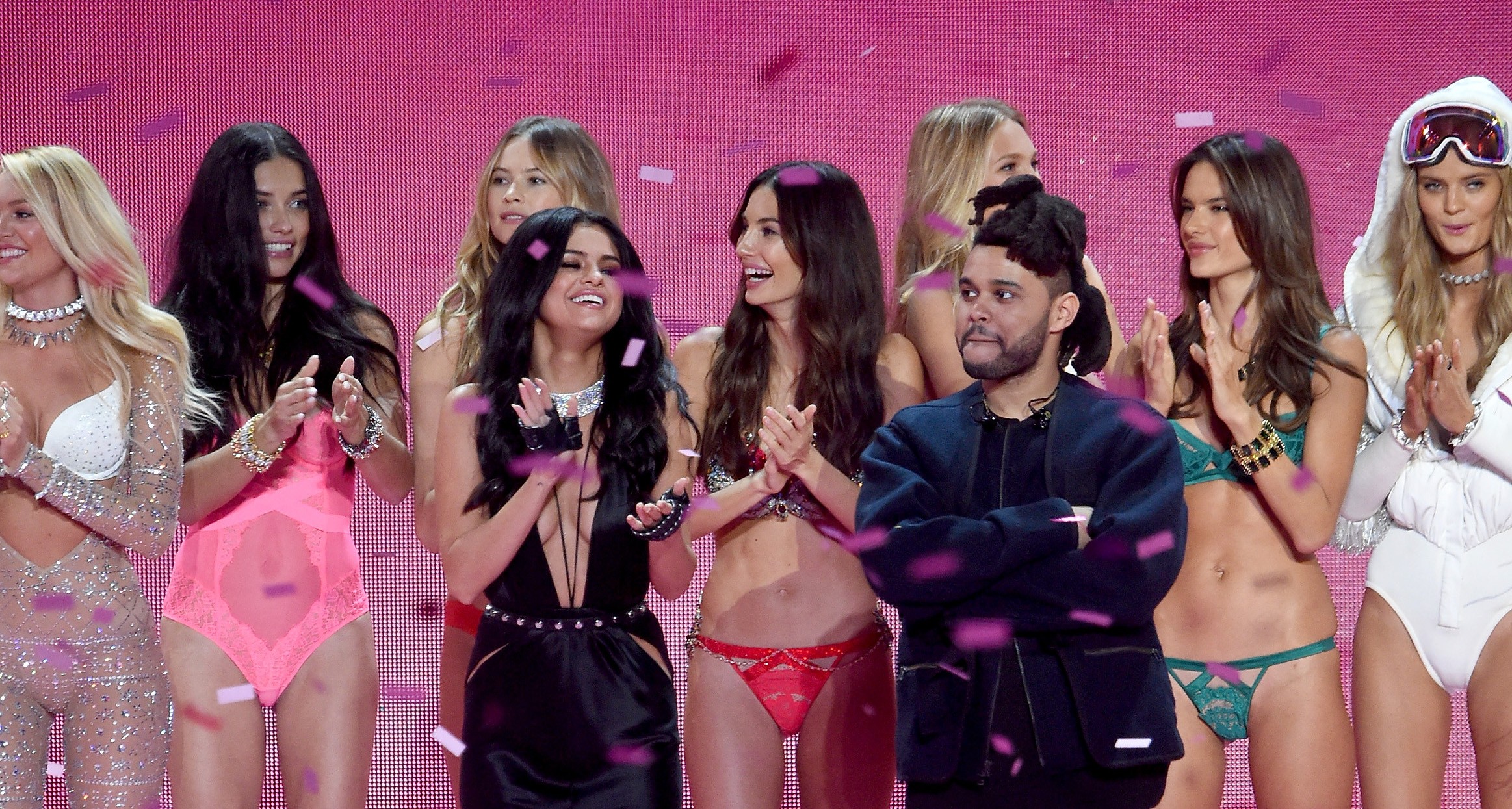 No one knows exactly when Gomez and The Weeknd met each other, but we do know that they've been acquainted at least since November 2015. That's because they both appeared at the Victoria's Secret Fashion Show. They didn't sing together — he performed his mega-hit "Can't Feel My Face," while she performed two songs, "Hands to Myself" and "Me and My Girls."
There's still a chance they were already friendly — after all, they did run in similar circles. Gomez, for instance, is good friends with Taylor Swift, who's buddy-buddy with Gigi Hadid, who just so happens to be the sister of The Weeknd's ex-girlfriend, Bella Hadid.
4. He may have already written a song about her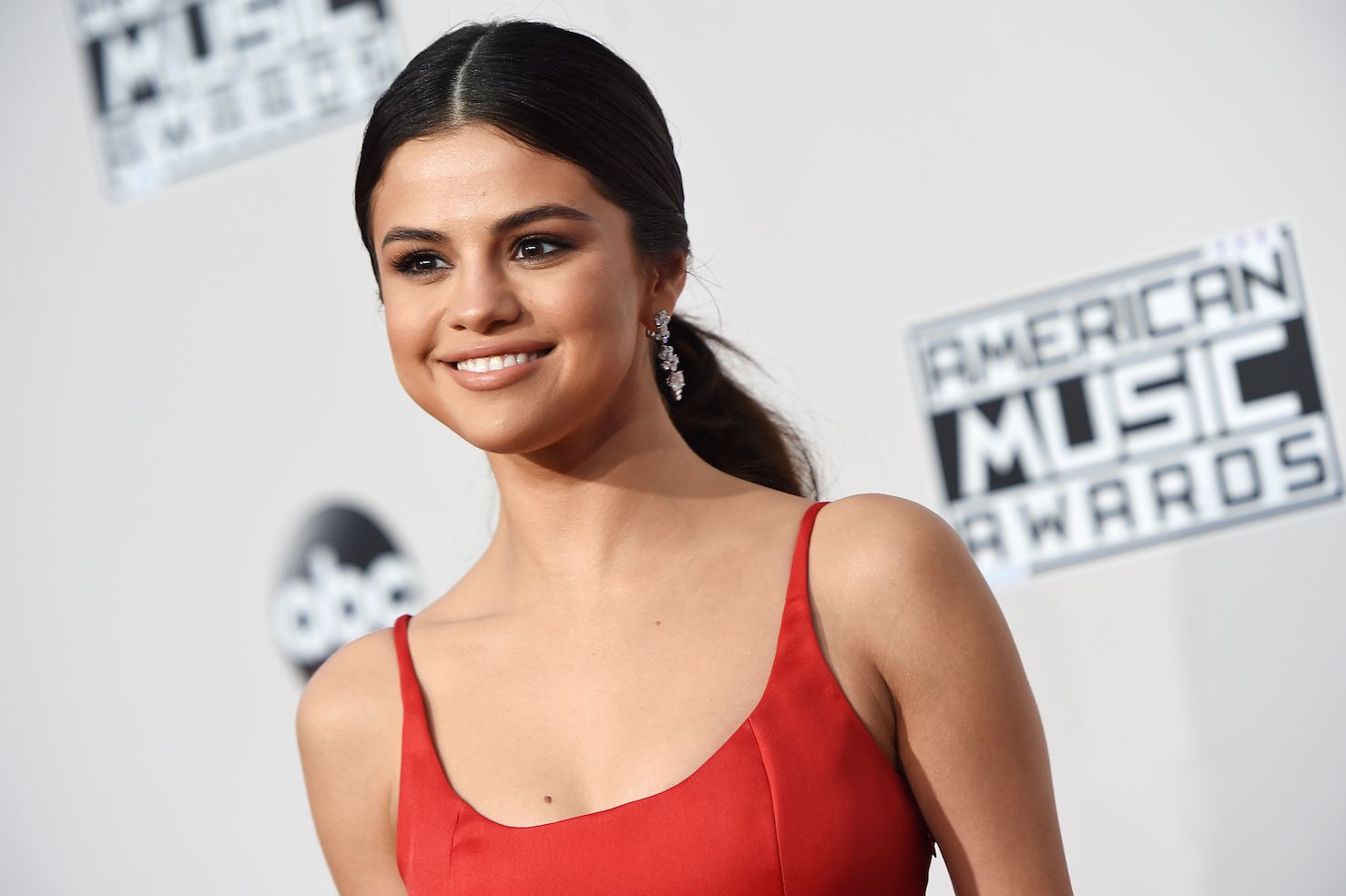 Most of the time, musicians wait a little while before penning a tribute to their significant others. But The Weeknd may have dropped hints to his fans that he was into Selena Gomez long before the two even began dating. The 2016 song "Party Monster," off his most recent album, Starboy, features a reference to "Selena" — more specifically, a NSFW part of her body.
Of course, there is another famous Selena — the pop icon who, coincidentally, Gomez was named after. Chances are, The Weeknd was referencing the former. Still, it's always fun to speculate.
5. They keep fans updated about their relationship on social media
Since early February 2017, Gomez and The Weeknd have made it a habit to drop hints about their relationships on social media. On Feb. 25, Gomez posted an Instagram story that included a shot from The Weeknd's concert in Amsterdam. On April 8, he posted a photo of Gomez kissing his check to his Instagram account.
Even when they're not together, they still find ways to remind fans that they're connected. Gomez has appeared in Instagram photos wearing a sweatshirt from The Weeknd's tour and has worn his jean jacket in photos.
6. They've been on some pretty swanky dates
Apparently one of the perks of being a world-renowned pop star who's dating a world-renowned pop star is that you get to go to really cool places. Since Gomez and The Weeknd went public with their relationship, they've been spotted together all over the world. Gomez flew to meet The Weeknd for tour stops in Paris, Brazil, and Buenos Aires. They've also spent some non-working time together abroad. In late January 2017, they allegedly dropped almost $250,000 on a getaway to Italy.
7. They're also cool with (sort-of) laying low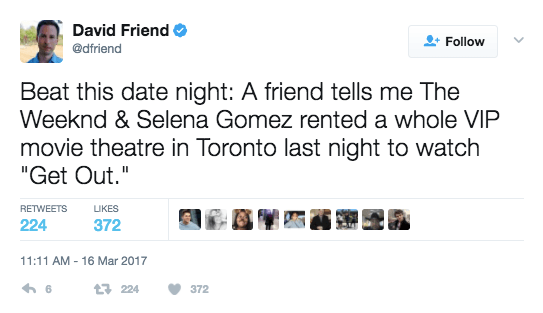 When Gomez and The Weeknd aren't busy jet-setting all around the world, they apparently keep it a bit more low key. At least, as far as Hollywood is concerned. In February 2017, when they were in his hometown of Toronto, the pair bought out an entire showing of the hit movie Get Out so they could watch it in private.
They're also apparently happy to hang out with friends whenever they get a spare moment. They've been spotted at Dave & Buster's, a sports bar and arcade, on multiple occasions — including one in which Gomez allegedly spent more than $30,000 to help The Weeknd celebrate his birthday.
8. The Weeknd's former girlfriend reportedly isn't happy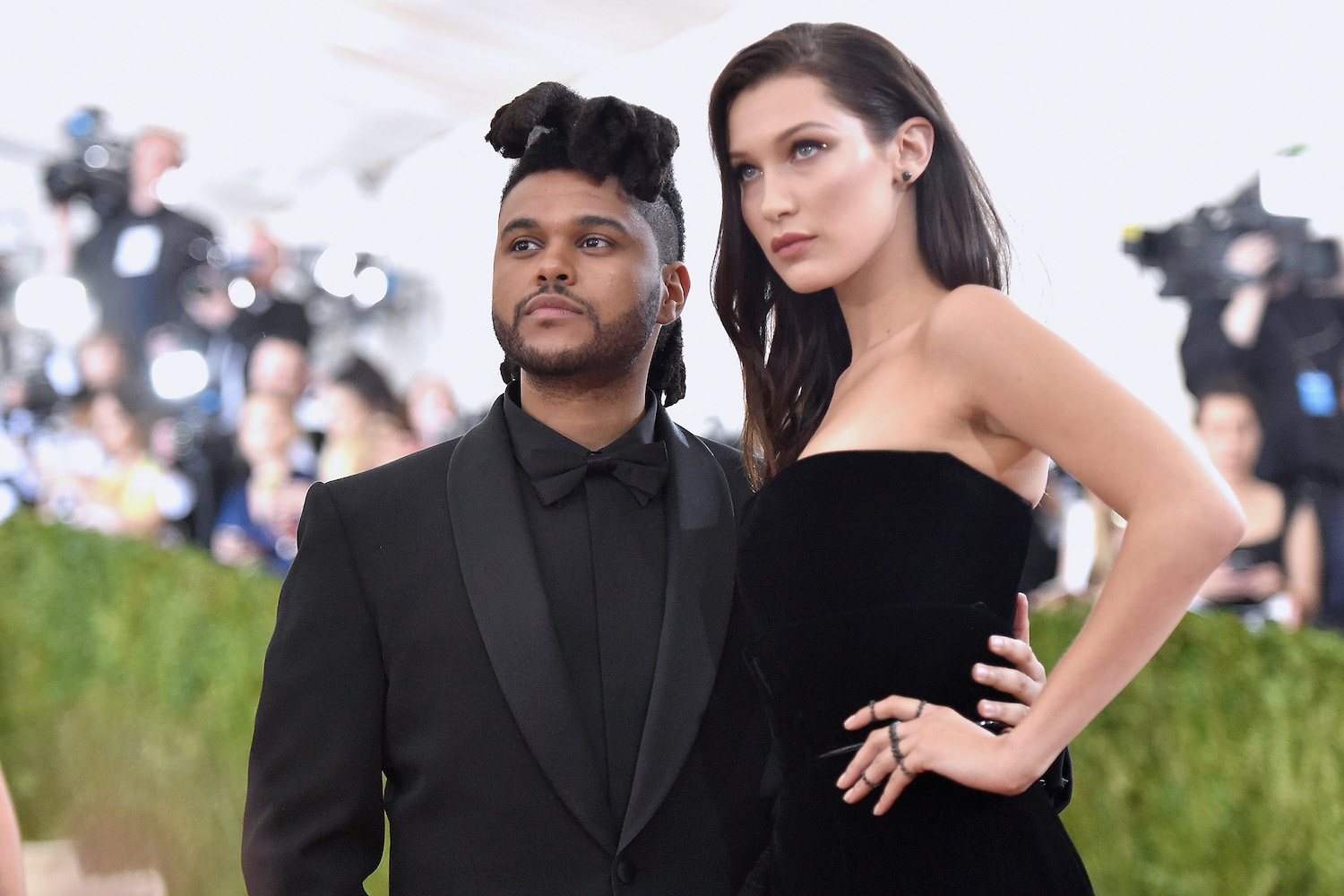 Gomez and The Weeknd are busy constantly reminding their fans how happy they are together, but his ex-girlfriend is allegedly a bit disgruntled by how quickly he moved on. The Weeknd and Bella Hadid dated for a year and a half, and officially called in quits in November 2016. Their reps initially reported that the split was amicable — and they even appeared on stage together at the Victoria's Secret Fashion Show.
However, once news got out that he was seeing Gomez, Hadid was allegedly hurt. The day after TMZ released the first photos of Gomez and The Weeknd, Hadid posted an Instagram photo of herself holding up her middle finger. She's since unfollowed both musicians on social media and has apparently gone out of her way to let The Weeknd know she thinks Gomez is using him.
9. Selena Gomez's old flame isn't thrilled either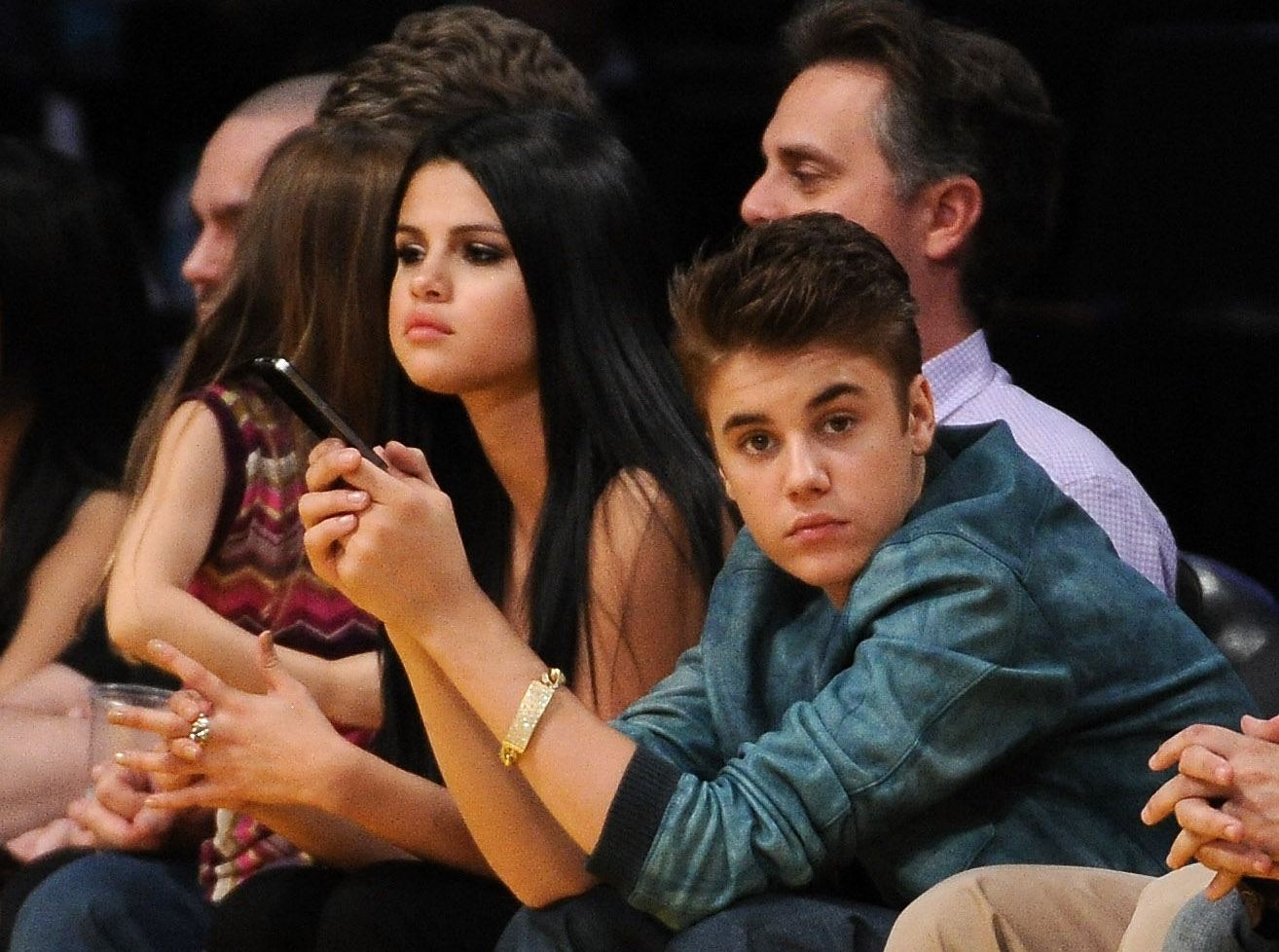 The Weeknd isn't Gomez's first high-profile significant other, either. She dated pop superstar Justin Bieber, on and off, for nearly four years — and their relationship was constant fodder for tabloids.
Though the pair hasn't been "on" since 2014, Bieber was allegedly perturbed to learn that his ex-girlfriend was dating The Weeknd. In February 2017, Bieber told paparazzi photographers that he won't listen to The Weeknd's music because it's "whack." He also joked with fans on Instagram about the R&B star's music. While it's not exactly a full-blown feud yet — that would require The Weeknd to actually acknowledge Bieber's existence — it does seem like Gomez's ex is feeling a little bitter these days.
10. By all accounts, they seem happy for now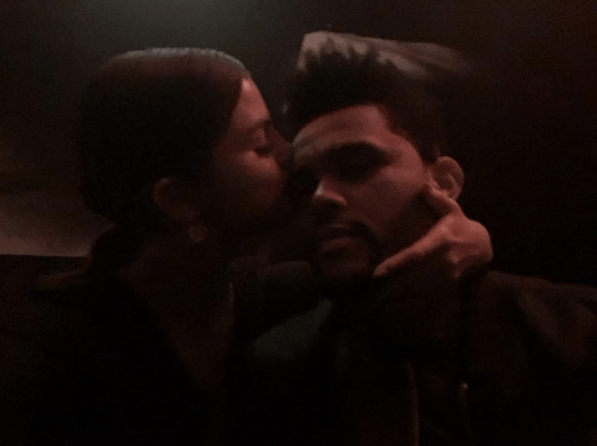 A lot of celebrity pairings flame out pretty quickly, but at the very least, Gomez and The Weeknd seem to have gotten off to a good start. Gomez had a rough year in 2016, and spent some time in rehab to help her deal with issues relating to lupus, anxiety, and depression. Sources close to Gomez recently told People Magazine that since the pop star got together with The Weeknd, she has been "very happy."
11. They made their official public debut at the Met Gala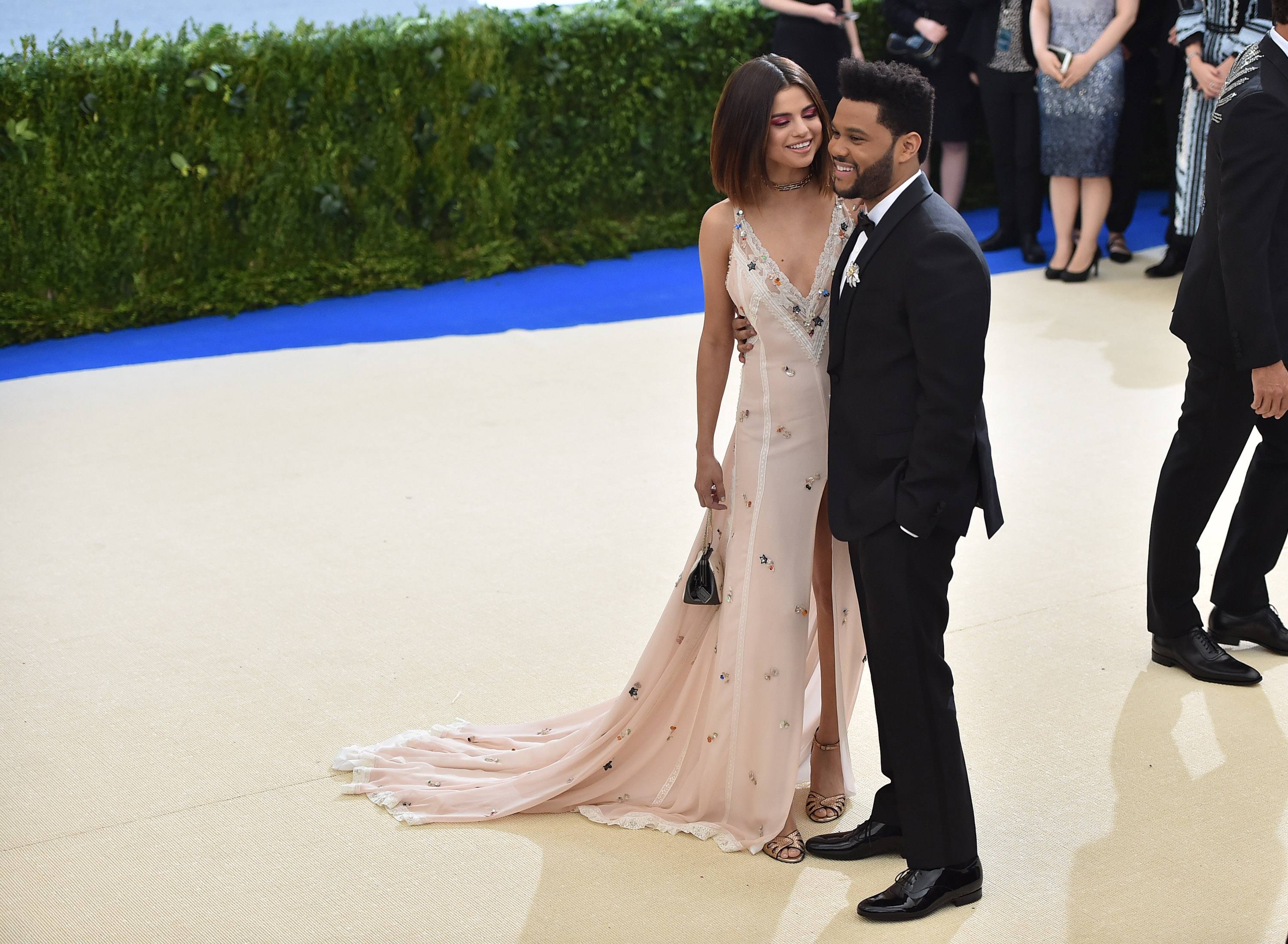 Gomez and The Weeknd made their red carpet debut as a couple in May 2017, at the Met Gala honoring fashion designer Rei Kawakubo. The two attended the high-profile event together, putting their affection for each other — and their fashion sense! — on display as they walked the red carpet.
12. They walked their second red carpet at the BAZAAR Icons party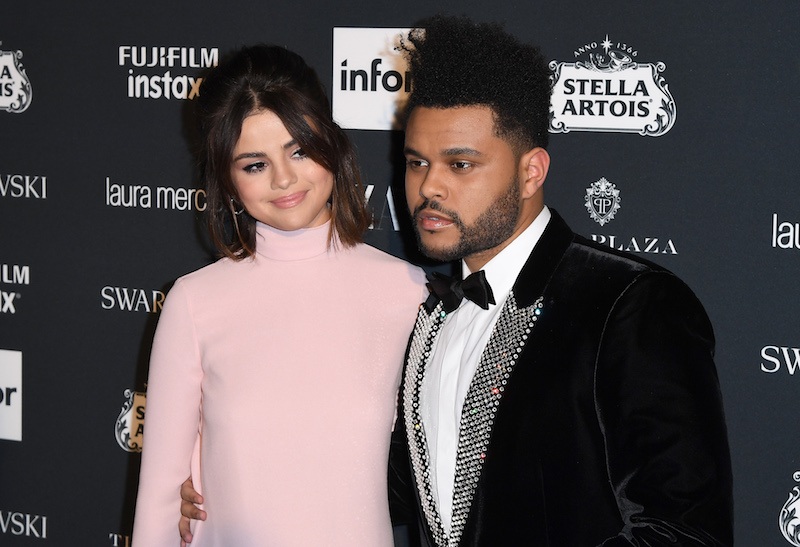 After making their public debut at the Met Gala in May, Gomez and The Weeknd have been more low-key with event appearances. The two didn't walk another red carpet together until September 2017 at the BAZAAR Icons party, where The Weeknd honored.
Gomez looked pretty in pink at the event, wearing a silk turtleneck dress by Valentino, while The Weeknd donned a black velvet suit.
Follow Katherine Webb on Twitter @prufrox.
Additional reporting by Michelle Regalado
Check out Entertainment Cheat Sheet on Facebook!