This 1 Actor Was Every Cast Member's Favorite on 'Sabrina the Teenage Witch'
Approximately 14 years since the show went off the air, the cast of ABC hit sitcom Sabrina the Teenage Witch reunited at Stan Lee Comic-Con in Los Angeles in October 2017. All of your favorites were there, including both of Sabrina's primary love interests, Harvey (Nate Richert) and Josh (David Lasher), as well as her roommates Morgan (Elisa Donovan) and Roxie (Soleil Moon Frye) and her aunts, Hilda (Caroline Rhea) and Zelda (Beth Broderick).
Of course, Sabrina (Melissa Joan Hart) was present, as was the voice of her cat, Salem (Nick Bakay). Here's what we learned about what the set was like, who everyone's favorite cast member to work with was, and what they think of the upcoming CW reboot.
Sabrina has an international audience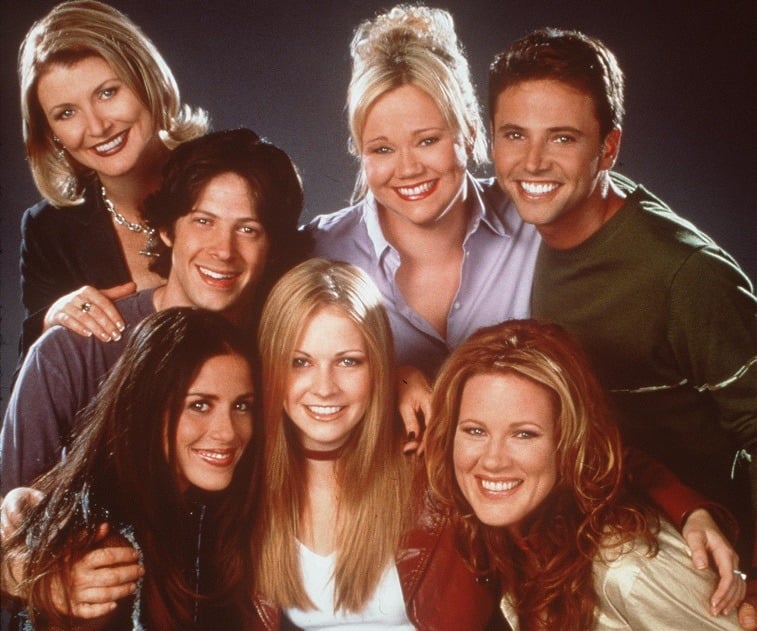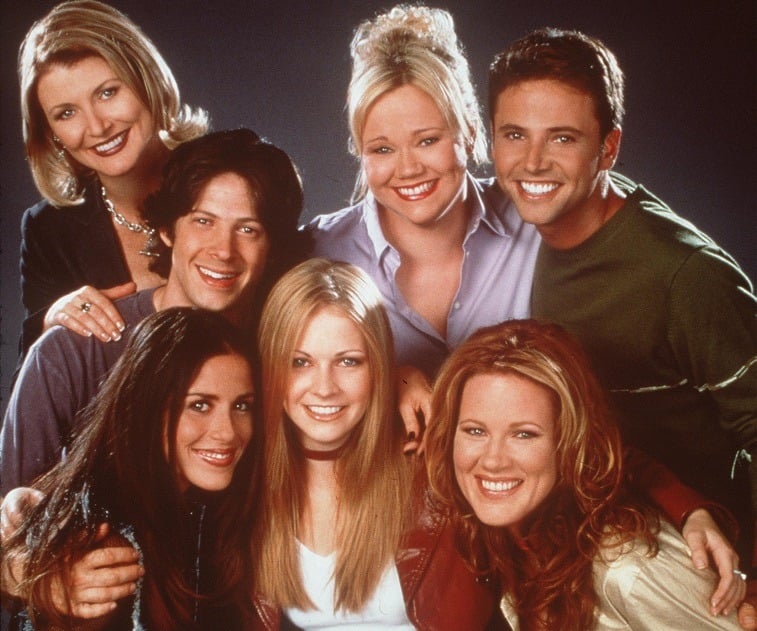 Hart and co. rose to prominence in the early internet era, so they weren't connected with fans online the way most stars are today. So when they traveled, they were surprised to run into viewers in many unique places around the world.
Hart said, "I understand that I speak like 142 languages? This show was very international, which is amazing." Rhea joked, "You get called witch in a lot of different languages. 'Strega' is Italian for witch." And Broderick added, "I was even doing a movie in Cairo, Egypt and they knew the show!"
Hart's own mother was responsible for their primetime slot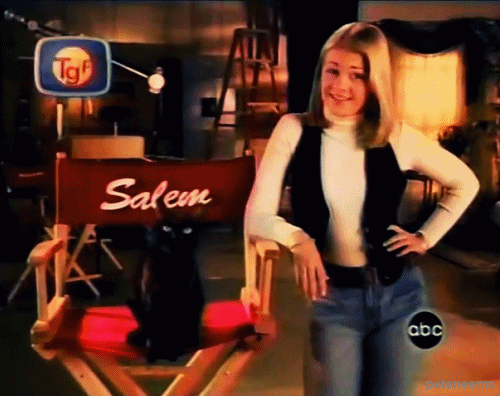 Hart shared some information that many fans may not be aware of:
My mom, Paula, was the producer. She found the comic strip, she turned it into a movie, and then she sold it to ABC. She pitched it to, I think, four different networks in one day, and by the end of the day, she had three offers. But ABC was the only one that gave her a time slot — TGIF was the time slot, and she said, "That's where it belongs, we're doing it.
The major love triangle brought drama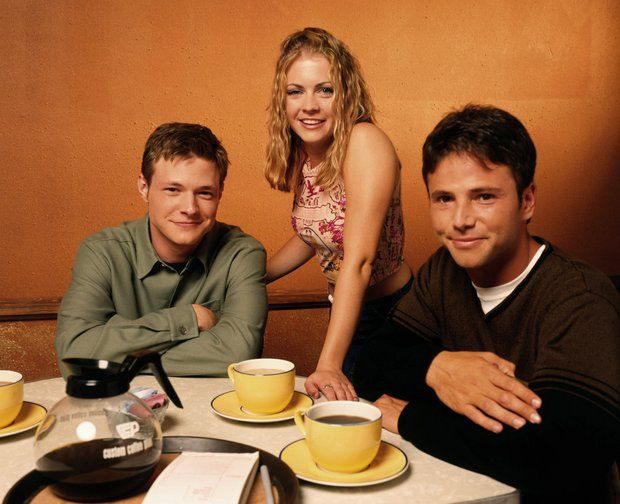 As Sabrina's first love interest, Richert experienced a lot at the peak of TGIF mania. "At the height of it, it did get pretty crazy. I remember going to a mall one time with my girlfriend … one little girl perks up and she giggles and laughs and runs and screams, and then another one … I didn't go into a mall for at least two years after that," he said.
Lasher, who was Sabrina's college boyfriend, said, "It was tough because people were used to them [Sabrina and Harvey] together. So not everyone took it so well. I think it took time to find my place and win people over. And eventually, our two [Josh and Harvey] characters became friends."
They were like a family on set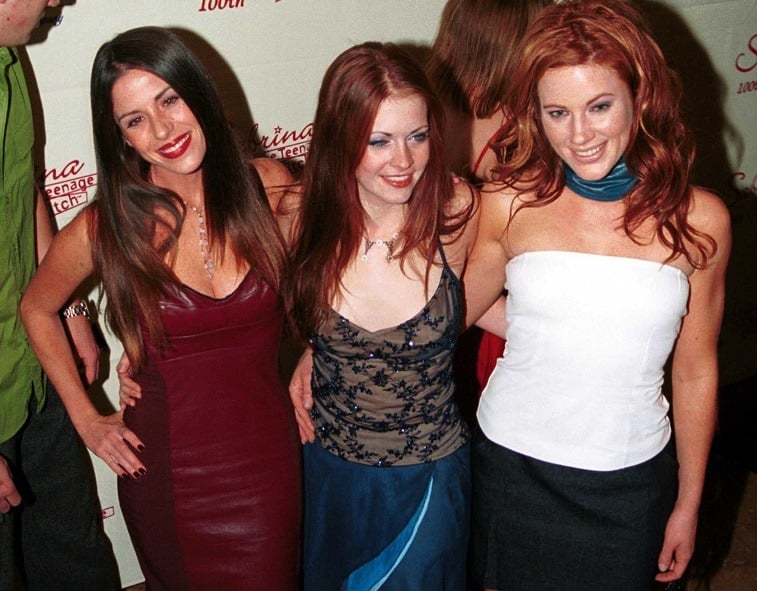 Lasher, Donovan, and Frye joined the show after a few seasons, but said that they were comfortable from the beginning. Donovan said, "I remember the first or second episode it was like the 100th episode. So we were coming into this incredibly successful environment."
Frye said of her experience, "I was so excited to come onto another show that was so timeless, it was so fantastic and [they were] already a family, but they made us feel so welcome." And Hart chimed in, adding that the cast "did game night at [her] mom's house" and "were out hitting the bars" late at night.
Voicing a cat is hard work
Bakay talked about his unique experience as both a writer on the show and the voice of the animatronic puppet, Salem. "I spent most of my time in the room writing these shows. We'd do like 24 a year — even more, 26, which is unheard of now. It's a grind, it's a factory. But the great thing is I got sprung whenever the cat is shooting scenes, and I'd go down and be [off] camera with a microphone."
Bakay told a funny story of one such scene, saying, "I remember one day sitting on a stool while a crew member held a large fish tank over my head so that it sounded like my head was in a jar."
Bakay had everyone in stitches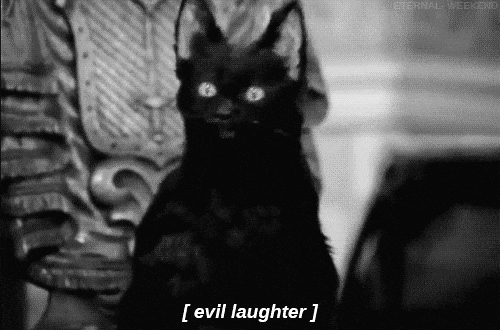 Rhea, a comedian herself, shared that her most difficult scenes were those that Salem was in. "They [the crew] were like 'Look directly at the [cat] puppet,' and it would be speaking. And he [Bakay] would be so funny … and inevitably, everyone was looking at the cat, except me, I was like, [laughs hysterically] … so eventually, you [Bakay] were no longer allowed to come down."
Despite distracting her, everyone agreed that Bakay was one of their favorite cast members and that acting opposite the cat puppet was some of their easiest work on set. When asked, Hart said that the puppet is in a museum in Atlanta and that sadly, all of the live cats who they worked with have since passed on.
They never knew what to expect from a script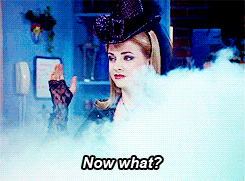 In a show about magic, it's no surprise that the cast got to do a lot of crazy things. Richert explained that his favorite episode was one where he turned into a beast, saying, "I got to jump around in a dumpster, throwing stuff. I still have the teeth — they made fangs for me."
Broderick added that "we flew vacuum cleaners, we used to have to put these rigs on and fly through the sky. We had long tongues, floppy ears…" And Hart talked about the closet that would take them to the other realm, explaining that they would go "running in there, slam the door and close our eyes because these crazy lights — it would blind you."
How they feel about the CW reboot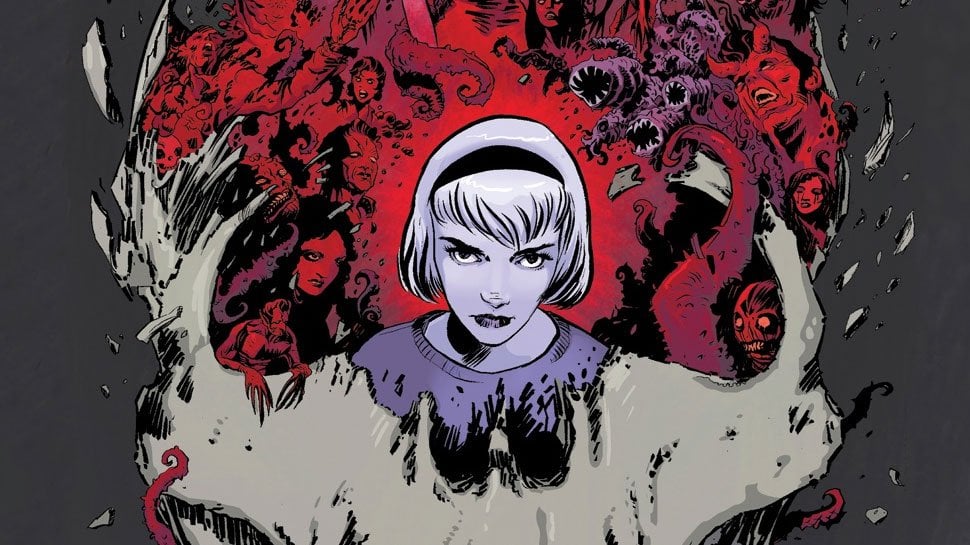 Not long ago, the CW purchased the rights to the Archie comics and created the successful drama, Riverdale. Netflix also got in on the action, and has decided to tackle its own take on Sabrina, which it's calling The Chilling Adventures of Sabrina.
About the reboot, Hart said, "I think our show is about magic [and] family, and I think the new one, it sounds like, is going to be more about witchcraft, dark stuff — I think it sounds more Buffy the Vampire Slayer. I think it will appeal to a different kind of audience."
Sabrina was ahead of its time in some ways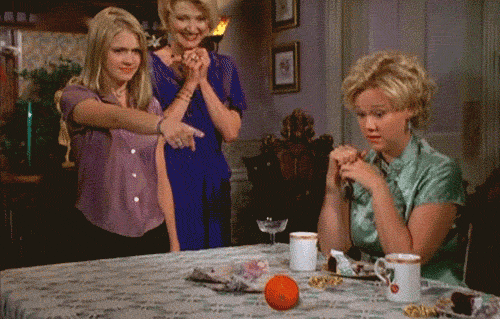 Speaking of progressive TV, the cast of Sabrina is happy to talk about how they feel the show made an impact on the entertainment landscape at the time. While Alimi Ballard, who played Quizmaster Albert, felt that his character "pushed the envelope" by being "fashion-forward," Donovan had a more serious take on the series' feminism.
She said:
At the time I don't know if I was quite conscious of it, but there was a distinctly different feeling on that set, and so much of it was because it was really about women. It was essentially about the three of you at first, and then when Beth and Caroline moved on, it was still always about this strong, powerful girl becoming a grown up. And I think it's awesome in that way.
There may be a new generation of witches
When asked where they imagined their characters would be today, everyone had a lot of different answers. Frye thought Roxie may have "started a punk band," while Donovan and Lasher pictured their characters pining after lost loves.
But the most intriguing idea came from Richert and Hart, who decided that Sabrina and Harvey would have had created a magic school a la Hogwarts, and "maybe foster some children that are part-mortal, part-witch, and [teach them] how to navigate that world."
Frye chimed in, saying that would be a great movie, to which Hart joked, "Nick [Bakay] can write it, he's writing it right now."
Check out The Cheat Sheet on Facebook!