This Actress FaceTimed Bobby Flay For Help on Thanksgiving
Culinary icon Bobby Flay hosts Thanksgiving every year. The Food Network star looks forward to having a houseful of guests over for the annual holiday, preparing the menu way in advance.
Since he is a world-renowned chef, Flay will often be called upon for advice. One very famous actress who happens to be pals with the chef placed a culinary 911 call to him on the food-laden holiday for help with this essential side.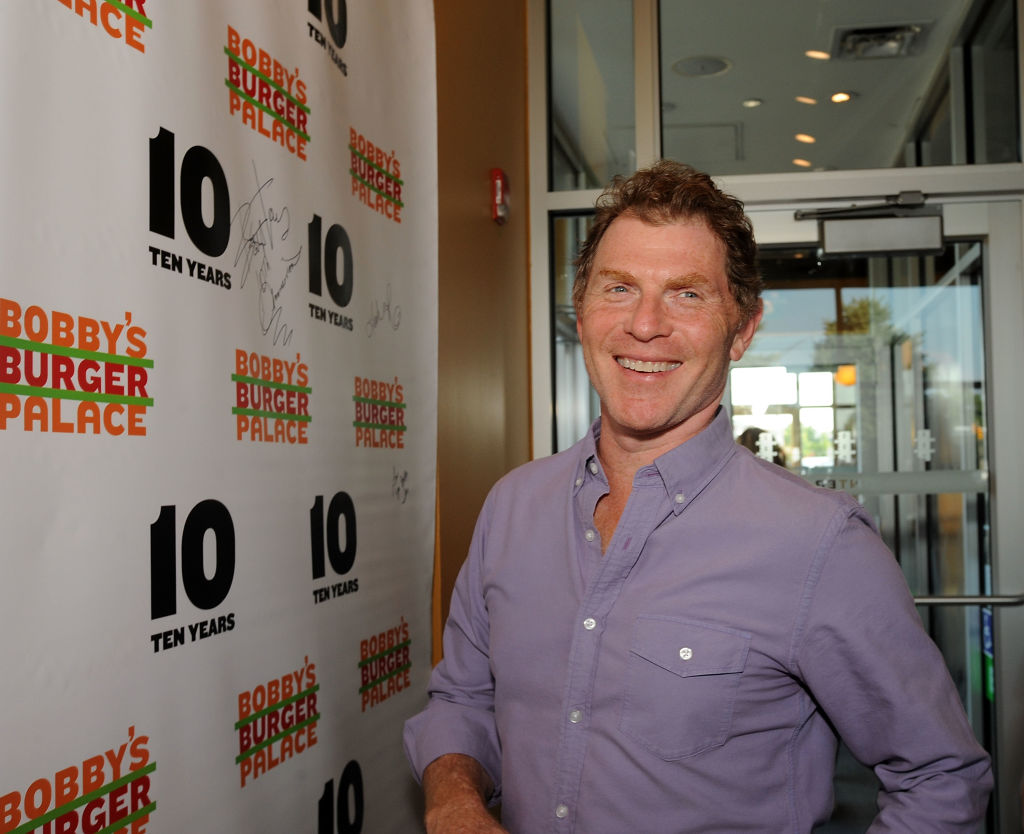 Flay loves a full house
According to Food & Wine, Flay relishes taking on the hosting duties each year for Thanksgiving, inviting 40 to 50 guests into his home for the special dinner. To add a twist, the chef incorporates a central theme related to current events of the year into his menu.
"It might sound corny, but I always try to do something as a conversation piece, giving thanks and taking a moment to talk about something that occurred over the year," he said. "Some people say grace at the table, and we just talk for a couple of minutes about people who are in a less good place than we are at that very moment. Then eating ensues."
Though he enjoys serving the holiday meal, Flay asks his guests to handle dessert. "I don't want to make dessert; it's just too hard with everything else going on," he said. "When you're the chef, the pressure is always on." 
Gravy emergency on line 1
Being a celebrity chef, Flay has several famous pals. One actress he's chummy with is Black Widow herself, Scarlett Johansson. The two are so close that the Marvel actress even has Flay on speed dial, a perk she used on Thanksgiving.
Johansson recounted her feast fiasco when she stopped by Live with Kelly and Ryan. Preparing the meal for 13 guests, the film star was a bit nervous about her role as hostess. "I was struggling hardcore," she said, according to People. "It was a lot of people. It was very intense."
The must-have gravy staple turned out to be a major stumbling block for Johansson, putting her in a "full-blown panic attack" while preparing. "You make all that broth — I couldn't believe it," she said. "I was stirring this huge witch's broth, and then it cooks down to like nothing."
Flay saves the day
The actress knew there was one person she could count on to help her out of the gravy debacle and salvage her holiday meal. "I'm friends awith Bobby Flay, and so I did FaceTime him over the gravy," she revealed. "… I didn't wanna throw that out there, because it's like my secret sauce, but yeah, Bobby Flay actually did help me figure out the gravy."
Johansson went on to share that Flay served as a culinary therapist, talking her through her anxiety and helping her get back to the task at hand. "He talked me from like an 11 down to like a four," she laughed. "Yeah, it was intense."
With Flay's guidance, she was able to present the holiday meal intact to her awaiting guests. The Marvel star had a realization throughout the dinner, noting that despite the 48 hours it took her to prepare the spread, everything was devoured within a mere 25 minutes. "No one was talking, everybody was just eating greedily — all you could hear was, like, chewing and smacking," she recalled.
Though she's game to do it again next year, for now she's taking a break. "Honestly, I need a full vacation from that Thanksgiving meal," she admitted.
Let's see if she'll be calling on Flay for Thanksgiving 2020!