This 'Below Deck' Crew Member Discusses the Dark Side of Social Media
Anyone in the public eye knows they are an easy target for hate on social media. Differing opinions mixed with a celebrity persona can often inspire keyboard commandos to unleash extreme negativity. Often without consideration for the person behind the post.
Some people assert that people in the public eye are fair game because they've put themselves in a high profile position. However, when remarks become falsehoods that go viral, some say enough is enough.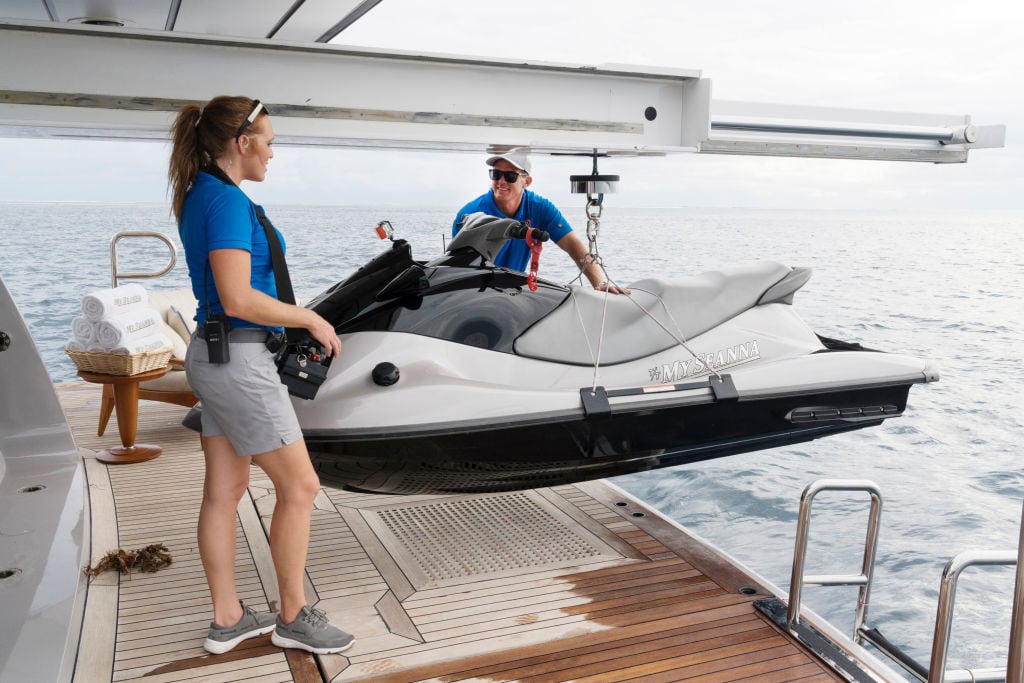 Rhylee Gerber from Below Deck took to Instagram to share the darker side of social media. The former deckhand has posted a few hunting images, that has sparked both supportive and negative comments. She's lashed out at haters in the past. But she had enough when she was accused of something she does not support.
There could be legal action
Gerber posted to Twitter about hunting season, but a comment she made got twisted and misconstrued. A Twitter user accused Gerber of partaking in canned hunting. Gerber replied, "High fenced? Yes. I've been to those type of hunting ranches where there are several thousand acres onsite of exploring," she tweeted. "If that's what you're referring to…also legal."
This ignited a firestorm of accusations. Gerber was relentlessly being accused of canned hunting when she was referring to a different type of hunting practice. Gerber also issued a statement to Showbiz Cheat Sheet to further clarify. "Do I find a high fenced ranch better to my advantage? No, as the types of hunts I've been on in any private ranch was on foot over several thousand acres and stalking our prey. Sometimes I've bagged one and other times I've come home empty-handed." She was also accused of hunting exotic game. She says she's never done nor does she support this practice.
But she was continuously accused of the practice on social media. This was even when she clarified the two were not talking about the same thing. Finally, out of frustration, she launched a tweet. "I could care less what a strangers opinion of me is, but, defaming someone is illegal and after so many badgering attempts at doing so, I will take notice as well as legal action. You're pressing your luck with me, and I've warned you twice."
Think before making an accusation
Although Gerber warned legal action, she was still being publicly accused of a practice she doesn't support. Fans suggested she block or report haters instead of lashing out. But she wanted to point out that her simple hunting post became explosive to the point of becoming damaging.
She issued a lengthy Instagram post along with a photo of animal skins. In her narrative, she pointed out that photos can be triggering. And they can prompt people to react or comment before reading the accompanying caption. She added, "My point is, I was not the hunter in this photo. I'm just reposting a pic a random stranger put on IG 2 prove a point. Chances R, U liked the post bcuz UR into hunting, U chose 2 dislike & scroll on, or, U chose 2 dislike & then felt the need 2 force UR diff of opinion re hunting & R taking it out on me in UR own comment(s) spewing hate/judgment & then give me s**t abt retorting."
Gerber added she also gets comments that she's being defensive when people make negative remarks on her personal Instagram too. "Why shut up? My point is that even though i didn't shoot this moose i bet some don't realize B4 telling me how cruel i am 4 taking his life. People often open their mouths w/out thinking, w/out reading & w/out research/backing up their opinions re someone else's choices they haven't even begun 2 try & understand."
She shared some intense/threatening comments people have made too. "Strong enough 2 read 'turn the gun on urself' or 'U should have fallen overboard' 2 NOT contemplate the threat behind it but It could trigger some1 else who isn't & now U wld B partially 2 blame 4 the outcome."