This 'Below Deck' Crew Member Just Threw Major Shade at Chandler Brooks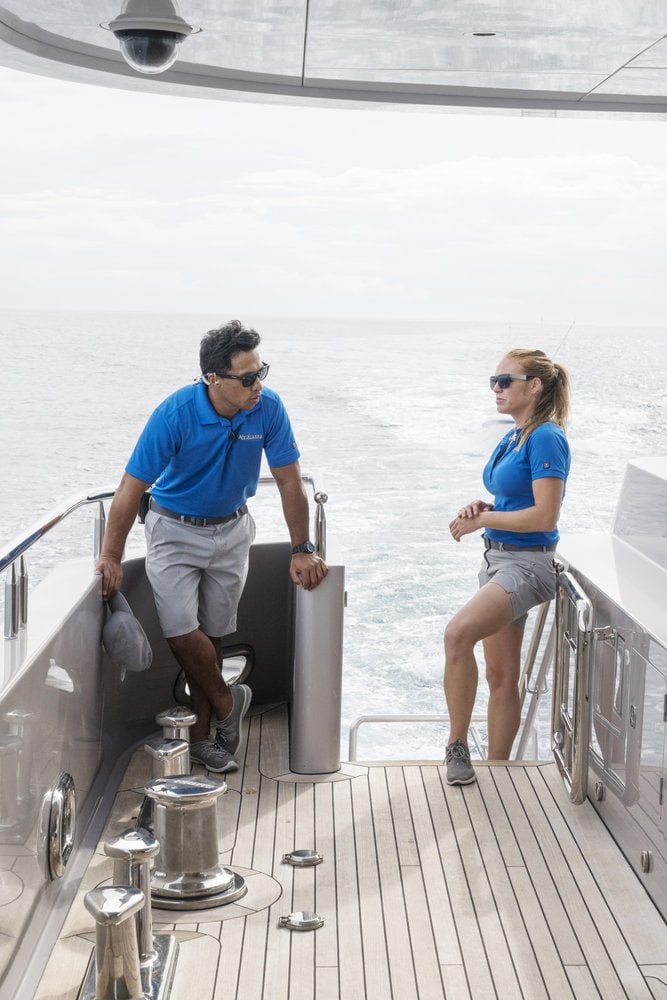 It's no secret Below Deck deckhand Rhylee Gerber is not joining the bosun Chandler Brooks' fan club anytime soon, but she just found a way to throw shade at her boss in the most hilarious way.
Gerber and Brooks started to butt heads almost immediately after the crew's first evening out. At the beginning of the series, it looked like Gerber was going to be the one to get the plane ticket home. But now, the tables may have turned. And she couldn't help but use Twitter to throw some shade Brooks' way.
It all started because Ashton wanted to party
Gerber says she was Team Chandler all the way. But when Brooks was ready to call it a night, and deckhand Ashton Pienaar was not, he punished the entire team. It was late in the night but Brooks insisted that the deck crew had a mandatory 6 a.m. start time for work. That's when Gerber lost it.
She asked if she could speak freely with him that night. He said yes and she let him have it. Later, after Brooks went to his bunk, Gerber recounted the interaction with the rest of the crew. Brooks overheard her and emerged from his bed. Super awkward, especially as the rest of the crew agreed that Gerber needed to respect her bosun and just stop.
Their relationship continued to disintegrate
It's almost that time again!! A new episode of #BelowDeckTahiti airs tonight @ 9pm on #BravoTv @51Minds @josiahcarter_ @belowdecktv @bravo pic.twitter.com/zg0fCMSXf3

— Rhylee Gerber (@rhylee_gerber) November 14, 2018
Gerber tries to push forward after she and Brooks awkwardly attempt to resolve the previous evening's outburst. Although Gerber is a fishing boat captain, which she likes to make sure the entire crew knows, she seems scattered and stressed. She is filmed constantly working and asking questions. And the questions seem to really annoy Brooks.
In fact, he tries to get her fired by going to Captain Lee Rosbach at one point. But that strategy backfires. Instead, Rosbach blogged about his observances. "When I watched tonight's episode, I saw everyone not get a break but you [Brooks]. You got two of them and then turned in early shortly after coming off one of those breaks. Really? A good bosun leads by working longer and harder than his constituents. That doesn't seem to be the case with you."
And the entire crew gets frustrated with Brooks
The crew functions like a rudderless ship, unable to find specific direction under Brooks. Radio communications go down, Brooks assigns tasks to the wrong deckhands and Rosbach had to perform deckhand duties more than once when the crew is MIA. At one point deckhand, Ross Inia gingerly approaches Rosbach with concerns, which Rosbach welcomed.
Rosbach had a lot to say when Brooks' solution to a cohesive deck team was to fire Gerber.  "And then after telling the crew to change [their uniform], the one crew member that does you chastise for doing so is Rhylee," Rosbach blogged.  "And three of you can't handle it. When I called you to the wheelhouse to chat, I'm like a trial lawyer; I don't ask a question that I don't already know the answer to."
Bottom line: "Your solution to the problem was not to fix it but fire somebody that you lacked the talent to manage properly. Not my style. We fix things and then after we have exhausted all of that do we dismiss them. I saw no attempt to fix anything, just pure animosity and the rest of the deck crew was not functional as well.
Gerber uses Twitter to shade Brooks
Who thinks Master Pierson would make a better #bosun than Chandler?!? #belowdeck #bravotv @51Minds pic.twitter.com/4kpOBfWNqA

— Rhylee Gerber (@rhylee_gerber) November 14, 2018
A recent episode featured two adorable children who came aboard with their family. At first, the crew was apprehensive but quickly fell in love with (master) Pierson and (lady) Tiernan. In fact, Gerber used a photographic opportunity to feature the cherub-faced Pierson in an image on Twitter. "Who thinks Master Pierson would make a better #bosun than Chandler?!?"
The post was met with a bevy of comments in agreement. Plus, plenty of compliments for the children and how well behaved they were on a what is typically a vacation for adults.
Check out The Cheat Sheet on Facebook!