This 'Below Deck Med' Crew Member Hilariously Prepares for the Worst This Season
New Below Deck Mediterranean deckhand Travis Michalzik is already white-knuckling in preparation of his television debut this season.
He's proven to be a pretty funny guy thus far even before the show aired. When Bravo asked the crew what food they craved Michalzik said he had to have his daily dose of chocolate. "To soothe the emptiness you have inside," he deadpanned.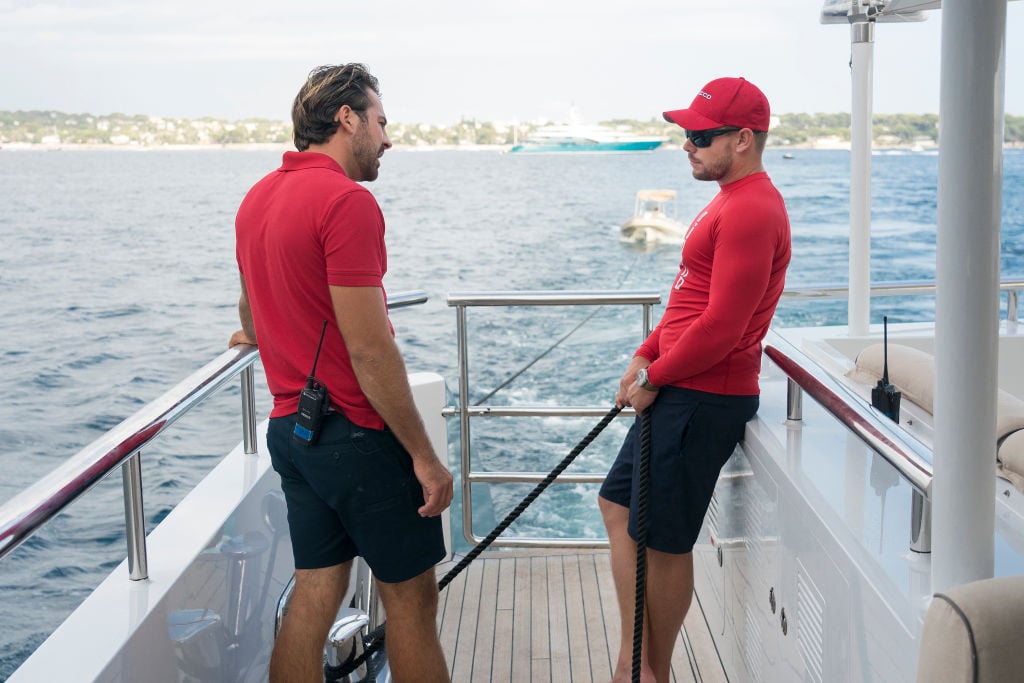 After the first episode aired he may have done a total cringe. He had his funnier moments, but others may have had him wanting to hide his head under a pillow. So to "get in front of the cringe" Michalzik prepared viewers and Instagram followers for the worst.
Call her Captain Sandy
Viewers are just now getting to know Michalzik. And he is pretty humbled by a few blunders he makes during the first episode. He refers to Captain Sandy Yawn as just "Sandy." To which she replies, "You call me Captain Sandy," she says calmly. "We're not friends." Later Michalzik says he appreciated Yawn's delivery and respected that she didn't yell at him.
He then says in a confessional interview his mates would refer to him as a d**khead. Michalzik seems to be a hard worker and knows that you can't be lazy if you are going to succeed on a yacht.
Michalzik also appears to be getting along really well with the crew during the first episode. He jokes with bunkmate Jack Stirrup and shows he is a team player.
But roast me
Even though Michalzik did well during the first episode, he took to Instagram to express his "horror." He included a picture where he is chopping pickles. "G'day f**kers, just letting you know that I was a total d**khead on a boat filled with cameras and crew, then some sexy folks made one of those reality tv show things out of it," he wrote.
"An episode will be out a week, bulk s**t talk and lols probably," he continued. "Also as you can see in this delicious pic I f**ked up some gherkins. Embarrassment is only real when shared so get around it and #roast me, doing strange s**t is good for ya. God have mercy on my soul. Xoxo big smooches 4 you all girls and Boiz."
Clearly he is preparing viewers for the worst. Followers had a deep appreciation for this post as they cracked up along with Michalzik. "Couldn't have summed up the show any better," one person commented. Another added, "They made you post this, didn't they?"
This 'Below Deck Med' cast member can probably relate
Showbiz Cheat Sheet talked to bosun João Franco about his reaction to seeing himself on television. He said he couldn't even watch himself after a while.
"I watched up to episode eight and just stopped," he said. Then added hearing his voice made him cringe. "I was like 'oh my God, I have to deal with this for these episodes," he laughed. Franco continued by saying seeing yourself on reality television can be pretty jarring. "I keep telling everyone if you have doubts about yourself, do a reality T.V. show to figure out the bad parts of you."
Franco's last season was so traumatic he exited all social media and wasn't going to return to the show. But pal and deckhand Colin Macy-O'Toole convinced him to come back for another season.  "People only know what they see on a T.V. screen, unfortunately," he says. "João knows people say stuff about him, but I know João and the people who make these comments don't really know anything about him."
So take heed Travis. Viewers are already rooting for you. Watch the guests and crew every Monday on Bravo at 9/8c.