This Bravo Staffer's Instagram Gives Amazing View of Pride Day
Millions of Bravo fans who missed Pride Day in New York City can still check it out on Instagram. A number of festively dressed Bravolebrities who participated in the parade provided a slew of photos and videos to their Instagrams.
The Bravo Pride float was one of the most highly anticipated. A record number of network personalities graced the platform. The network also added a few fantastic drag queens into the mix to kick up the camp.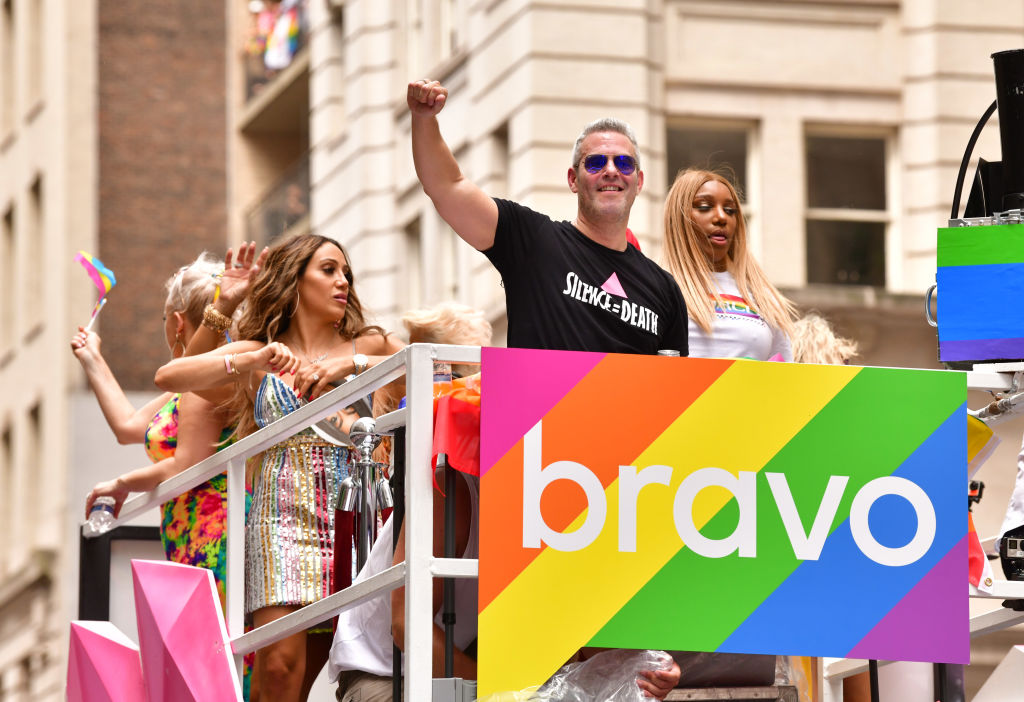 While photos and videos captured the day, Bravo staffer and Andy Cohen's assistant, Dayrn Carp's Instagram story really took fans who couldn't attend along for the ride.
'Jaw-dropping' number of stars
Bravo promised to feature a "jaw-dropping number of Bravo stars" on this year's Pride float and the network certainly delivered. Bravo announced 17 network personalities would be in attendance, prior to the big day.
A few special guests were also slated to be in attendance. Guests included Carp and the What What Happens Live Gay Shark. Drag queen doubles included Jackie Cox (Drag Lisa Rinna) and Chelsea Piers (Drag Erika Jayne). Plus, Ginger Snap (Drag Captain Sandy), and Paige Turner (Drag Lisa Vanderpump).
Captain Sandy Yawn from Below Deck Mediterranean joined the number of Real Housewives this year. Yawn recently announced she found love with gospel singer Leah Shafer.
Margaret Josephs from The Real Housewives of New Jersey told Bravo's The Daily Dish she was excited to meet Yawn. "I want to meet Captain Sandy 'cause I adore her and she is so fabulous and she is the epitome of what pride really stands for," she said. "So I am so psyched to meet her.
Andy Cohen delivered the 'Ultimate Bravo Pride Playlist'
What would a killer float be without the tunes to match? Cohen personally created a special playlist of songs that were cranking from the float. The playlist includes 89 songs, along with proprietary Bravo favorite one-liners.
The entire playlist is a labor of love between Cohen, Bravo, and DJ Bill Coleman of Peace Bisquit. Fans can feel like they were there by visiting SoundCloud for "Andy's Ulitmate Bravo Pride Playlist (Peace Bisquit Mixtape).
Carpe captured several shots of Cohen manning a laptop on the top floor of the float. So he was likely checking out the music as he was seriously getting into the tunes. At one point Carpe featured a fun moment of Cohen grooving "Girls Just Want To Have Fun" by Cyndi Lauper.
Play by play fun
Carpe even captures some pre-float fun in her Instagram story. A Bravo "who's who" gathers at what appears to be a small pub to pre-game. Carpe grabbed a bevy of videos and smiles from Bravolebrities. She found Reza Farahan from Shaws of Sunset and a brightly dressed Tinsley Mortimer from The Real Housewives of New York City.
When it came time to board the float, Carpe guides the Bravolebs as they march down the street. Many are stopping to take pictures as Carpe jokes they all need to just follow her.
Once she's on the float, Carpe does a great job of visiting with just about everyone, including Cohen. She manages to get every aspect and angle so fans can really feel what it was like to be on the float. She also shows the massive crowds along the parade route, which demonstrated the magnitude of the day.