This Could Be a Dark-Horse for Best Movie of the Summer
Everybody knew that Avengers: Endgame was going to be a massive hit. Everybody knew that a lot of people would see Toy Story 4. Maybe what the box office really needs is a hit no one sees coming, and that just might be The Art of Self-Defense.
The movie, due out June 12, stars Jesse Eisenberg, Alessandro Nivola, and Imogen Poots. Eisenberg is attacked at random on the street. He enlists at a local dojo, led by a charismatic and mysterious sensei Nivola, in an effort to learn how to defend himself. Poots plays one of the instructors at the dojo, who helps Eisenberg.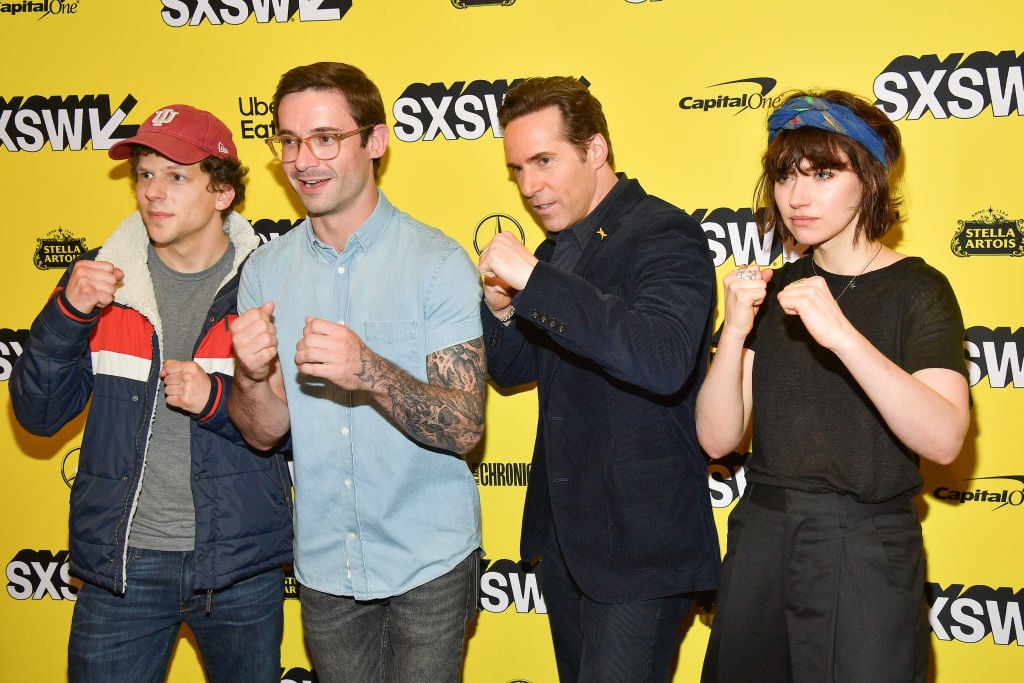 In a summer movie season that has seen its share of high-profile disappointments, including Men In Black: International, Dark Phoenix, and Godzilla, King of the Monsters, The Art of Self-Defense could be a breath of fresh air.
Could 'The Art of Self Defense' be a sleeper hit?
The movie is scheduled for a limited release on July 12, followed by an expansion. It's distributed by Bleecker Street, which specializes in indie films. Its biggest box office hit so far has been the 2017 caper Logan Lucky, starring Daniel Craig, Channing Tatum, and Adam Driver. It was directed by Steven Soderbergh. That movie made $28 million.
Bleecker Street specializes mostly in independent and arthouse fare. According to Box Office Mojo, their movies gross an average of $5 million. Their other movies include Eye in the Sky with Helen Mirren and Alan Rickman, Megan Leavey with Kate Mara, and Danny Collins starring Al Pacino.
When $28 million is your biggest number and your average number is $5 million, it seems unlikely that Bleecker Street could turn The Art of Self-Defense into a hit. Still, the definition of a sleeper is a surprise success A movie can't be a sleeper hit if you know it's going to be a hit.
Nobody saw Ghost coming when it was released in 1990, but it hung on to gross $217 million, which is $463 million in today's money. It would be unwise to expect those kinds of numbers for The Art of Self-Defense, but it could become a cult hit like Napoleon Dynamite.
What the critics are saying about 'The Art of Self-Defense'
The movie premiered at the South By Southwest Festival in Austin. It has been mostly positively received by critics. Plus, it has a 95 percent score on Rotten Tomatoes, based on 21 reviews.
John DeFore of the Hollywood Reporter writes, "While the beats of its plot may be nothing very new, the tone, language, and performances here make Self-Defense its own beast. " Peter Debruge of Variety says the movie "may be presented as an absurdist satire, but like the best American comedies… it doubles as a keen critique of our national character.' Bobby LePire of Film Threat goes so far as to say "It emerges as a strong early contender for best film of the year."
So far, Brian Tallerico, of RogerEbert.com, has turned in the only negative review, writing that it's "A piece with funny moments sprinkled throughout but that never comes together in a satisfying way."
Will 'The Art of Self-Defense' be on Netflix?
In today's theatrical environment, it seems like the only way to succeed is to be an across-the-board smash that everybody wants to see like Endgame or a micro-budgeted movie that makes its money back even if the film isn't very good, like Escape Room. An indie like The Art of Self-Defense would seem to stand very little chance of becoming a theatrical hit.
However, there's always the home video life, and these days that means Netflix. Devotees of theatrical moviegoing don't like to hear it, but movies reach a lot more eyeballs on Netflix than they do in theaters. Director Ava DuVernay told the New York Times:
Take the number of people who saw Selma, a Christmas release with an Oscar campaign about Dr. Martin Luther King — a huge figure where we don't have to create awareness about who he is. Well, more than a quadruple amount of people saw 13th, the documentary I made about mass incarceration and the prison-industrial complex, than saw the King film that was a best-picture nominee. If I'm telling these stories to reach a mass audience, then really, nothing else matters.
Luckily for The Art of Self-Defense, Bleecker Street's movies have gone to Netflix before, so it's quite possible it will land on the streaming service by the end of the year.