This Former Co-Host of 'The View' Tells Herself 'You Poor Thing' When She Looks Back At Her Time on the Show
ABC's The View hit the airwaves in August 1997 with original co-hosts Meredith Vieira, Star Jones, Debbie Matenopoulos, Joy Behar, and show creator Barbara Walters. Since then, the panel has seen a plethora of revolving co-hosts, with a range of reasons for departure.
One former panelist reflected on her time during the show, realizing how much she has evolved since her younger days.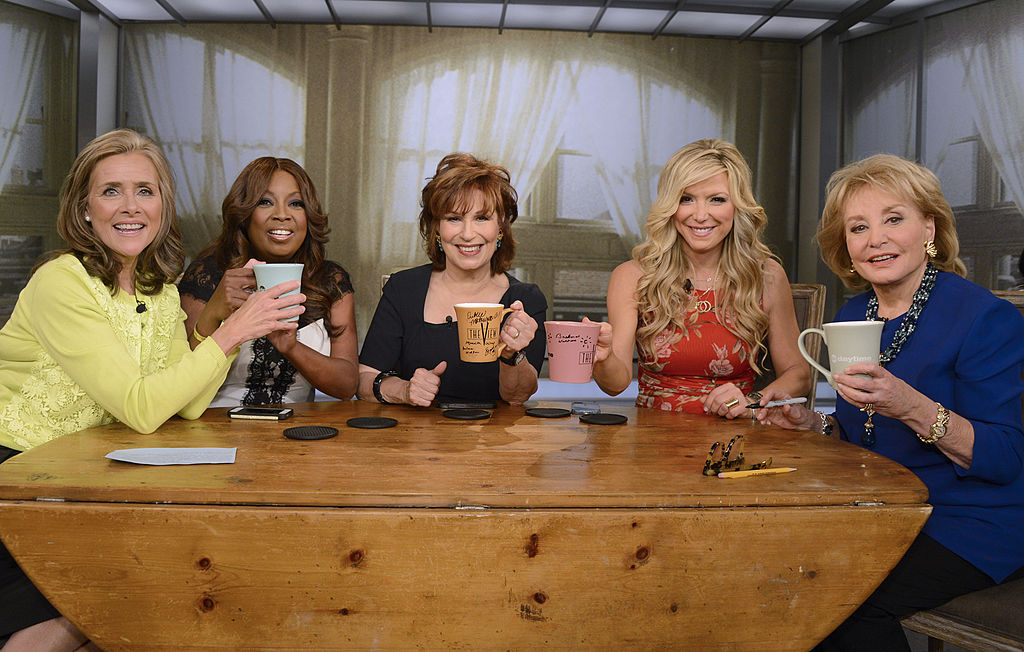 A long shot
In the spring of 1997, Walters started seeking the talent that would become the panel for The View. According to Time, one unlikely candidate had heard through the grapevine that ABC was recruiting for a new daytime talk show and decided to give it a shot.
Debbie Matenopoulos was a 22-year-old senior at New York University, working part-time at MTV as a production assistant when she threw her hat in the ring for The View. Time reports that in true young 20s fashion, Matenopoulos showed up for her pre-interview with Executive Producer Bill Geddie in a T-shirt brandishing John Travolta's face from Welcome Back, Kotter, a black miniskirt and knee-high boots. Her hair was dyed Kool-Aid pink, leftover from a segment that she'd taped for MTV's House of Style as an extra.
Walters happened to stop by the meeting. "I met Barbara with my pink hair," Matenopoulos recalled. Geddie liked Matenopoulos' young vibe and requested a reel of her best clips. Since she didn't have one, she enlisted the help of her friends at MTV to throw something together for the official audition.
At the time, Matenopoulos didn't think she had a chance of landing the job. "I thought, 'This is as far as I'm going to get,'" she said. "I'm really out of my league here. But I'd have a cocktail story for years."
The audition
In April 1997, ABC rented two adjoining suites in The Essex House, a midtown hotel in New York City to hold auditions for the daytime talk show. Time reported that one room was used for a waiting area for the approximately 50 candidates about to try out for the talk show. Some contenders included journalist Mary Alice Williams and supermodels supermodels Veronica Webb, Emme and Catherine McCord.
"My heart was beating really fast," Matenopoulos said of when she entered the waiting area. "I was intimidated." In a moment of fight or flight, Matenopoulos chose the latter and headed for the door but was stopped by Walters.
"Oh, Debbie, I'm so glad you came," Walters told her, guiding her back to the room. Matenopoulos credits that interaction for her going through with the audition. "That's the reason I stayed, because I was opening the door to leave and she was there," she said.
The young NYU student was welcomed home one night shortly after the audition with a message on her answering machine from Walters. "Oh, Debbie, it's Barbara," Matenopoulos heard from the machine. "I just want you to know that you've got the job. I couldn't do this without you."
Matenopoulos noted the irony that the same day she got the news from Walters, her electricity was shut off due to not paying her bill. "In one day, my lights go out and I get the job of a lifetime," she said.
Looking back
In 2013, the former co-host of The View appeared on Oprah: Where Are They Now? and discussed her time as a panelist on the iconic show.
"It has been 16 years since I was on The View — 15 or 16 but who's counting," she said to Winfrey, according to the Huffington Post. "That was the most amazing experience of my life to date and still the most amazing job. At that time I probably didn't realize what a big deal it was because I was so young."
Reflecting on her tenure on the ABC talk show, Matenopoulos shared that her youth sometimes dictated her choices, and she found it challenging to recover from public criticism she would receive.
"Did I say and do some crazy things? Yeah, I look back at that girl and I say, 'You poor thing.' I mean that poor, poor thing," she told Winfrey. "It was difficult to read stuff about myself that's for sure, in the press, and to hear things about myself and — oh my gosh, the press could be brutal. Brutal."
Matenopoulos credited her close family for helping her through the rough patches. "I think probably the only reason I continued in this business after kind of being kicked around so much, so young, was because of my father's encouragement and his strength," she said. Matenopoulos' father passed away in 2012 due to ALS, also known as Lou Gehrig's disease.
Now a co-host of Hallmark Channel's Home & Family show, Matenopoulos has proven she's got what it takes to stay in the game of daytime talk.