This Is One Big Reason Why Hannah Ferrier from 'Below Deck Med' Knew Chef Mila Was Headed for Disaster
By now, nothing Chef Mila Kolomeitseva from Below Deck Mediterranean does in the kitchen surprises viewers any longer. When she even struggled to make pancakes, chief stew Hannah Ferrier knew Kolomeitseva couldn't last much longer.
Before the pancake episode aired, Ferrier tweeted, "And on tonight's episode of Below Deck Med we shall be tackling….BOXED PANCAKES!!! Come join us at 9pm on @bravotv to see me slowly loosing my mind and @ColinMacyOToole being the voice of reason!"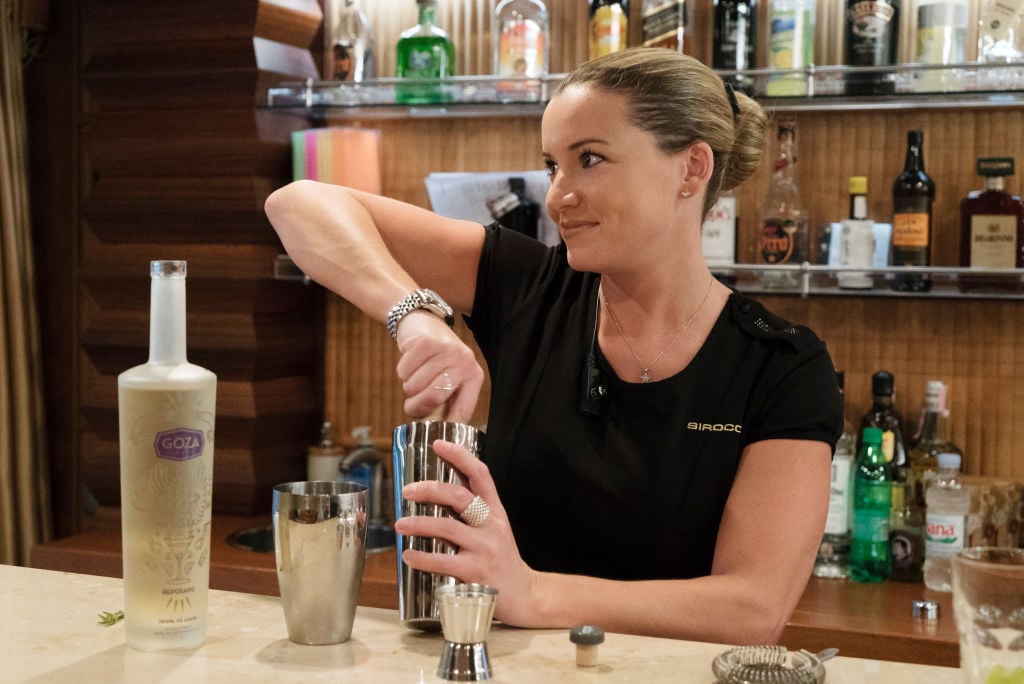 During the episode, she also hilariously added that Kolomeitseva has officially ruined many of the foods she loves including Mexican and crab. But boxed pancakes wasn't the trigger for Ferrier. She admits she knew Kolomeitseva was headed for disaster long before.
Boxed food is not five star
Remember when Kate Chastain from Below Deck remarked how "flesh wounds weren't five star?" Well, neither is a meal from a box.
Ferrier told Bravo's The Feast Kolomeitseva did just one thing that made her realize the season was going to be a disaster in the kitchen. "Pre-packaged taco kits…" she said. "It just raised a lot of red alarms because that's what I cook at home on like a Tuesday."
She adds it wasn't that Kolomeitseva was preparing Mexican food for the guests was worried her. It was how she was creating the meal. "If you're gonna do Mexican on a yacht, you need to make your own tortillas," she said. "You can't be putting Old El Paso on a charter guest's table to eat."
It comes down to the food
Guests charter yachts to enjoy the open sea and explore exotic locations. But they also expect to have a unique culinary experience they couldn't find anywhere else too. Plus, an amazing meal can help reduce the guests' frustration if the weather is bad.
"I have an expectation when a chef works a vessel that they are going to carry the charter if the weather's bad," Captain Sandy Yawn told Bravo's The Feast. "First impressions are lasting impressions."
As a seasoned yacht captain, Yawn also knows that every aspect of the experience must work in concert in order to ensure the guests have a positive experience. "I see the end game, and the end game is to make the client happy, which makes the management company happy, which makes the owner happy, and the owner decides if I have a job or not," she said. "So I want the chef to be able to produce the food that's required for a charter vessel. It's not about the personality, it's about the food."
Plus, this is a problem too
In the past viewers have watched both chief stews (Ferrier and Chastain) butt heads with the chef. But ultimately, the chef could produce an exceptional meal on Below Deck. Even though Chef Leon Walker led with his one-hit beef cheeks, Walker could still get the job done.
But this season has a double whammy problem because the chef has a hard time boiling water, plus can't get along with the chief stew. Yawn explained to Bravo's The Feast why that is a huge issue. "The relationship between the chief stew and the chef is also a big part of the success that comes out of the galley," she shared. 
"Because if you have the chef and the chief stew not getting along, that is not good," Yawn added. "Because it's going to reflect on the food, the way it's delivered to the table, the attitude around the table — it just needs to be cohesive. But first it starts with the quality of food."