This is the 1 Thing Prince William Says He and Harry Potter Have in Common
As a member of Britain's royal family and second in line to the throne, Prince William is one of the most photographed people in the world. And in this age of social media and images all over the internet some royal fans dissected photos of the Duke of Cambridge and noticed something. That something is the one thing William says he and Harry Potter have in common.
Here's the answer to what the future king has in common with the everyone's favorite wizard and whether or not Kate Middleton has it as well.
What William has in common with Harry Potter
Like the the popular character, Prince William also has a scar on his forehead.
The duke's scar isn't shaped like a bolt of lightning but it does glow! The royal explained that he got the scar when he was 13 years old after he was struck on the left side of his head with a golf club.
"I call it [my Harry Potter scar] because it glows sometimes and some people notice it–other times they don't notice it at all," he explained in a 2009 interview. "I got hit by a golf club when I was playing golf with a friend of mine. We were on a putting green and the next thing you know there was a seven-iron and it came out of nowhere and it hit me in the head."
The prince's scar has faded a bit since his teenage years but the Daily Mail noted that the marking appears red and inflamed after he plays sports.
Kate Middleton has one too?
William doesn't just have the scar on his head in common with the fictional wizard, but also his wife. The Duchess of Cambridge actually has one on her head too. She has a three-inch scar on her left temple.
For the most part, Middleton's is hidden in her hairline but one picture taken during an event in 2011 had people speculating that she was wearing hair extensions and it was a track showing. A Kensington Palace spokesperson later clarified that was not the case and revealed that the scar is a result of an operation she had when she was a kid.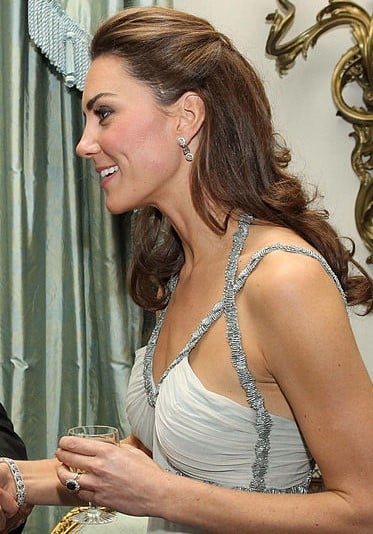 "The scar is related to a childhood operation," the palace spokesman told E! News.
Exactly what kind of operation Middleton had has never been revealed. But Dr. John Scurr, a consultant surgeon at the Lister Hospital in London, spoke to the Daily Mail and opined that it likely wasn't due to any serious medical condition.
"I would say it is as a result of an arteriovenous malformation — a birthmark — being removed."
These days the duchess usually covers her scar by wearing her hair in different styles or updos that hide it.
Read more: Why Prince William Said Princess Diana Would Be A 'Nightmare Grandmother' To His Kids