This Is The Advice Angelina Jolie Gives Her Daughters That Everyone Needs to Hear
Hollywood actress Angelina Jolie has been quietly defying stereotypes for generations. As the daughter of famed actor Jon Voight, Jolie could have taken the easy path and chosen roles that only focus on her extraordinary beauty. Instead, Jolie was known as the "bad girl" for the better part of her early career before devoting almost the entirety of her time on charitable pursuits.
Now a mother of six, Jolie rarely acts onscreen — but makes exceptions when a role really speaks to her, as with her latest project, the Disney film Maleficent 2: Mistress of Evil.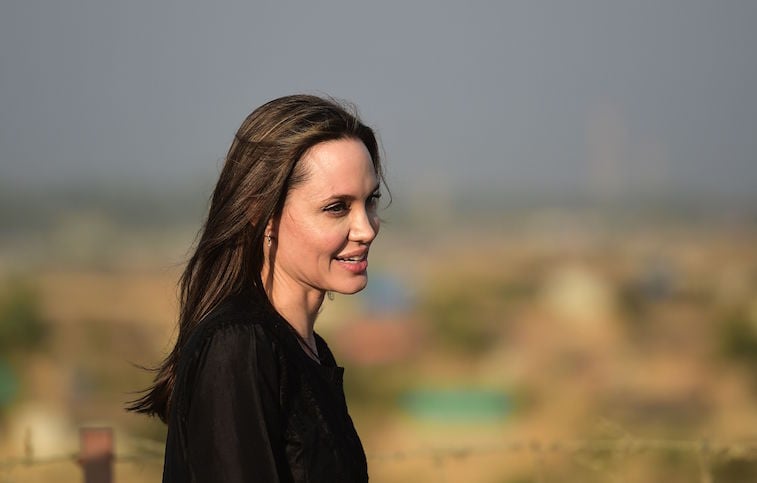 How many daughters does Angelina Jolie have?
In 2002, Angelina Jolie was married to fellow actor Billy Bob Thornton and was still best known for movies like Gia and Girl, Interrupted. It was also the year that Jolie adopted her first child, her son Maddox.
Discovering her passion for motherhood, Jolie went on to adopt her daughter Zahara in 2005. By then, the actress was involved with Brad Pitt, and he soon petitioned to adopt both Maddox and Zahara. In 2006, Pitt and Jolie welcomed their first biological child, daughter Shiloh Nouvel.
The family expanded further when, in 2007, they adopted son Pax from Vietnam. The youngest Jolie-Pitts, daughter Vivienne and son Knox, were born to Jolie in 2008. Altogether, Angelina Jolie has three daughters and three sons.
Although Jolie and Pitt would end up splitting in 2016, the pair remain devoted to co-parenting their children, with Jolie making a special effort to make sure that her kids are with her wherever she may be, whether overseas on charity visits or on a film set.
What did Jolie recently say about 'wicked women'?
Jolie has long been an activist for women's rights, and never misses an opportunity to speak out. Recently, Jolie penned an essay where she discussed the importance of women standing up for what is right and how she uses her experience working with disenfranchised women to parent her daughters.
In her essay, Jolie stated that historically, women are not encouraged to speak out against what is considered normal and those that do are often forced to deal with unkind labels, such as "weird" and "wicked."
However, Jolie points out that "wicked women are just women who are tired of injustice and abuse," and who won't give up on their voice and their rights. Jolie also states that she often tells her daughters that the most important thing that they must develop is their minds.
She firmly believes that there is nothing more attractive than a woman with her own voice and her own strongly-held opinions.
When does 'Maleficent 2' come out?
Now that her daughters are all getting older — Zahara is 14, Shiloh is 13, and youngest daughter Vivienne is 11 — Jolie will probably have to give them more advice than ever before.
As teenagers growing up in the spotlight, and with famous parents to boot, the Jolie-Pitt kids have several strikes against them. Still, if they follow their mother's example, they will hopefully be able to find their own places in the world where they are able to do some good and establish their own happiness.
As for Jolie, her work in Hollywood continues with her latest project, Maleficent 2. Set to release in October 2019, the sequel film follows the exploits of the fictional enchantress Maleficent, and pairs Jolie with actors like Elle Fanning (who co-starred in the first film), Juno Temple, and Michelle Pfeiffer.
The film is Jolie's biggest-budget movie in years and could propel her to the top of the box-office charts yet again.