This Is The Best Part of 'Blue Bloods'
Most cop shows are known for shoot-outs, car chases and maybe courtroom scenes if you're watching Law & Order. Blue Bloods stands out with something not normally seen in police shows: family dinners.
The dinner scenes with the Reagan clan offer something that seems increasingly rare in the real world: (mostly) civil debate among people who don't always agree. It's as if every episode includes kind of a peaceful Thanksgiving, even though it usually isn't November.
Read on to see what makes those dinner scenes work, why the cast likes them, and what CBS picked as the best examples.
Tom Selleck and Bridget Moynahan both love the dinners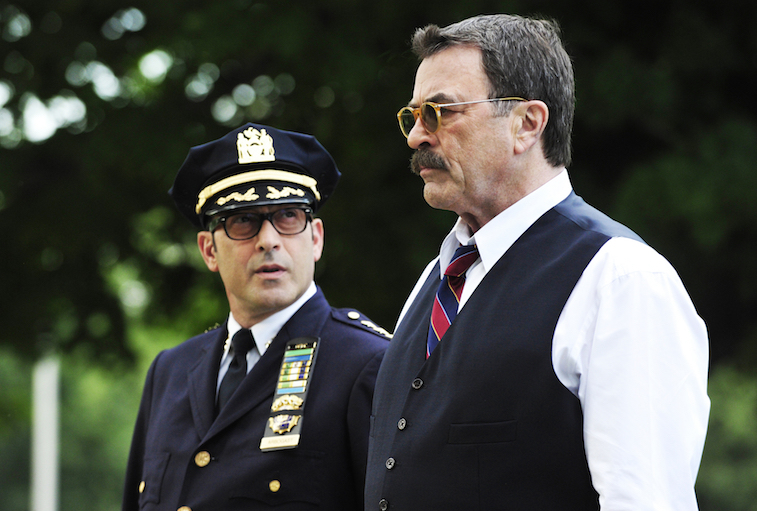 Bridget Moynahan, who plays Erin Reagan, told Country Living the dinners have a double meaning. Not only do they ground the show with the engaging debates, but they also bond the cast as well.
"We've had deaths and surgeries and births and marriages," she said. "We've all gone through major life moments together and shared these moments as a family together over the years. So it really feels like home on and off screen."
Tom Selleck seconds that, telling CBS This Morning:
"On an episodic show with an ensemble, you [sometimes don't] see your fellow actors for a month. On our show, every eight days, that's how long it takes us to shoot, we have a little actor family get-together in addition to the family dinner. I love all these people and they're fine actors, so it's kind of a double bonus. It's hard work because you gotta eat for eight hours."
Yes, the food is real
Shooting food scenes in movies and TV shows can be a nightmare, both for the editors and the actors' digestive tracts. As the scenes change camera angles, continuity people have to make sure the food and drinks are at the right levels so that a plate isn't full in one shot and then empty in the next.
Consider the classic Alka-Seltzer commercial where an actor has to say "Mama mia, that's a spicy meatball" after biting said meatball — and something keeps going wrong with dozens of takes. Before the crew breaks for lunch, the actor's stomach is about to burst.
While the dinners on Blue Bloods may not be that filling, the food is real, though some of the drinksare not.
"We embrace family dinner," Selleck told CBS 58. "The only problem is it takes six-to-eight hours and you have to just keep eating the same old food."
Will Estes, who plays Jamie Reagan, agreed with his co-star and told the outlet: "You gotta pace yourself."
CBS picked the best dinner scenes
CBS compiled a list of 14 of the best Blue Bloods dinner scenes. We don't have room to list them all here, so we offer a sampling of three.
For one scene, the police members in the family were decked out in full uniform for the Police Academy graduation where Frank told new officers, "Your most valuable weapon will always be the bond you share with your fellow officers, and your empathy to the public you have sworn to protect."
Sometimes even the Reagan dinners get tense, and when things get tense, instead of getting loud, they get quiet. Danny, Jamie, and Frank faced issues that they were not allowed to talk about. Nicky broke the tension by saying she got a tattoo and waited a bit before her "gotcha."
The dinners are not always so cozy. Danny and Kate investigated a case involving a murdered college student who was a drug dealer. That prompted Erin to disallow Nicky from attending a college party with a 19-year-old boy. The conversation intensified when Frank wouldn't back up Erin's decision.