This Is The Strange Wedding Gift Kanye West Gave Kim Kardashian
It's hard to believe that it's been 6 years since Kanye West and Kim Kardashian exchanged marriage vows. The couple started dating three years before making the trip down the aisle, and long before that happened, Kardashian was said to have been very interested in the rapper.
As the wedding date approached, fans of the power couple blew up the internet with a different hypothesis about what gifts the couple would exchange. While no one was positive about the exact nature of the gifts, everyone agreed that they'd be over the top.
Kanye West's wedding gift to Kim Kardashian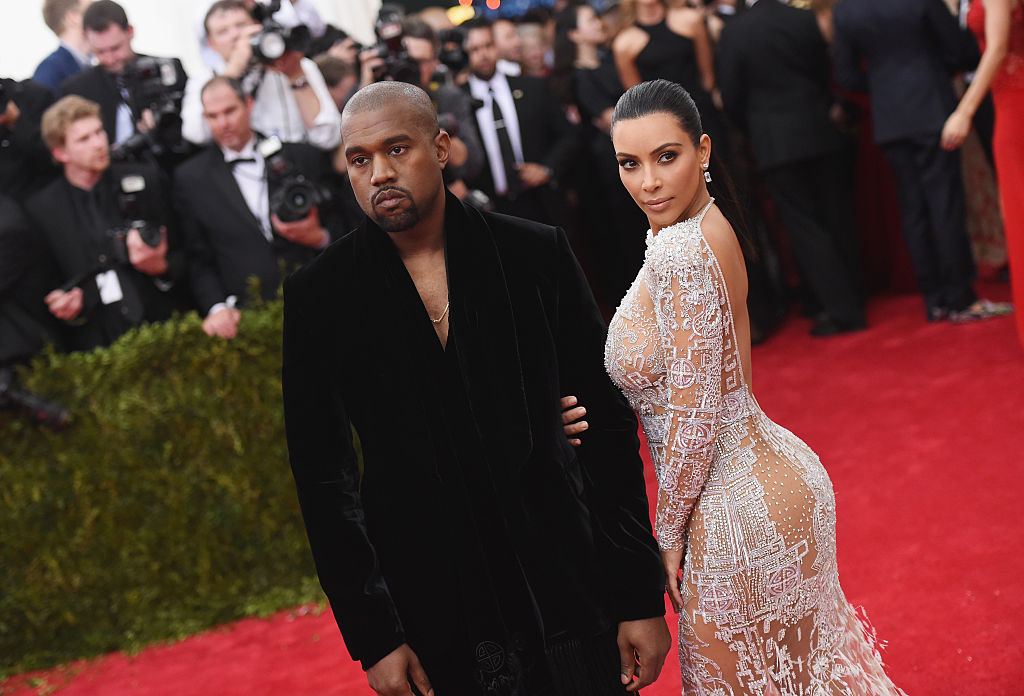 No one expected West to give his new bride a traditional wedding gift, and he didn't disappoint. He commissioned Bambi, a renowned street artist, to make a spectacular portrait of his bride. It's a stunning picture.
According to rumors, West contacted Bambi and requested that she make a portrait that was very typical of Kardashian, but which also had a regal quality. The end result was a painting of Kardashian, striking a suggestive pose while wearing nothing but a black thong and a pair of Louboutin high heels. Instead of traditional canvas, Bambi painted to image onto a piece of metal.
West only gave Bambi 3 week's notice before he needed the portrait.
Who is Bambi?
Once the oohing and awing over West's wedding gift to Kardashian died down, people began searching for information about the artists, Bambi, who was behind the work of art. Sadly, fans didn't learn much. Bambi is a pseudonym for a street artist who many consider being the female version of Banksy. Most of her work, including an epic graffiti portrait of Amy Winehouse, is found in Camden. She also did a graffiti mural for Queen Elizabeth's Diamond Jubilee.
West is just one of the celebrities she's created artwork for. Other famous clients include Brad Pitt, Michelle Rodriguez, Harry Styles, Rihanna, and Robbie Williams.
Some believe that Bambi is a well-known singer which would explain why so many celebrities purchase her art.
Kim Kardashian's wedding gift to Kanye West
Kardashian's wedding gift to her spouse followed the same theme. While she didn't approach a secretive artist about a custom-made piece of art, she did present West with plenty of images of his lady love. Her wedding gift was over 300 pages of selfies between an adorable cover that features the artwork of the super couple. Fans learned about her intentions to gift the book to West on an episode of Keeping Up with the Kardashians.
How Kanye West and Kim Kardashian keep the romance strong in their marriage
Whether you love or hate the West-Kardashian relationship, there's no getting around the fact that they seem to be a genuinely happy couple. The fact that celebrity marriage continues to go strong five years after they've tied the knot has many wondering just what it is that they're doing to keep the romantic magic alive.
According to an interview with Kardashian that was published in Elle, the couple's children are an important key to keeping things going. She told the interviewer that each time they add a child to their family, the couple seem to grow closer together. The fact that Kardashian is unswervingly loyal to West also goes a long way towards strengthening their relationship. In another interview Kardashian did with Hollywood Life, Kim reported that he is equally supportive of her.
Since the couple seems to be as strong and happy as ever, it's a good bet that there will be several years' worth of family photos, enviable selfies, and unique gifts.