'This Is Us': Are Kevin and Cassidy Endgame? Here's Why Fans Think So
The relationships of Kevin Pearson (Justin Hartley) on This Is Us have been analyzed up and down on sites like Reddit for the last four seasons. As one of the most intriguing characters in the immediate Pearson family, the show has gone from examining his problems in the world of working as a popular actor to the depths of his personal relationships that usually fail fast.
Now as Season Four unfolds, viewers see a new woman in his life, one of the characters introduced in the S4 season premiere. Cassidy Sharp (Jennifer Morrison) is a former Marine who fought in battles and comes home suffering from PTSD and alcoholism.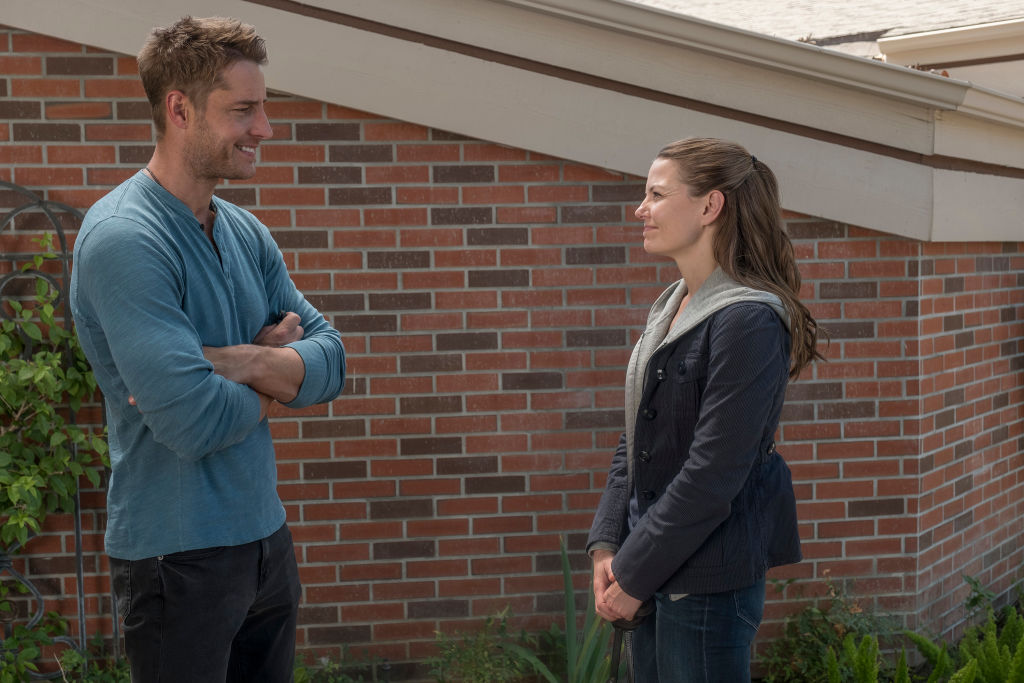 Cassidy ends up in a VA center for treatment where happenstance occurs due to Kevin's Uncle Nicky (Griffin Dunne) damaging the VA building where Cassidy is staying. This eventually leads to a relationship between Kevin and Cassidy. Some emerging clues point to them possibly becoming very serious.
How many girlfriends has Kevin had thus far?
Those who follow the show already know Kevin was married once to his childhood girlfriend, Sophie, who happened to be a good friend of Kate's (Chrissy Metz) when younger. Due to Kevin cheating on her, they both had already been divorced for a dozen years prior to the start of This Is Us.
There was an attempt to reconnect with Sophie at one point, yet still led to disaster. It's a wonder she took him back at all considering he'd turned into a conceited TV actor. When Kevin became addicted to alcohol and drugs after being fired from The Manny, he and Sophie broke up again.
Before this reunion, and after, Kevin had several equally disastrous relationships. One of them was getting involved with an actress he was co-starring in an NYC play. After this one failed, Kevin became involved with the writer of the play, Sloane. They broke up as well after a short time together and Kevin attending a Hanukkah celebration with Sloane's family during the holiday episode of 2016.
One more serious girlfriend before meeting up with Cassidy
Another girlfriend was Zoe (Melanie Liburd), an African-American documentary filmmaker who happened to be the cousin of Beth (Susan Kelechi Watson). She and Kevin had great chemistry together as she helped him research to find information about his thought dead uncle Nicky.
Later, Zoe realized he and Kevin were going in different directions when he wanted to have children with her and she didn't. Another breakup ultimately occurred while quickly being amended this season thanks to the chance meeting with Cassidy Sharp.
Considering Cassidy and Kevin are both recovering alcoholics, they both have much in common on an emotional level. From the outset, it seems they'd be perfect for each other and eventually marry.
Some fans on Reddit see signs of Kevassidy being endgame. Plus, let's remember This Is Us wouldn't have introduced Cassidy on a significant level at season open without having her stick around for a while.
Could there be a relationship twist down the line?
So far this season, Kevin is giving Cassidy the emotional support she needs thanks to his empathy in the PTSD she still suffers from. Cassidy's husband isn't understanding on this front, leading her toward Kevin's more astute radar to detecting mental pain.
Many fans are rooting for Kevin and Cassidy to become husband and wife, if not having kids down the line. There was a flash-forward recently showing Kevin with a child while not revealing the mother.
One theory floating around says Kevin and Sophie will end up together again after he found himself in front of her house and going to coffee with her. Sophie and Kevin may be inevitable lifetime soulmates who end up reuniting down the line. Or, at least the symbolism in This Is Us hints they'll get back together.
The show never keeps anything subtle when it comes to revealing what the possible future is of the characters. Kevin and Cassidy maybe parting doesn't mean they still won't go through an emotional journey for the next couple of years.