'This Is Us': Are Mandy Moore and Milo Ventimiglia Friends In Real Life?
NBC's This Is Us has finally shown us what's possible in family programming while keeping the plots very real. Despite the writing being one reason we keep tuning in to see the family history of the Pearsons, the acting talent is beyond top-tier.
The chemistry of Mandy Moore and Milo Ventimiglia are also two of the reasons. Playing Rebecca and the troubled Jack, respectively, the interactions between Mandy and Milo have been more than convincing. You'd almost swear they were a romantic couple in real life until you realize they have separate lives off-camera.
Nevertheless, it's clear they're at least close friends to capture this fictitious dream marriage. Let's look at how close they really are.
Did Moore and Ventimiglia know one another when 'This Is Us' began?
Apparently they'd never met until meeting for a This Is Us test audition. The chemistry was instant, according to E! Online. What makes this even more amazing is the entire cast seemed to relate to one another instantly like a real family.
You can give credit to producer Dan Fogelman for somehow knowing these actors would all gel on a professional and even personal level.
Moore and Ventimiglia are closer than anybody really knows without being married. There was even a facetious comment from Ventimiglia recently about how he thought Moore's current fiance should have asked him for permission first before their engagement.
No, there isn't anything romantic between them. Yet, they do one great thing together related to the show.
Both Moore and Ventimiglia watch each episode together
To show you the emotional commitment to This Is Us, both Mandy and Milo reportedly meet up to watch each This Is Us episode in Dan Fogelman's office. How many other actors playing husband and wife on a popular TV drama do such a thing?
It's refreshing to hear they get together to watch their own performances. You can't help think it's really like going to school so they can study what they're doing right or wrong to keep making Jack and Rebecca compelling to fans. However, Ventimiglia says they always cry with each episode, making it more of a life reminder about understanding empathy and compassion.
The fact that they get together regularly, though, will undoubtedly start rumors much like what we've seen with the chemistry in A Star Is Born.
Dividing fictitious romance from method acting romance
There isn't any denying actors are a lot different from ordinary people. When they attempt to capture a magical moment in a fictional show or movie, they'll often cross over a line to make it seem real.
When Lady Gaga and Bradley Cooper concocted a magical fictitious romance, everyone instantly thought it was the real deal. Their convincing portrayal crossed over into that memorable Oscar duet of Shallow, making the internet blow up with the thought they were suppressing real romantic feelings.
What we found out is they're just really good friends who likely won't link up romantically and fooled everyone with genius acting.
Mandy Moore and Milo Ventimiglia seem to be on this same acting wavelength without it disrupting their own private lives or riling up paparazzi.
How tough will it be for them when 'This Is Us' ends?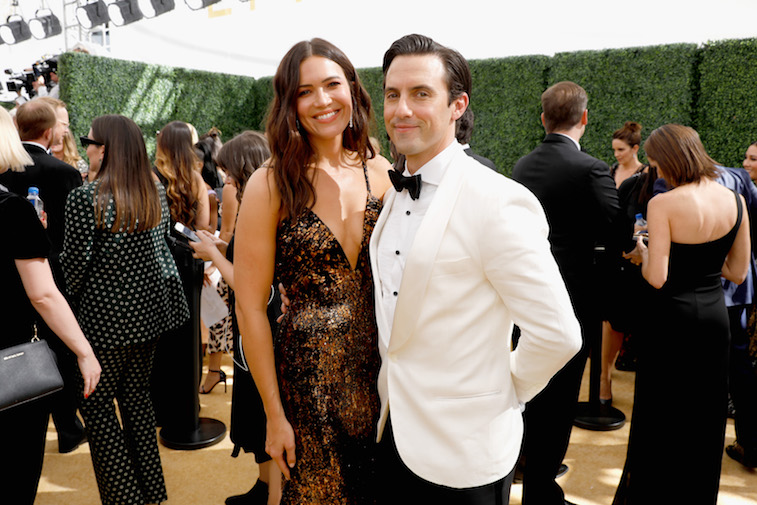 Admittedly, it's going to be tough for all of us when This Is Us finally winds up their run. Rumors have already begun about it ending after the sixth season, despite the possibility of extensions.
With its uncanny ability to connect us with our own families through an emotional web of past and present events, it's hard to imagine the rest of the cast won't find it hard to leave.
Will Mandy and Milo find it extra challenging to grow apart at that point? Since they seemingly have one of the closest bonds of any TV couple in history, we can't imagine there won't be some way where they won't still meet up like a real-life Pearson family reunion.