Which 'This Is Us' Star Has Won the Most Awards?
This Is Us is arguably one of the best drama sitcoms with the countless ensemble and solo wins to prove it. Even though the cast may not be composed of the most well-known actors, the leads in the hit show still have several awards under their belt from their past television performances. Which star has the most awards?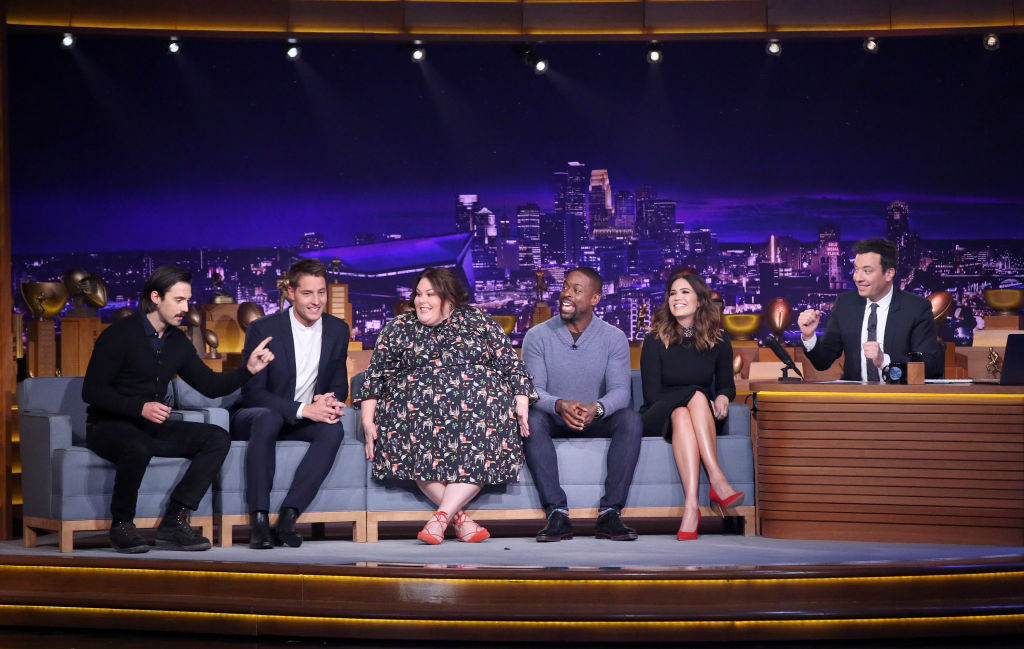 Mandy Moore
The actress first burst onto the scene in 1999 as a singer, and then starred in several movies before landing the role of Rebecca Pearson in This Is Us. She has won two Screen Guild Awards with her ensemble, and the Primetime Emmys and Golden Globes nominated her separately. She has 21 nominations and ten wins for her work in This Is Us, Tangled, and A Walk to Remember.
Chrissy Metz
Also a singer in her own band, Chrissy and The Vapors, Metz made her television debut in 2005 in HBO's Entourage as the Counter Girl. She continued making guest appearances in shows and movies before snagging the role of Kate Pearson in This Is Us.
Metz received two Screen Guild Actor Awards alongside her cast for Outstanding Performance by an Ensemble in a Drama Series. She's also been nominated by the Academy, Golden Globes, Golden Derby, MTV, and the Broadcast Film Critics Association for her solo performance. She has 11 nominations and two wins.
Chris Sullivan
Also known as the voice behind the popular "Hump Day" Geico ad, Sullivan has been acting in movies since 2008. Four years later he made his television debut as the biker in CBS's A Gifted Man.
The talented actor has two wins for his work as Toby Damon on This Is Us that he shares with the ensemble and recently received his first solo nomination as the 2019 Emmys have nominated him for Outstanding Supporting Actor in a Drama Series. He has four award nominations and two wins.
Milo Ventimiglia
After he made his television debut in 1995 as Party Guest #1 on Fresh Prince of Bel-Air, Ventimiglia landed his breakthrough role on NBC's Heroes as Peter Petrelli. His portrayal earned him four various award nominations, and he won the 2008 Teen Choice Award for Choice TV Actor: Action.
After starring in a Fergie music video and a few movies, he landed the unforgettable role of Jack Pearson in NBC's This Is Us. His work in the family drama has received six nominations with him winning two Screen Actors Guild Awards with his ensemble and an MTV Movie & TV Award for Tearjerker.
The television dad has also received three Primetime Emmy nominations, losing in 2017 to co-star Sterling K. Brown. He has 14 nominations and five wins.
Susan Kelechi Watson
In 2004, Watson made her television debut in CBS crime drama, Hack. With one of the most extensive catalogs, she appeared in countless shows before landing breakout role in drama series This Is Us as Beth Pearson.
Including the two Screen Guild Actor Awards she won with the rest of her cast, Watson individually won the 2018 and 2019 Black Reel Award for Outstanding Supporting Actress in a Drama Series. She's won four awards and has three nominations.
Justin Hartley
After graduating with a major in history and theater, Hartley debuted on television as Fox Crane on NBC soap opera, Passions. He also appeared on popular CBS soap opera, The Young and the Restless as Adam Newman, which gave him a 2015 Gold Derby TV Award for Lead Actor in a Daytime Drama.
Hartley then appeared in several different television shows and movies, before he landed the role of Kevin Pearson on This Is Us, for which he has received six nominations, winning two with his ensemble. He has three wins and nine nominations.
Sterling K. Brown
Brown graduated with a Master of Fine Arts degree and then began pursuing acting wholeheartedly, landing parts in several television shows before his breakout role in NBC's Person of Interest, Detective Cal Beecher.
He later portrayed attorney Christopher Darden in FX's American Crime Story, and both performances earned him several accolades, including a 2016 Primetime Emmy for Outstanding Supporting Actor in a Limited Series.
Brown then landed a role in This Is Us, and continued his successful career by receiving several more awards for his performance as Randall Pearson. Including his work in Brooklyn Nine-Nine, The Suspect, Marshall, and Black Panther.
With a staggering total of 31 nominations with 18 wins including the 2016 and 2017 Primetime Emmy Award for Outstanding Lead Actor in a Drama Series, Brown has the most awards out of his cast. To see if he will take home a 2019 Emmy, watch the ceremony on Sunday, September 22 at 8 p.m. EST on FOX.