'This Is Us': Don't Worry Fans — The Next Episode Is Nothing Like The Premiere
Fans of This Is Us had mixed feelings over the season 4 premiere. The show introduced many new characters and even more time jumps than usual. It was a lot to take in — even for the experienced This Is Us fan. Thankfully, producer, Isaac Aptaker, promised episode two is more like the This Is Us you know and love.
What happened in the 'This Is Us' season 4 premiere?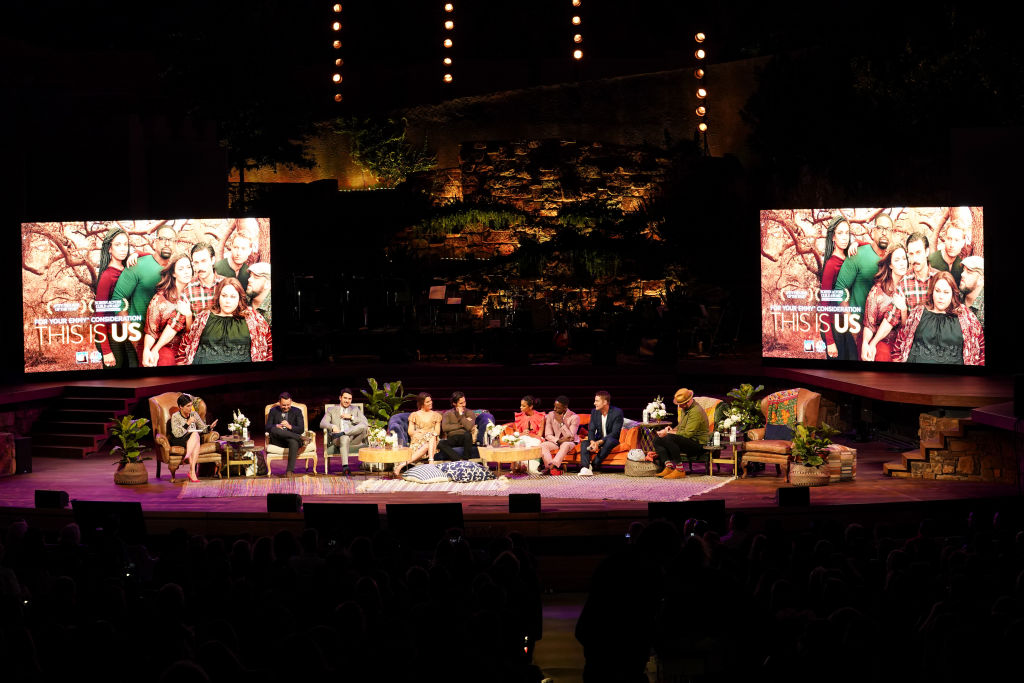 To sum up, the season premiere of This Is Us was…a lot. Despite season 3 leaving a lot of loose ends, season 4 pulled viewers in a totally new direction — sort of.
The episode introduced several new characters. There's Cassidy (Jennifer Morrison), a military vet struggling to cope with her time in Afghanistan. Her husband, Ryan (Nick Wechsler) doesn't get it.
When she snaps at her young son, Matty (Noah Salsbury Lipson), Cassidy seeks help from a support group. It's there her story intertwines with Nicky Pearson (Griffin Dunne) when he throws a chair through the window.
Malik Hodges (Asante Blackk) is a teenage father who sees Deja (Lyric Ross) at a barbeque. Darnell Hodges (Omar Epps) is his father, and Kelly Hodges (Marsha Stephanie Blake) is his mother.
"He's going to play a big part in Randall's family's story," the show's creator, Dan Fogelman, told Entertainment Weekly.
Aside from all of that, viewers finally met Rebecca's father during dinner. Dave Malone (Tim Matheson) plays Rebecca's dad and he doesn't think Jack is good enough for her. We object.
Jack (Blake Stadnik), is a blind musician who finds love with Lucy (Auden Thornton) at a diner. At the tail end of the episode, it's revealed that — spoiler — he is Kate (Chrissy Metz) and Toby's (Chris Sullivan) son, and he is actually blind.
"He's exceptionally talented," Fogelman told EW of Blake. "It was important to us to not cast a sighted actor here. It was also very important to us that we have somebody who can hold the screen and sing, and Blake just checked a tremendous amount of boxes."
How is episode two of 'This Is Us' different?
Aptaker told Entertainment Weekly to expect TIU to feel more like it did before the premiere.
"I would say this is a return to classic This is Us for us. We knew we wanted to take a really big swing with our season premiere and introduce all of these new characters — and in a way, do something reminiscent of the pilot where there was a big twist at the end as to how everything connects."
He acknowledged how much fans love the Pearsons and the Big Three and their standard cast and in episode two, the kids are growing up. He continued, "It was always probably the plan to have the next episode be a real return to form for us. And we're doing that in a very big way."
The episode focuses on the final day of summer. Jack and Rebecca (Milo Ventimiglia and Mandy Moore) decide to return to the Greenview Pool. It's the same pool featured in season 1, and where topics such as identity, race, weight, and insecurities came front and center.
"It's about how our Big Three has grown and changed and matured over the past three seasons," Aptaker said. "We're seeing how they're at these sophisticated new places in their lives."
Kevin (Parker Bates) and Randall (Lonnie Chavis) get into a situation, per the usual. "We have probably the most complicated story we've told between our two 12-year-old kids. He went on to explain Kevin's interaction with Randall's friends. It "makes Randall question his own racial identity."
As far as young Kate (Mackenzie Hancsicsak), time will tell whether history repeats itself. Aptaker hints that it might. "Kate does not always have the best experiences at the pool. She's yet again in for another tricky one with her peer group."
Will episode 2 of 'This Is Us' show present-day Pearsons?
The episode will also reveal new parents, Kate and Toby (Chrissy Metz and Chris Sullivan). The two prepare for life with their blind baby, Jack and it may test their marriage.
"We kind of dropped a bomb on our audience at the end of [the season premiere] when we revealed that baby Jack has in fact lost most of his vision," Aptaker said. He added the show will pick up where it left off to show Kate and Toby's struggle with the diagnosis.
Meanwhile, Kevin (Justin Hartley) finished a movie but has struggles of his own with sobriety. Aptaker called his transition a "what's next" kind of phase. Relatable.
Randall (Sterling K. Brown) and his family are in a different transition with the big move to Philidelphia. He tries to create one last family "moment" before summer ends (just as Papa Jack would do).
"He's not in his fancy pants suburban New Jersey anymore," Aptaker said. "He's living in the heart of Philadelphia with his kids. That's bringing all kinds of challenges and questions about how long of a leash do you extend as a parent, and what is safe for his daughters to do in this new big city."
It sounds like a lot is happening. Rest assured This Is Us fans — it'll feel totally normal once you dive back in. The new characters and timelines are on a break, if only for an episode. "It's old-school in the best way," Aptaker concluded. "Old-school This Is Us."