'This Is Us': Fans Are Crushing on Breakout Stars—Teenage Beth, Kate, Kevin & Randall—Who Is Their Favorite?
Every season of This Is Us gives us more and more back story on the Big Three, who we usually see as Chrissy Metz (Kate), Sterling K Brown (Randall), and Justin Hartley (Kevin) in the present day. Season 4 also showcases Beth (Susan Kelechi Watson) as a teenager and a little girl. 
Fans are beginning to rave about the teenage actors and actresses who play these characters. Let's take a look at who represents each of them and why audiences are falling in love.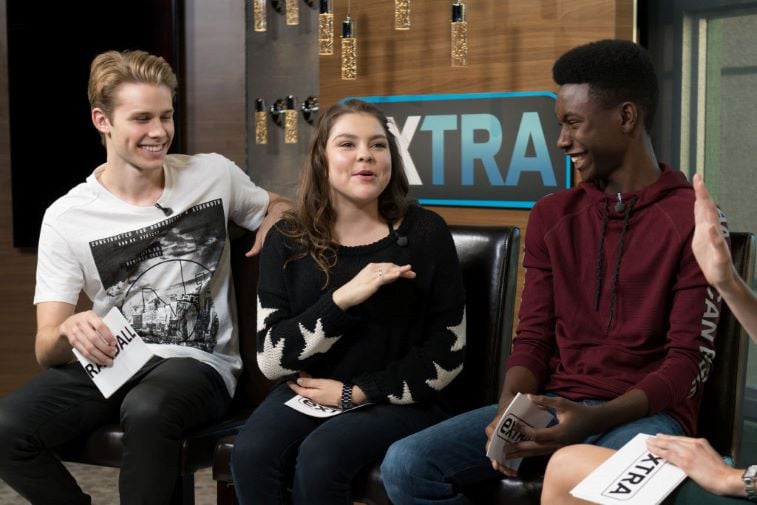 Logan Shroyer as teenage Kevin—He plays a younger version of Justin Hartley
Teenage Kevin is portrayed by actor, Logan Shroyer who is 20. His first acting job was in the tv series Gortimer Gibbon's Life on Normal Street. The young actor also plays guitar in an alternative rock band called Liquid Glass.
Fans love him. "Logan Shroyer (teen Kev) does a great job of mimicking Justin Hartley's mannerisms and acting quirks," one Reddit user said.
Another Redditor gave a prediction about Shroyer, "He's gonna be big one day. I feel it. I hope Hollywood doesn't change him. [He] seems like a kind soul."
There is one thing that viewers find is different, "Teen Kevin doesn't have the charm of younger/older Kevin, but that may be on purpose. He's got teen angst, and he does SOUND like adult Kevin."
Fans are shocked at how closely Shroyer can portray the same almost unnoticeable mannerisms that Hartley has. The one difference fans uncovered seems to be on purpose.
Niles Fitch as teenage Randall—He plays a young Sterling K. Brown
Teen Randall is played by Niles Fitch, who is 18. He made his television debut with a guest appearance in Tyler Perry's House of Payne, and then he scored a recurring role in Season 7 of Army Wives. More recently, you can find him in two episodes of the Netflix series, Atypical. 
Fans also rave about Fitch. One Reddit user wrote, "this guy is great as teen Randall in my opinion. Totally captures his personality and voice well in a similar way to Sterling, which makes me completely convinced that they're the same person."
Viewers all feel the same about Fitch. He nails Randall, to a T.
Hannah Zeile as teenage Kate—She portrays a younger Chrissy Metz
The role of teenage Kate is portrayed by actress, Hannah Zeile, who is 22. Her first role was in the tv series Anger Management with Charlie Sheen. 
One fan thoroughly explains how she feels about Zeile, "And then teen Kate takes it to the next level. I don't know if she's mimicking adult Kate or if Adult Kate is mimicking her (like Forest Gump, where Tom Hanks developed his character and accent from watching the kid they cast to be him when he was younger) but whatever the Kates are doing, it is WORKING. Every two seconds, teen Kate moves her face in a way that adult Kate constantly does as well."
"I love Teen Kate so so much!! She's really pretty, and I love her personality," wrote another Redditor.
Fans also agree with this Reddit user, "Hannah Zeile's facial features are SO much like Chrissy Metz's – in fact, the first time I saw the cover of Chrissy's memoir I thought it was Hannah!"
Teenage Kate was cast so well that fans sometimes have trouble telling their faces apart!
Rachel Naomi Hilson as teenaged Beth—She plays a young Susan Kelechi Watson
Teen Beth is portrayed by Rachel Naomi Hilson, a 24-year-old actress known for her roles as Nisa Dalmar on the CBS drama The Good Wife, Harmony Curtis on the NBC musical drama Rise, and Nicole Patterson in Kings.
Susan Kelechi Watson raves about Hilson's acting, "When I was watching her I was like, 'What? I do that?' What Rachel did was so amazing."
One fan wrote, "Holy cow does Rachel Hilson have Susan Kelechi Watson's portrayal of Beth down. It is seamless watching the two of then play her."
"Amazing casting and amazing work by the young actress – she had the facial mannerisms, physical characteristics, and even manner of breathing down perfectly! I LOVED her," said another Redditor.
The reason Hilson feels she does so well with the character is that she thoroughly studies how Watson portrays Beth. "I binged the whole thing once I got it," she told ESSENCE.
Although fans love every one of the teenage actors, they seem to love Hilson the most. You can catch new episodes of This Is Us Tuesday nights at 9 p.m. on NBC.