'This Is Us': Fans Have a New Disturbing Theory Why Miguel is Missing from the Flash Forwards
During the season 3 finale of This Is Us, fans were devastated to see Rebecca (Mandy Moore) on what is presumably her deathbed. Even more shocking, perhaps, was the fact that Nicky (Griffin Dunne) was by her bedside, not Miguel (Jon Huertas). 
As the season 4 fall finale wrapped on November 19, 2019, fans discovered a new theory as to why Miguel is missing from the flash-forwards. Let's take a look at why they might be right.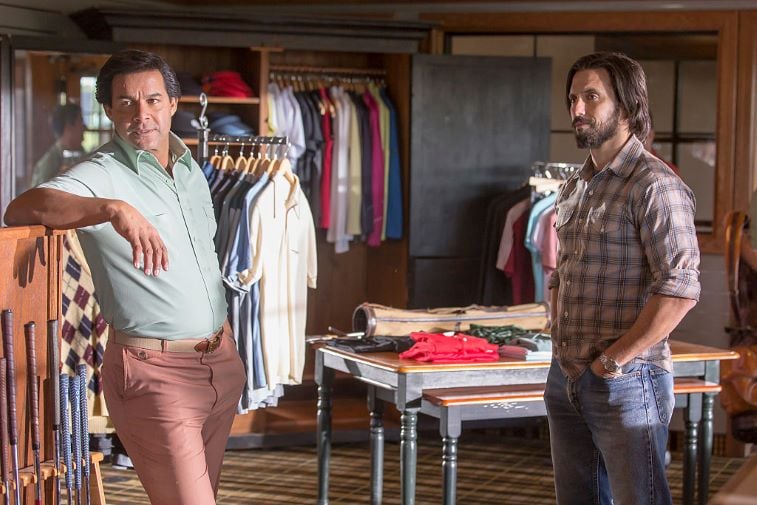 Fans are appalled that Miguel is not more concerned about Rebecca's well-being
In the fall finale, Rebecca goes missing for hours, but her partner, Miguel, does not show any concern for her. Fans believe this will cause a rift between Miguel and Rebecca's family.
"That is what is seeming so odd to me—it's been hours," wrote one fan on Reddit. "Shouldn't he be worried about his wife as he knows how much she's forgetting?"
"Serious question," posed another fan, "Why the hell is Miguel cool with how Rebecca has been acting? How is it only on Randall to worry about this?"
"My grandpa let my grandma stay at home way longer than he should have," explained another Redditor, "and didn't listen to anyone who told him otherwise. He [Miguel] may think he can take care of her all on his own no matter what anyone else says."
It sounds like fans are becoming increasingly more worried that Miguel is not more concerned about Rebecca. It's plausible that Randall begins to feel the same way and ostracizes Miguel for not doing more sooner to help Rebecca.
Rebecca might have forced Miguel to stay quiet about her condition
Fans are in a great debate over how Miguel is treating Rebecca's worsening condition. They feel that he is not doing enough to help her. Viewers also can't help but wonder if Rebecca is making him keep quiet.
"I think maybe Rebecca has asked him to keep it quiet," surmised another fan. "Though one would think even he would be worried by now."
"My sister is a doctor," added another fan, "she always has said how the holidays are incredibly busy because people recognize health issues in family members they haven't seen in a while. Subtle changes day to day aren't as noticeable."
"Yep, that is my experience with a family member also," agreed another Redditor. "And we keep seeing Rebecca in situations that aren't her everyday life. Randall is in a new house, new neighborhood. His office is a new place for her, with new people. It's quite possible that she is way more at ease when she's at home with Miguel, apart from what Miguel calls senior moments."
Fans defend Miguel when some criticize him for not telling the family about Rebecca's condition. He may not have noticed what was going on, or at least he didn't think it was that serious. Nonetheless, we know how protective Randall is over his mother, so it would not come as a surprise if he blames Miguel for her deterioration.
Nicky replaces Miguel as Rebecca's condition worsens
Along with the theory that Rebecca's family is mad at Miguel for not telling them about her medical issues, fans surmise that Nicky then takes Miguel's place.
In a recent episode, Kevin (Justin Hartley) has flashes of his father, Jack (Milo Ventimiglia) when Nicky is speaking to him. It is not too far-fetched to think that the same thing may begin to happen to Rebecca. She starts seeing Jack when Nicky is talking to her, and there is such a comfortable feeling there that it takes over. The producers and showrunner indicate that Nicky is here to stay, so it is a plausible theory.
"Obviously, we've already established that Nicky is in the room with a very old Rebecca deeper in the future," explains showrunner Dan Fogelman, "so he's going to play a part in this family's lives. I think what Griffin has done this season as an actor has been tremendous, so he's not going anywhere," Fogelman told the Hollywood Reporter.
Now that This Is Us is on a fall break, we will have to wait until the show returns on January 14, 2020, to see how Miguel falls out of Rebecca's life.